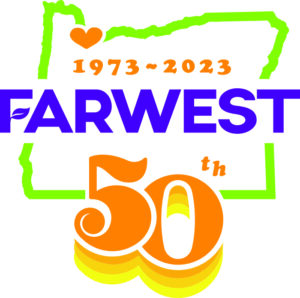 The 2023 Farwest Show celebrated 50 years of bringing nursery professionals together in style August 23–25, with more exhibitors, more attendees — and definitely more fun.
"The nursery and greenhouse industry is Oregon's leading agricultural sector," said Allan Niemi, director of events for the Oregon Association of Nurseries, which produces Farwest. "The Farwest Show put that on full display, with many different growers, suppliers and service providers all there to learn, make connections, do business and just grow, in every sense."
The show brought together more than 4,000 attendees from 14 countries and 44 states for two sold-out nursery tours, a diverse array of educational seminars, a full floor of expo booths, four social gatherings, and a bundle of surprises celebrating the show's five decades of existence.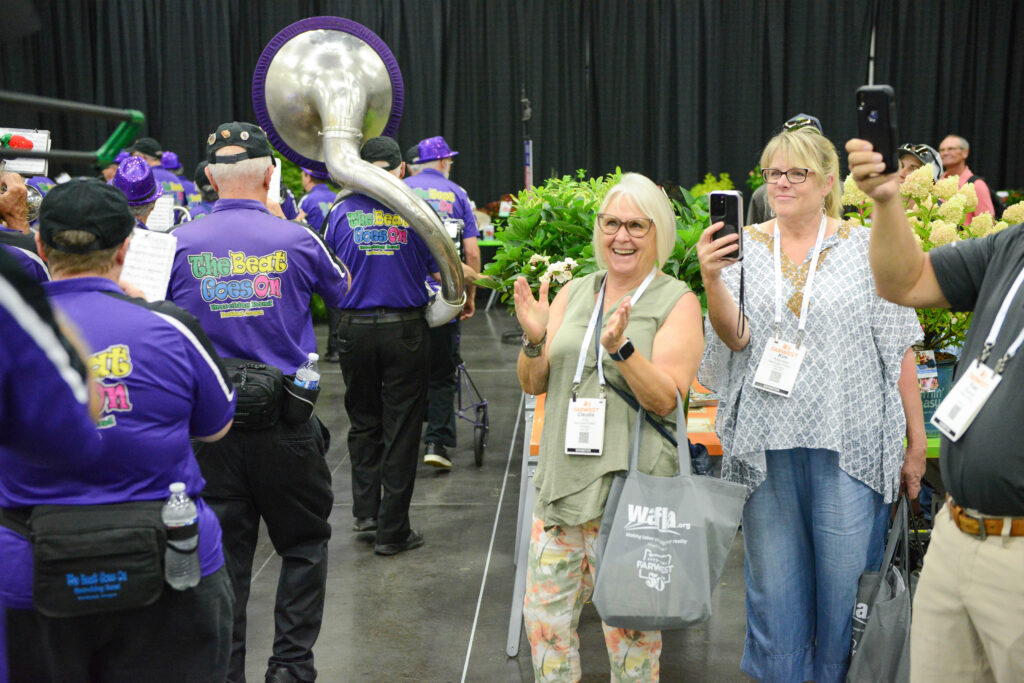 Those surprises included a 28-piece marching band weaving throughout the show floor (The Beat Goes On) complete with dancers and a baton twirler; a bagpiping unicyclist (the Unipiper) going up and down the aisles, costumed in a kilt and a Darth Vader helmet; a 50th anniveary cake-cutting ceremony with plenty to go around; and a well-received visit from the one and only Caesar the No-Drama Llama.
"We wanted to make the show fun and memorable, and it was, judging by all the people bringing out their cameras," Niemi said. "I can't tell you how many people took videos of the band and Unipiper, and selfies with Caesar the No-Drama Llama."
But the show was more than fun moments. It was a worthwhile investment in personal and professional growth. Katie Tamony of Monrovia Nursery Company delivered a memorable keynote address, and there was a full complement of other seminars on marketing, Lean policy deployment, pricing, plants, pest control and more.
Tanner Spirs of Agri Spray Drones in Boonville, Missouri, learned a lot from other exhibitors as well as attendees. "It's been a chance for me to build my knowledge," he said. "We don't have any customers here but we're learning what we need to do to accomplish that. We plan to be back next year."
As a first-time visitor, Mike Laporte of Clearview Nursery in Stayner, Ontario learned about new products by his existing suppliers, and also met some new ones. "I'm used to landscapers' shows where there's bricks and hardscape products," he said. "This was very focused on nurseries, and it was very refreshing."
Yoshida Hamono of Hoshida Hamono, a wholesale supplier of garden tools from Japan, was exhibiting at her first Farwest Show. "The vibe of people coming was really great," she said through a translator. "We are getting great feedback and with that we hope to become a better exhibitor next year. We thought that people here would not be familiar with us, but we were surprised to find that a few attendees who stopped by knew who we were and were pleasantly surprised to see us."
"It's been a great show for us," said John Porter of Sol Soils in Crystal, Minnesota, another first-time exhibitor. "We met a lot of new customers and potential customers."
First time Farwest exhibitor Nathan Dorn of >_Farm-Ng, a manufacturer of electric robotic tractors based in Watsonville, Caliofrnia, found many people in search of ways to manage their labor costs. His product offers exactly that, so he found strong interest. "It was a great show," he said. "There were a lot of horticulturalists here and that's our audience."
Longtime exhibitor Pac Fibre Soils of Canby, Oregon came with a strategy to bring fun and business connections together. They created a treasure hunt with four other exhibitors on the expo floor, including Western Pulp Products Company, Walla Walla Nursery Co., Blooming Nursery and OBC Northwest Inc.
Attendees stopped at each booth, putting together their own plant in a container to take home. Returning to Pac Fibre's booth, they could then claim a bonus prize of a Pac Fibre beverage bottle. This fun treasure hunt brought extra traffic and engagement to all five booths.
"Everyone loved it," said Nate Marsh, sales manager. "It brought in new contacts. It was that soft opening for people that probably wouldn't have looked at us." He went on to say that the 2023 Farwest Show was "probably the best it's been in five years. Seeing where your network takes you opens up new possibilities."