Growers, suppliers discourage tap roots and circling with pruning pots and grow bags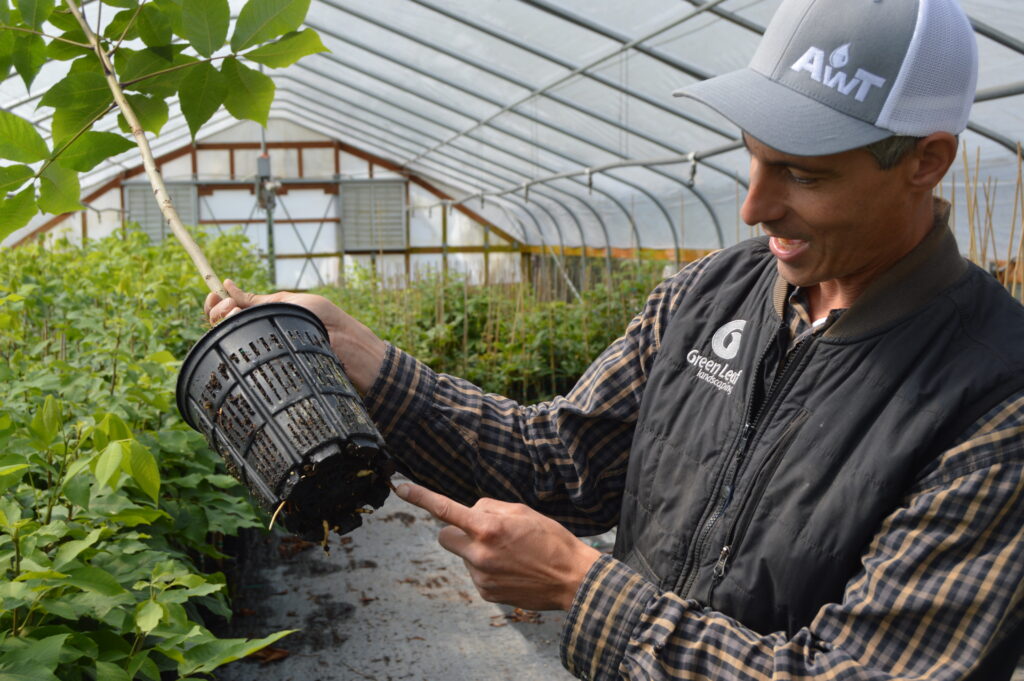 When Myron Kuenzi started in the liner business 18 years ago, one of his first steps was to visit grower fields in the Midwest. What he saw was discouraging.
"I walked rows with growers," said the owner of Kuenzi Turf and Nursery, a grower based in Salem, Oregon. "The first products they took me to were their oak trees, and I don't think they even had 5 percent of their bur oak living. It was that horrible."
The experience motivated Kuenzi to find a better way to prepare trees for growers. From his perspective, it all came down to the roots.
Today, Kuenzi grows several species of trees in air root prune pots, which are later planted in fabric bags. All of this promotes a fibrous root system devoid of taproots or circling roots. The system brings several benefits, including reduced transplant shock in the fall when transplanting into the bags.
"This means that the leaves remain on the tree four to six weeks, which allows the tree to store carbohydrates," Kuenzi said. "And with this better carbohydrate storage, plants perform better the following spring, and have better survivability. That results in larger grades than if a tree is started in a solid-wall pot."
The company uses this process for hickory, oak and other tree species that are prone to setting taproots or are hard to transplant as bare root. The small openings in the sides and bottoms of the pots 'air prune' roots that are otherwise prone to circling. And the small openings in the bottom of the pot promote root mass while discouraging a tree from setting a taproot.
Kuenzi said growers have told him they can cut in half the time it takes to get an oak tree ready for market when growing a tree from his operation.
"I've had some customers tell us that instead of taking two to three years to selectively harvest trees that make caliper, they can almost clean a field in the first harvest year," Kuenzi said. "It takes work on their part. They've got to plant it right and get water on it. But it can be done. And it's not only that: Our oaks have a 99 percent survival rate in the field."
The concept behind developing a fibrous root mass as opposed to a taproot is the same concept used in promoting lateral tree growth, Kuenzi said. Instead of cutting out the top of a tree to remove the apical hormone so that lateral branching can form, with roots, it involves pruning, then callousing the taproot or apical root leader to promote new root growth. The air root prune pot prunes the apical leader in the root so it can produce lateral root branching.
Diversity is stability
The air prune pots Kuenzi prefers, RediRoot, were developed in the early 2000s by company owner and founder Tom Springer. According to Chris Murphey of RediRoot, Springer developed the pot after a discussion with an executive at J. Frank Schmidt & Son Co.
"Tom was sitting in a meeting with Gary Furr (former chief operating officer of J. Frank Schmidt) and the comment came up that they just couldn't seem to find a pot that suited their needs," Murphey said. "So, Tom said, 'What kind of pot do you want?' And Gary gave him a little sketch drawing and Tom said, 'Well, let me see what I can do.' And that is really where we got our start.
"Tom was adept at creating new products," Murphey added. "His wasn't a big company at the time. He didn't have big distribution. He just listened to what people needed and was really good at getting new
things made."
RediRoot today sells several sizes of air root prune pots as well as fabric bags to customers across the U.S. Key to their products, Murphey said, is that they encourage fibrous root growth.
"Roots cannot circle in our pots," Murphey said. "They are air pruned off. They are redirected, but they don't circle, so you don't have any strangulation of the tree later on in life as nobody is ever cutting circling roots or disturbing them in any way."
Fabric bags
When Kuenzi Turf and Nursery is ready to move an oak or a hickory tree from the greenhouse to the field, the company eases a tree out of an air root prune pot and places its roots in a fabric bag.
Jim Averna, founder of Root Pouch, a Hillsboro, Oregon company that manufactures fabric bags from recycled water bottles, said bags have several advantages over pots.
"Where Root Pouch really excels over plastic containers is it allows a lot of air to come into the root structure and the roots of a plant are more prone to grow laterally," Averna said. "They grow to the sides of the bag. They aren't spending all of their time at the bottom third of the pot like they can do in plastic. They are spending their time going to the side, looking for either oxygen, if it is above ground, or water if it is in the ground.
"When our bags are used for in-ground growing, for instance, they have a great advantage over other products because they contain natural fibers, which is an exclusive of Root Pouch," Averna added. "The natural fiber will actually suck the water towards it from the surrounding soil, which tells the tree to send its roots laterally to get that water. There is no need for the taproot to go straight down looking for water because it's coming in from all directions."
Tyler Kuenzi, general manager of Kuenzi Turf and Nursery, which uses root control bags from High Caliper Growing, said he likes to see hair roots coming out of bags when looking at harvested trees. "That means that they're not circling, and the bag is doing its job by trapping some of the small roots," he said.
"Another benefit to the bags is that we can selectively harvest larger grades a year prior to row digging the rest," Tyler Kuenzi said. "It's not like bare root, where you have to harvest a whole row when some of the trees might not be ready. In a bag, you can pick and choose individual plants."
And, Kuenzi noted, transplant shock is dramatically limited for customers who plant trees with fabric bags into their fields. "And later, when growers move a tree into the retail sector, they perform better because the spade-dug trees have more root mass within the root ball."
"When you harvest a tree in a bag," Averna pointed out, "you're not hacking off two-thirds of the root structure to get the trees out of the ground. You bring them up in a Root Pouch and it's a container coming out of the ground. You can set it right on the ground from that point on. And then when it goes to the next customer, it can sit there until they get to it, as long as they give it water and care for it. There is no burlap that is degrading it with the UV rays and making it hard to water."
"And when they're shipping it, they stack really nicely because they form to each other and there are no sharp edges to rub into the trunk of the other tree," said Ashley Fromm, vice president and co-owner of
Root Pouch.
Extra costs
Producing seedlings in air root prune pots does have some extra expense, Tyler Kuenzi said. For instance, Kuenzi Turf and Nursery can only fit about half as many trees in air prune pots in a greenhouse than if they were using solid-walled pots.
"It takes about double the space in our greenhouses for these air root prune pots, because you've got to have air around each pot," Kuenzi said. And, he said, fabric bags in and of themselves are an added cost, as well as the additional labor to plant trees in the bags.
Also, according to Chris Murphey of RediRoot, a plant in a RediRoot pot can require more water than a plant in a standard solid-wall plastic pot, a fact that has proven to be an impediment to bringing the air prune pot to the retail sector.
"Our product does require more water," Murphey said. "If you just drop our product in the middle of a big garden center and they don't necessarily acknowledge the difference, our product may get underwatered."
(That is not the case with the Root Pouch bags, Fromm pointed out. "The Root Pouch retains water and actually requires less water than a hard-walled pot because it doesn't immediately evaporate," Fromm said.)
And, while trees emerging from air prune pots typically will need less time in the soil than trees started in solid-wall pots, Tyler Kuenzi noted that their system can require a plant to stay longer in the greenhouse, particularly if they are working to train a taproot or needing to build better roots.
The payback, however, more than makes up for the extra costs, he said.
Kuenzi pointed out that he has had customers leave the company for a lower cost supplier only to come back a year or two later. "Just by having a better root to start with provides our customers with better roots when they receive our trees," he said. "We have a better plant coming out the other end and our customers keep coming back because of that."
From the September 2023 issue of Digger magazine | Download PDF of article