Financing for the nursery industry can be tricky without a few financial friends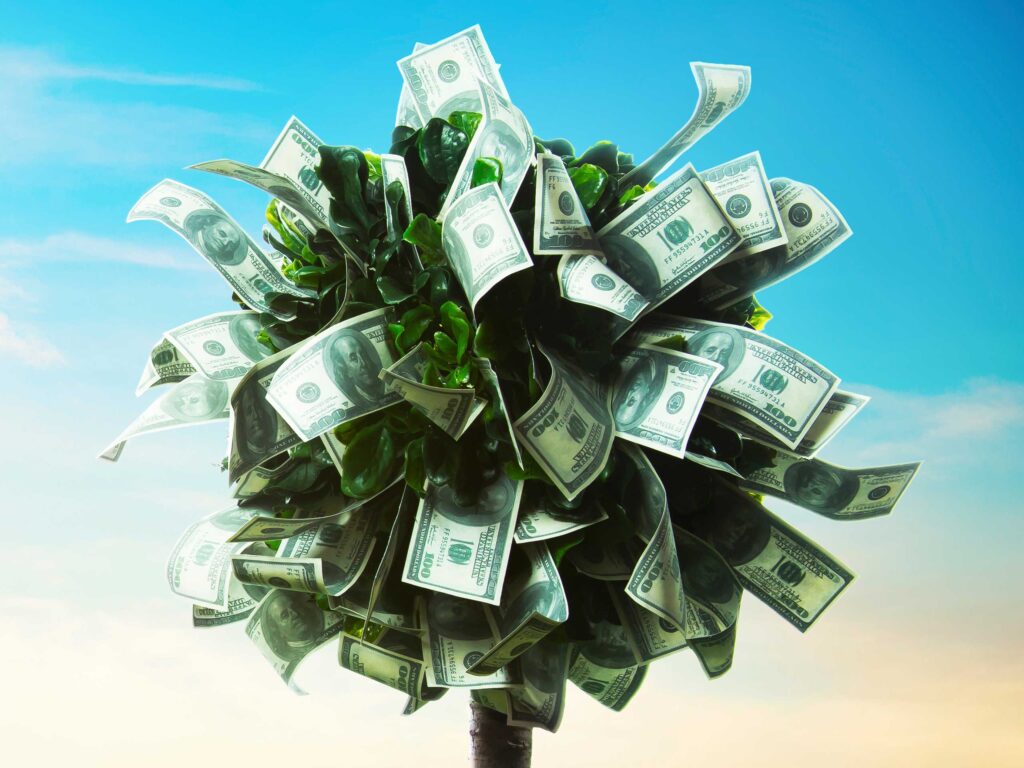 Any business faces challenges, but nurseries have a unique set all to themselves. There's nature to contend with, a perpetual shortage of labor, and the fact that crops planted today won't be ready to sell, in many cases, for years. And when the plants are ready to sell, who knows if the market will still want them?
These challenges are compounded by housing booms and busts that can impact demand, plus random weather events and pests that can wreak havoc for years.
And then there's securing financing.
Many growers count on short-term lines of credit to smooth out the financial ups and downs that accompany day-to-day operations. They also rely on long-term financing to make capital investments in equipment, buildings or more land.
For nurseries, securing financing can be tricky because the valuation of a nursery's inventory can vary and evolve during the multi-year production cycle. A seedling isn't worth as much as a tree, but neither will it have all the costs associated with the finished product.
Cost of doing business
"It's hard when our returns are so far away," said Ben Rough, CEO of J. Frank Schmidt & Son Co., a grower of deciduous shade, ornamental and flowering trees in Boring. "It's not like we're dealing with a mop or a widget or a golf club. You just can't think that way."
Rough said J. Frank Schmidt employs a costing methodology to help determine the value of its inventory. The methodology considers both the direct costs associated with each plant — pots, soil, fertilizers, etc. — and the indirect ones, like travel time.
Though it can be challenging to pin down inventory value exactly, Rough said having the costing methodology in place is helpful, especially for figuring out gross margins and profitability.
Financial institutions also use the value of a nursery's inventory on their balance sheets to help secure short-term lines of credit used to fund daily operations.
"With nurseries, there's a lot of reliance on inventory compared to production crops," said Todd Hatley, a relationship manager at AgWest Farm Credit, an agricultural lending cooperative serving farmers, growers and other related businesses.
When arranging lines of credit for nurseries, AgWest looks at inventory on a cost basis — again, all the different costs that go into the crops — not the catalog value.
"We don't like to use catalog value because market conditions can change," said Katie Briggs, a relationship manager at AgWest. "Your market value is subjective to what you can sell it for, so we use the more conservative value."
Briggs said AgWest secures lines of credit based largely on a nursery's trading assets (such as accounts receivable and inventory) but also takes assets like land and equipment into consideration when looking at long-term financing.
Wildcards
Dan Nelson is owner of Hans Nelson & Sons Nursery, a grower of shade and flowering trees in Boring, Oregon. Nelson said his nursery has short- and long-term lines of credit, the latter for capital improvements like new buildings.
Every two years, the nursery provides its lenders with financial documents, including tax returns, a balance sheet and a statement of operations, to secure financing as needed. The nursery owns the crops and the equipment, and two other companies own the land and buildings.
"We don't want to comingle any of the land with the nursery," Nelson said.
Even so, lenders consider the other companies when securing financing.
"They want all those financials to base their lending off of," he said. "They want to have something to attach to in case something happens. They really want land or buildings versus just nursery stock. You can have the best stock in the world, but what happens if nobody wants it? If it doesn't walk out the door, it isn't worth very much."
That kind of scenario happened during the Great Recession, leaving many lenders out of luck. When the economy crashed and nurseries couldn't sell their stock, banks in some cases foreclosed. When there is no market for nursery stock, inventories are much less valuable.
"The nursery stock is not worthless, but the bank never really recovers what the loan would be," Nelson said.
Choppy waters
Beyond economic downturns, there are other factors that can impact a nursery's inventory value.
Rough said J. Frank Schmidt is always focused on the highest-quality trees; if any don't make the mark, the nursery disposes of them. While that's the business plan, unexpected challenges can happen and, in turn, impact value.
Case in point: A heatwave in June 2021 damaged thousands of trees that had to be destroyed. The following summer, a hailstorm hit J. Frank Schmidt's property in Milton-Freewater, Oregon, damaging the bark of tens of thousands of honeylocust trees that couldn't be sold as a result.
Nelson felt the fallout of the heatwave two years ago as well. Though the nursery was riding high on the COVID-19 sales boom — and didn't need to tap into its short-term credit line — the heat degraded a significant number of trees, rendering them unfit for sale.
"We were in a good place, but having that warm weather in June was hard," he said. "If we would have needed those unsaleable plants to make the whole thing go, that would have been a problem."
Throw in rising labor costs and other challenges, and navigating the financial waters in the nursery business keeps it interesting, to say the least.
"All these variables can paint a very challenging financial picture," Rough said. "You really have to love plants to succeed in the nursery business. You have to be nimble when nature or the economy throws you a curveball."
Financial friends
One way to help calm the waters as a nursery is to work with a financial partner who specializes in the business. Nelson said he used to work with a large commercial bank, but the bank's lending officers didn't really understand agriculture or nurseries, or the seasonality of the business. "It got to be very impersonal. It just didn't work," he said.
Since then, the nursery has switched to an ag-focused lender, which has yielded marked improvements. "Somebody who knows agriculture and understands agriculture is way better than a big commercial bank," Nelson said.
Katie Briggs, the AgWest relationship manager, has experience both in commercial banking and in the niche of agriculture lending. She said AgWest is better able to meet such a unique industry's needs, including its ups and downs.
"During periods of adversity, commercial banks can have a knee-jerk reaction," Briggs said. "Evenhandedness is one of our value propositions, and I think that's really important for nurseries and all industries that we finance."
Fellow AgWest relationship manager Todd Hatley agreed. "It comes to really building a relationship with a banker or us building one with nurseries," he said. "We're always excited to be working with nurseries, and that can be a huge factor in the success of both the nursery and the banking industry. We make decisions with those relationships in mind."
From the July 2023 issue of Digger magazine | Download PDF