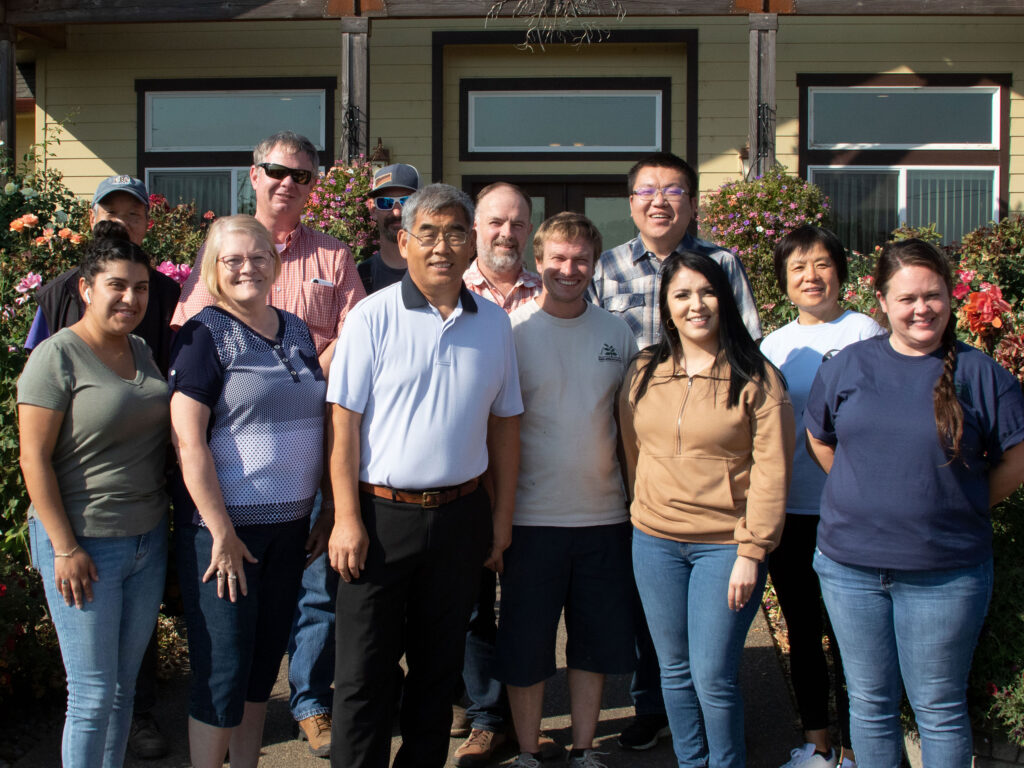 Key employees at North American Plants Inc. include (back row, l-r) Shufu Dong, Clayton Moore Jr., Jeremy Dewar, Michael Remmick, William Wang, Calxia Li, (front row, l-r) Ella Olague, Jan Young, Yongjian Chang, Nicholas Michels, Georgina Madrigal and Emily Steadman. Photo by Curt Kipp
HUNDREDS OF SHELVES OF SEALED GLASS JARS fill large warehouse-like buildings in McMinnville, Oregon. At the base of each jar, there are tiny stems and leaves peeking up from out of a concoction of nutrients.
These little plants will be multiplied, planted and eventually sold in nurseries across the world as fruit trees, nut trees and ornamentals.
The McMinnville company, North American Plants Inc., grows these plants using a method known as tissue culture.
Inside the glass jars, the minuscule plant buds or marrow stems will grow and multiply. The lab workers split up the plants into new jars, and the amount grows exponentially.
"We grow them until we get enough plantlets to take to the greenhouse and grow them to a certain height that the customers say they want," Chang said. "Tissue culture is mainly used for new varieties or varieties that have difficulty propagating from conventional cuttings or graftings," Chang said, giving the examples of pistachios, walnuts, almonds and pears.
Although ornamentals like maple and birch do grow from cuttings, Chang said using tissue culture is more efficient and produces a more consistent quality.
"If you start growing one tree on January 1 and every three weeks make one tissue subculture, by the end of the year you'll make 1 million plants," Chang said. "There's no other way to get that many."
Shirley Feng has a doctorate in microbiology. She worked in the lab for two years before becoming the lab director eight years ago. Feng said North American Plants collaborates with university professors, and both private and public plant breeders.
Feng said North American Plants has a good reputation for the quality of plants it produces, and customers reach out to the company directly for new varieties. "We also produce plants for research purposes," Feng said. "We help universities and they help us, and we both benefit."
Over the last two decades, North American Plants has been propagating new plant varieties from Oregon State University. For example, if Oregon hazelnut orchards experience a blight one year and the university researchers develop a blight-resistant variety, within one year North American Plants can propagate enough of the new variety for all the growers in the state. "Without tissue culture you cannot see so many hazelnut orchards," Chang said.
Feng said the lab grows different varieties than the year before and keeps adjusting the recipes of nutrition, pH balance, sugar and hormones. The lab has more than 200 recipes for the medium inside the jars.
"Different apples respond differently to different mediums, so we make small changes to grow them well," Feng said.
Shofu Dong, a horticulturalist with North American Plants for 15 years, oversees 25 acres of greenhouse space. Once the plant starts are ready to leave the jars, a team plants each one by hand. They are then transferred to a tunnel inside a greenhouse where Dong's staff controls the moisture, temperature and light.
"The plants in the lab are in artificial conditions where it's perfect, but they need to get acclimated to become independent," Dong said. "It's very critical for the plant."
Depending on the species and variety, the plants spend a few weeks in the tunnel. The tunnel starts completely sealed, then over time the team starts to open the sides to let in the natural light and air. Eventually, the plants begin to grow strong roots and are prepared to survive in normal greenhouse conditions.
Dong said this process takes a lot of care. "We need to be very detailed and pay attention," Dong said. "We have a good crew."
The McMinnville site grows hundreds of different plants at a time.
"We have so many varieties and new types of plants, and we try to do our best to increase the survival rate," Dong said.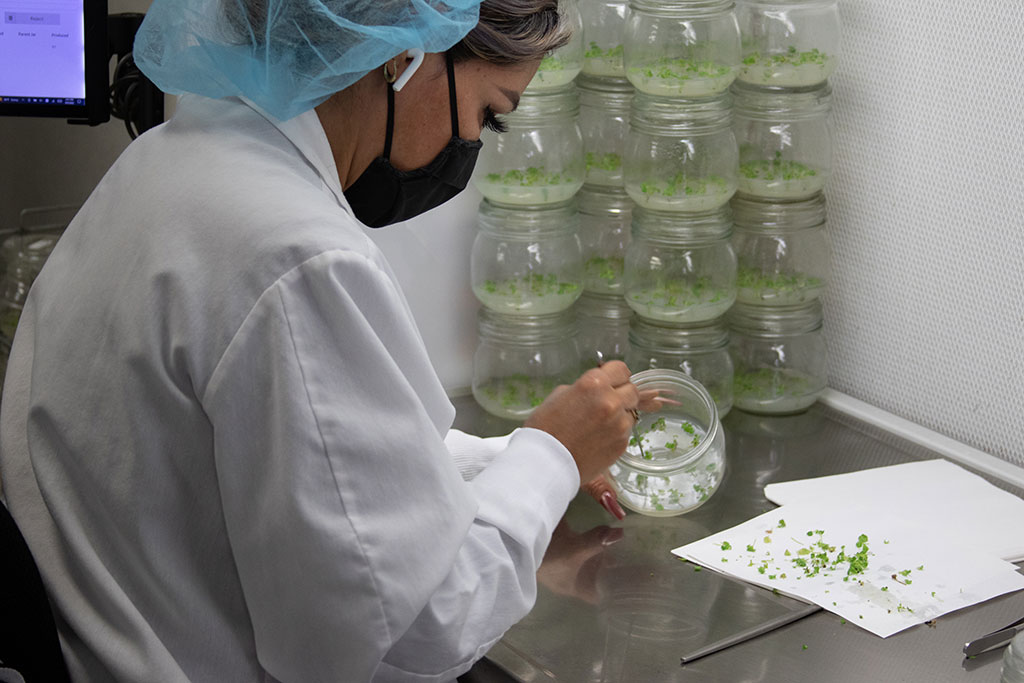 In the beginning
While the tissue culture concept is over 100 years old, the technique began in research labs and was first implemented commercially in the 1960s.
North American Plants started in 1998 as a joint venture with other local nurseries under the umbrella of an international nursery group in Barcelona, Spain, called Agromillora.
Back then, with a staff of about 15 employees, the McMinnville nursery started with a small laboratory.
Office manager Jan Young has worked for the company for 21 years.
"When I first started, this used to be a cow barn on a family farm," Young said. "We had one tiny office."
Over the years, the lab expanded to produce fruit and nut trees, ornamental shrubs and shade trees for Oregon nurseries, and then began adding customers in California and Washington. It continued to grow and sell to customers in more states and then internationally.
Michael Remmick, who oversees inventory control for berries and grafted trees, worked for North American Plants from its inception until 2006, and then returned in 2020.
"In the beginning we were doing a lot fewer plants and had less space," Remmick said, noting that being part of the international group of companies with Agromillora has been advantageous in helping the McMinnville site grow to reach both local and international customers.
By 2006, the company expanded its laboratory and greenhouse to meet the market's demand for fruit trees and nut trees.
"The best part is working with the customers," Remmick said.
Clayton Moore Jr., who handles customer questions and shipping concerns with ornamentals and hazelnuts, has been with the company for 13 years. When he first started, the nursery would ship out about 3 million plants per year.
Now, the 30-thousand-square-foot lab employs 250 people, depending on the season, and produces 25 million plants per year. These plants are shipped to 40 states in the United States and 40 different countries.
As the largest tissue culture lab in the nation, North American Plants produces a variety of plant species, including temporary products for specific customers.
"As long as the market needs us, we are producing it," Chang said.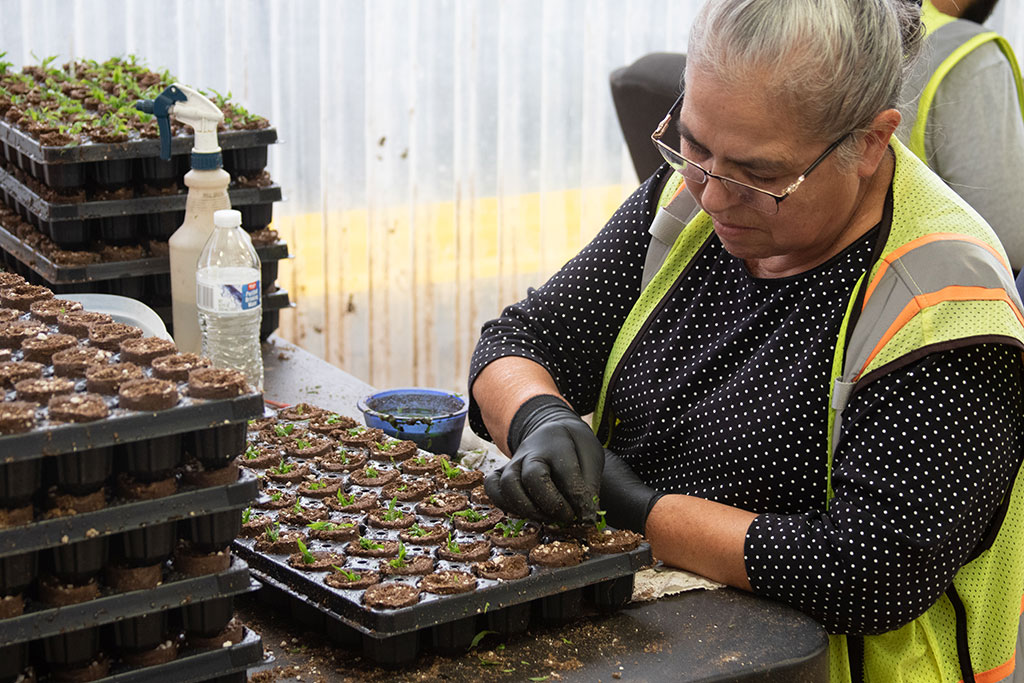 The present and beyond
"Over the years we've grown from a small office to what we have now and it's outstanding and a pleasure to be a part of," Young said. "We're in an amazing position right now. We're a stable company that never shut down during COVID."
But this success hasn't come without its challenges. Chang said one of the biggest concerns is mutation: "If we don't know if a plant has a mutation, and we continue multiplying millions of it, then we see the result two seasons later," he said. "There's no way we can say there is no mutation, but there are a lot of ways to avoid that and check for that, so it does not cause an economic problem."
In 2022, North American Plants began running a separate quality assurance lab on site to test the plants to make sure they're true to type and free of any viruses, harmful bacteria, fungi and major pathogens before growing and multiplying them.
Feng said when customers order new species, the lab ensures the new plant material is clean through the U.S. Department of Agriculture's National Clean Plant Network.
"We receive all the material clean, so there's no virus in the plants," Feng said. "If they know there's a virus, then they do a treatment to remove it."
"We try to make sure to do as much as we can to have a high-quality product and be more competitive," Chang said.
Like many industries, the main challenges are labor costs and labor shortages. From dividing up the jars in the lab to planting the plant starts by hand, producing millions of plants is labor intensive.
"We try to make it more and more efficient," Chang said. "But there is still a lot of room for improvement."
Chang started working with tissue culture in 1984 and specialized in it for his doctorate. Over the years he's seen how the process has become more efficient by improving the recipe and multiplication of the plants.
The nursery industry has also been facing shipping challenges. Moore said the record amount of plants shipped from the McMinnville site was about 960,000 in one week.
"I work very closely with the companies to ensure nothing is falling through the cracks," Moore said.
Moore said he sees the company expanding and continuing to grow in the future.
"A big part of the business is agriculture and food-based material, and we're seeing those markets change and shift, so we react to that," Moore said.
Feng said the company stays ahead of the market and gets the newest varieties from different plant breeders.
"We're prepared for the market," Feng said. "We talk with different growers and once they're interested, we have the newest varieties here. That's our advantage."
Feng said she sees a positive future for the company.
"We are very happy here and we hope our company continues running very well and very strong," Feng said.