Ever since the first Farwest Show in 1973, right up to this year's 50th anniversary, the nursery industry that comes together, grows together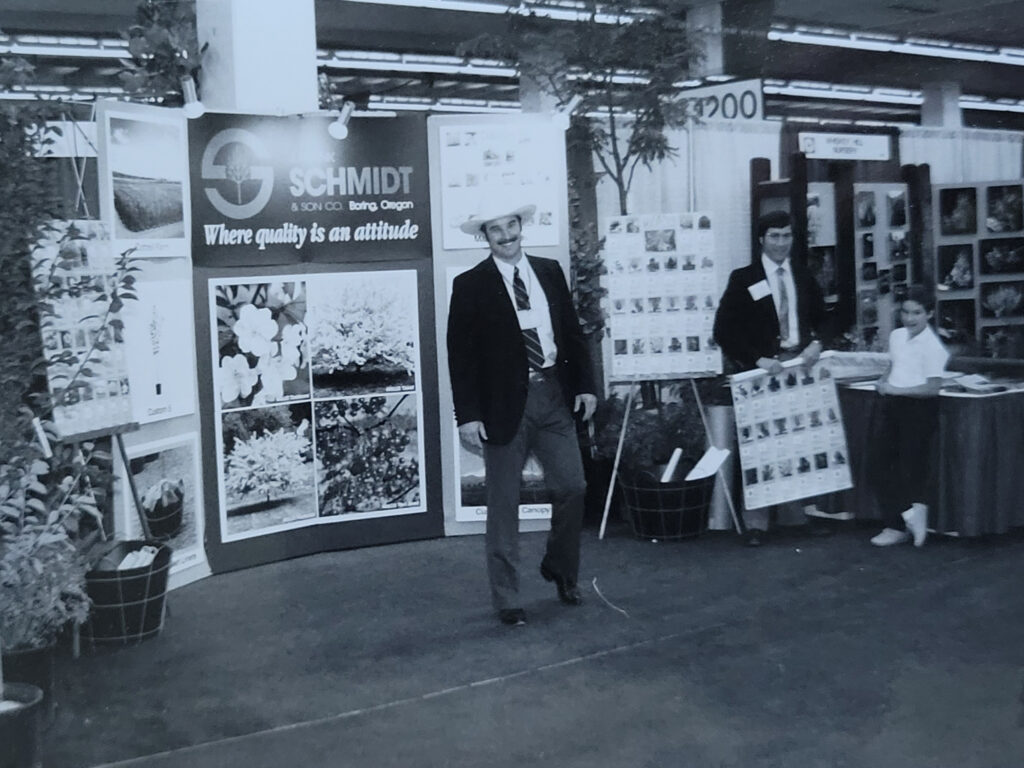 Every August, thousands of nursery professionals kick the dirt off their boots and head for the Oregon Convention Center, where the Farwest Show offers them a chance to show off their best products, plants and people.
Over the last 50 years, the Farwest Show, produced by the Oregon Association of Nurseries, has grown into the largest nursery trade show on the West Coast.
As it celebrates a half-century, the show continues to demonstrate its relevance, drawing people from around the country, Canada and the world. Walking the aisles, checking out new products and visiting with old friends has become a tradition for many, including those original exhibitors who have attended every year without fail.
J. Frank Schmidt III, the second-generation co-owner of Boring, Oregon-based J. Frank Schmidt & Son Co., along with his sisters Jan Barkley and Jean Webster, learned the ropes by attending with their father, J. Frank Schmidt Jr., who founded the nursery more than 75 years ago. As the Farwest Show has grown, so has the Schmidts' business. From humble beginnings, J. Frank Schmidt now ranks as one of the largest shade and ornamental tree growers in the U.S. with 1.5 million plants sold each year.
Schmidt remembers many hours spent in the large booth, now featured prominently at one of the entrances to the show with a 10-foot-tall banner proudly announcing their line of trees. Farwest was where he met the late, great Ted Van Veen Sr., the famed rhododendron grower from Van Veen Nursery; Don Howse, owner of Porterhowse Farms; and Raymond Klupenger, owner of Klupenger's Nursery and Greenhouses, who died in 2022 and was instrumental in the creation of the Farwest Show.
"I spent a lot of time in the booth and learned a few things over the years," Schmidt said. "I remember meeting all of those guys. They all knew so much and were respected."
How it began
Jim Heater — the first manager of the Farwest Show — was one of those guys. To this day, Heater remembers exactly that the first show in 1973 had 121 exhibitors and 1,462 attendees. He also remembers there were some who didn't immediately jump on board. But nurserymen like Klupenger, Van Veen, Schmidt and Howse believed in it from the start and threw their weight behind the show.
"All roads lead to Portland," an ad trumpeted for that first Farwest Show. Heater and Ray Klupenger, president of the OAN in 1972, donned white cowboy hats and took their show on the road to the five big trade shows at the time.
"We got reservations for those shows and had a booth advertising Farwest," Heater said. "We invited everyone to Portland — kind of like (newspaper editor) Horace Greeley, who said 'Go West, young man' (in 1871). We were looking for national attention."
The industry began to respond.
From afar, people had seen the quality of Oregon plants they were buying and were eager to see examples of the millions of plants shipped to the Northeast and other regions, and meet the women and men who produced them. Every subsequent year the Farwest Show grew bigger.
The show, which started at Portland's Memorial Coliseum, moved to the Portland Expo Center and then relocated to the shiny new Oregon Convention Center in 1991, where it eventually spilled onto two floors. Booths and, back then, display gardens, lined the packed aisles.
"It took off with such a bang once it got its feet," Heater said. "It's just the place to go now. No one has to travel all over the county with white cowboy hats anymore."
Heater, who also led the Northwest Agricultural Show for many years, remembers driving the 50 miles or so to get to Portland from his seven-generation farm. It wasn't fun for a farm boy.
"It was a challenge at times, but an awful lot of fun," Heater said. "I was working with this group of nurserymen who were smart people. They'd been around the world. They guided as much as I did. Most of them are now good friends. That was one of the best parts."
Pat Hughes, Northwest director of independent garden center sales for Everde Growers, started working the show in 1995 when he was with Hines Growers, which was purchased by Everde in 2018. Today, Everde, with 15 farms in Oregon, Florida, Texas and California, is licensed to grow First Editions, Bloomin' Easy, Proven Winners, Encore Azaleas and Bushel and Berry.
"Farwest is part of the DNA of Everde," said Hughes, who wore a sports jacket and tie before fashions changed and formality went by the wayside. Nowadays, it's polo shirts. "We call it 'old home week.' It's like the red carpet at the Oscars when they ask, 'Who are you wearing?' We do the same thing, but it's 'Who are you with now?' You look at their badge to see if they've moved to another company. There's a lot of hugging and handshakes going on. There's such great value in renewing relationships and keeping them strong. All the people you know in the industry — customers and peers — are at the show."
How it's going
Education was and still is an important part of the Farwest Show experience, according to Shane Brockshus, chief operating officer for Bailey Nurseries, the Minnesota-based grower with extensive operations in Oregon and another farm in Washington. In 2018, Bailey purchased Carlton Plants LLC, one of eight exhibitors who have had a footprint at Farwest since the very first show.
Whether it's looking for improvements and innovations, checking out how others do business, or visiting the New Varieties Showcase and New Products Showcase, where nurseries and businesses introduce new plants or products to the green industry market, the Farwest Show offers much in the way of knowledge.
Not least in learning opportunities is Farwest's educational sessions, which Bailey's plant health employees attend for continuing education and certification.
With the advent of digital marketing and sales, writing orders is rare nowadays. Bailey, which sells more than a million trees, shrubs and container plants annually, once had employees sitting at tables with pen and order form in hand. Nowadays, Brockshus feels building relationships is more important. "With technology evolving, the business is becoming more automated," he said. "But a handshake is still worth a lot."
Bill Moyer is sales manager for Briggs Nursery, a pioneer in growing woody ornamentals, including top-of-the-line rhododendrons, Kalmia and unusual plants their customers can't find anywhere else. He thinks the show is still the best way to connect with current or potential customers.
"We may get a few orders, but attendees see what's new and that often inspires future sales," Moyers said. "Getting orders online doesn't offer the opportunity to make contact with customers. Now, Farwest is about customer service, rather than seeing how many orders are written."
A family affair
The hustle and bustle as exhibitors rushed around getting booths set up, not an uncomplicated proposition, was a formative part of childhood for Steve and Joe Gold, owners of Gold Family Farms Inc., a third-generation nursery in Hillsboro, Oregon, that specializes in containerized conifers, deciduous and evergreen trees, and shrubs and topiary. For years the nursery had two booths, and the boys would help build and break them down.
"It was a big thing for us kids; it was something we did with Dad," Steve Gold said. "I remember my dad would tell us what to get ready and we'd get it in the truck. He did the design, we helped set up and then we'd go to dinner. Just the kids with Dad. It was good family time."
Farwest was party time, too. Nurseries shuttled attendees from the Oregon Convention Center to nursery country for operational tours, food, drinks, merriment and, of course, plants.
Starting in 1996, J. Frank Schmidt & Son Co. celebrated its 50th anniversary by inviting Farwest attendees to a plant tour, dinner and dance for more than 500 guests. As the special event continued over the years, the Schmidt Arboretum became the place to network away from the Farwest trade show floor. But most of all, these parties were fun, with memorable themes like Augtoberfest and Fiesta Farwesta.
Susie Usrey, retired vice president of customer relations at Monrovia Growers, which grows more than 4,000 varieties, remembers many good times, too. People came to Monrovia's farm in Dayton, Oregon, for more fun. "It was just so good to see people you didn't see a lot. We would invite people to our house. We did a lot of that. It was pretty much our life, which was wonderful. I really miss it."
The future of Farwest
Starting in 2008, the Great Recession put a damper on the number of Farwest attendees and exhibitors. Then the COVID-19 pandemic cancelled the show in 2020. But since coming back in 2021, Farwest continues to show its immeasurable value to the growth of the green industry.
For 2023, more than 300 exhibitors will converge on Portland, along with more than 4,000 attendees. Farwest is, like Hughes said, in Everde's DNA, and so it is in the other stalwart exhibitors (see sidebar, "50 and counting").
"It's our tradition. It always turns a profit for us," said Rick Anderson, president of Anderson Pots in Portland, Oregon, an innovative business that produced the first plastic nursery pot in 1957. The company has concentrated more on the nursery industry in the years since they showed up at the very first show.
"Businesswise it's still good, and it's something to carry on. We're part of the nursery industry and we need to support it. It's a very good show, still the biggest on the West Coast."
From the August 2023 issue of Digger magazine | Download PDF