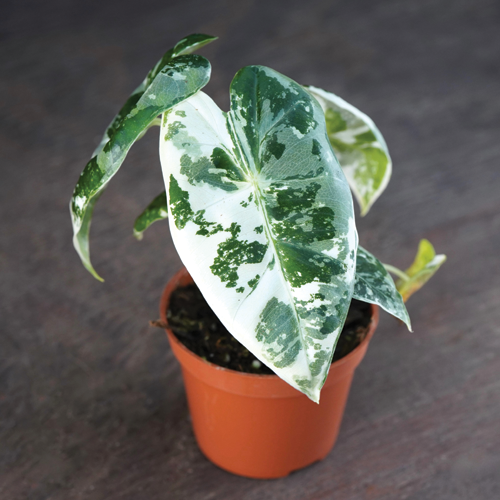 Variegated Frydek Elephant Ear (Alocasia micholitziana 'Frydek Variegata') was chosen by professional judges as the Best in Show winner in the 2023 Farwest Show's New Varieties Showcase.
The plant, discovered in the Philippines, was introduced by Andrej Suske and Cascade Tropicals LLC based in Snohomish, Washington, is one of 59 outstanding new selections on display at the 2023 Farwest Show and available from at least one show exhibitor.
The show opened Wednesday, August 23 and continues through Friday, August 25 at the Oregon Convention Center in Portland, Oregon. The show also presents People's Choice awards, which are chosen by attendees voting on the show floor. Those awards will be announced on Friday, the final day of the show.
"The future is always in motion," said Mary Claire Lamm, manager of events and education for the Oregon Association of Nurseries, which produces the show. "Our industry relies on a steady stream of new and better plants to fascinate plant lovers and perform in the landscape. The Farwest Show is a great place to see those new plant introductions that will move the industry forward."
This variegated elephant ear is a sought-after form of 'Frydek', for its unique variegation on velvety, soft foliage. Its mature leaves can get up to 18 inches long. It grows to 3 feet wide by 3 feet tall, and is hardy to zones 10a–12. It is available as 2-inch and 4-inch containers from Cascade Tropicals LLC (Booth #7037).
In addition of the Best of Show award, judges gave Awards of Merit as follows:
Double Scoop™ Watermelon Deluxe Coneflower (Echinacea × hybrida, 'Balscmelux' PPAF, hybridized by Ping Ren in Elburn, Illinois, and introduced by Darwin Perennials. These new deluxe varieties bring the branching, flower count and timing of the Sombrero® Series to Double Scoop. They are more compact with better branching and a higher flower count than the typical double-flowered Echinacea, and have more reliable first-year flowering. Grows to 22–24 inches tall and 18–20 inches wide. Hardy to Zones 4a-9b. The plant is available as liners from Farwest exhibitor Ball Seed Comapny (Booth #15025).
Banana Split® Winter Daphne (Daphne odora 'Monzulzay' PP35217), discovered by Cesar Velazquez and introduced by Monrovia Nursery Company. Banana Split is an exceptional new selection with variegated foliage. Each leaf has a wide yellow edge. Rose-pink buds open to white, sweetly fragrant flowers. It is a great foundation plant in dappled shade that resists reversion compared to other variegated daphne varieties. It grows to 3–4 feet wide by 3–4 feet tall and is hardy to Zone 7a. The plant is available as #2 containers from Farwest exhibitor Monrovia Nursery Company (Booth #17037).
Peppermint Patty Heartleaf Bergenia or Pigsqueak (Bergenia cordifolia 'Peppermint Patty' PPAF CPBRAF), hybridized by Hans Hansen at Walters Gardens in Zeeland, Michigan and introduced by Walters Gardens/Proven Winners. It offers a very unique look for Bergenia, with white flowers that have a pink throat with color radiating down each petal. The petals are then edged with a matching thin pink picotee margin. Individual flowers are above average in size at 1¼ inches wide. Its flower stems are bright rose pink before transitioning to green near the base. Wavy, serrated leaves have extra heavy substance with prickly, toothed edges. It grows up to 22 inches tall and 16–18 inches wide, and is hardy to zones 4a-9b it is available as 72 ct. and 20 ct. plugs from Farwest exhibitor Proven Winners/Walters Garden (Booth #9056)
All of the New Varieties Showcase selections are viewable at the Farwest Show and at https://farwestshow.com/new-varieties-showcase/. As a reminder, the show will be open until 2 p.m. Friday, August 25 to see them personally.
The Farwest Show serves professionals engaged in the nursery industry and related trades, including retail nurseries, wholesale growers, landscapers, landscape designers, and others involved in the green industry. For more information about the 2023 Farwest Show, visit www.farwestshow.com.