Only the stoutest of political nerds would recall that President Ronald Reagan's farewell address to the nation invoked a 1630 sermon by Puritan pilgrim John Winthrop.
White House speechwriter Ken Khachigian tapped into Reagan's long-held North Star of America, defining his vision of "the shining city upon a hill." Looking back from where we were as a nation, 34 years later, it seems that the nation needs to recommit to goodness that is our blessed lands.
The true land of opportunity
Now, as we set sail towards the 2024 election, I wonder what the American electorate would think of a core principle outlined by the 40th President of the United States. Reagan's address defined America as "a tall, proud city built on rocks stronger than oceans, windswept, God-blessed, and teeming with people of all kinds living in harmony and peace; a city with free ports that hummed with commerce and creativity. And if there had to be city walls, the walls had doors and the doors were open to anyone with the will and the heart to get here."
He continued, "For we must consider that we shall be as a city upon a hill. The eyes of all people are upon us. So that if we shall deal falsely with our God in this work we have undertaken, and so cause Him to withdraw His present help from us, we shall be made a story and a by-word through the world."
It is not lost on me that in his time, Reagan was seen by some as a dangerous conservative that would diminish our great nation. It is my belief that in 2024, Reagan could not even make it out of a Republican primary.
Teaching is a call to action
As president, Reagan's sobriquet (or nickname) was that of "The Great Communicator." It is an apt description and set a standard for the presidents who followed him. Bill Clinton had his moments, but it really was Barack Obama who came closest to the former California governor and Hollywood actor.
Interviewed after his farewell speech, Reagan said, "I wasn't a great communicator, but I communicated great things, and they didn't spring full bloom from my brow, they came from the heart of a great nation — from our experience, our wisdom, and our belief in the principles that have guided us for two centuries. … For me it always seemed more like the great rediscovery … of our values and our common sense."
Then, he asked, "Are we doing a good enough job teaching our children what America is and what she represents in the long history of the world?"
The great idea of America
Every generation needs to recommit to the great experiment that is democracy and our form of government. It is not easy. It is supposed to be hard. To be earned. To respect that we continue to be the sum of our collective parts — good and bad.
What is hiding in plain sight is the degradation of education and civics in our state and country. Recently it was reported by the Oregon Capital Chronicle that Oregon has spent more than $250 million in the past 25 years on reading, but that money has failed to help more than a generation of students. Over the last 25 years, nearly two in five fourth graders and one in five eighth graders have scored "below basic" on the National Assessment of Educational Progress, often referred to as the nation's report card. That means they struggle to read and understand simple words. Today, few Oregon fourth and eighth graders are proficient readers.
Along with this decline in basic education, public trust in government is also declining. The reasons are many, but it doesn't help that only a shrinking minority of Americans know how American government works.
Less than half of respondents to the 2022 Annenberg Constitution Day survey could identify the three branches of government, the first drop in six years. More than two-thirds of U.S. residents who answered the American Bar Association's 2023 civic literacy survey said that the general public is either "not very informed" or "not informed at all" about how government works.
Filling this gap could begin in our schools, but that's been neglected for decades. Earlier this month, the National Center for Education Statistics released the civics and history scores for eighth graders from its 2022 Report Card. Average civics scores declined for the first time since 1998. Fewer than 1 in 4 students were "proficient," with a level of understanding sufficient to apply the subject, and 31% tested below the "basic" level. We need to be able not only to be able to spell "shining city on a hill," but recognize what it takes for the great idea of America to shape democracy.
Happy 247th birthday, America!
Agriculture is a bedrock of our country and our democracy, and it is with those precious few, that we continue the aim of American exceptionalism. When we see critical issues whither on the vine of apathy, we must not wait for others to act.
Our nation is at her best when the citizens understand their world around them and seek opportunity in every dark moment. We are a better people when we understand that government by, of and for the people is how we take responsibility to make a better life for our children.
Every July, as we celebrate our nation's independence, let us give thanks to our family, friends and countrymen.
Before concluding his farewell address by saying "goodbye, God bless you, and God bless the United States of America" President Reagan offered "lesson number one about America."
"All great change in America begins at the dinner table," he said. "So, tomorrow night in the kitchen I hope the talking begins. And children, if your parents haven't been teaching you what it means to be an American, let 'em know and nail 'em on it. That would be a very American thing to do."
Happy 4th!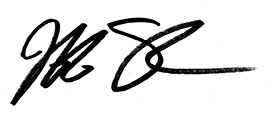 Jeff Stone, OAN Executive Director
Director's Desk from the July 2023 issue of Digger magazine | Download PDF