Today's technology can automate every aspect of irrigation, saving labor and water, but it comes with a price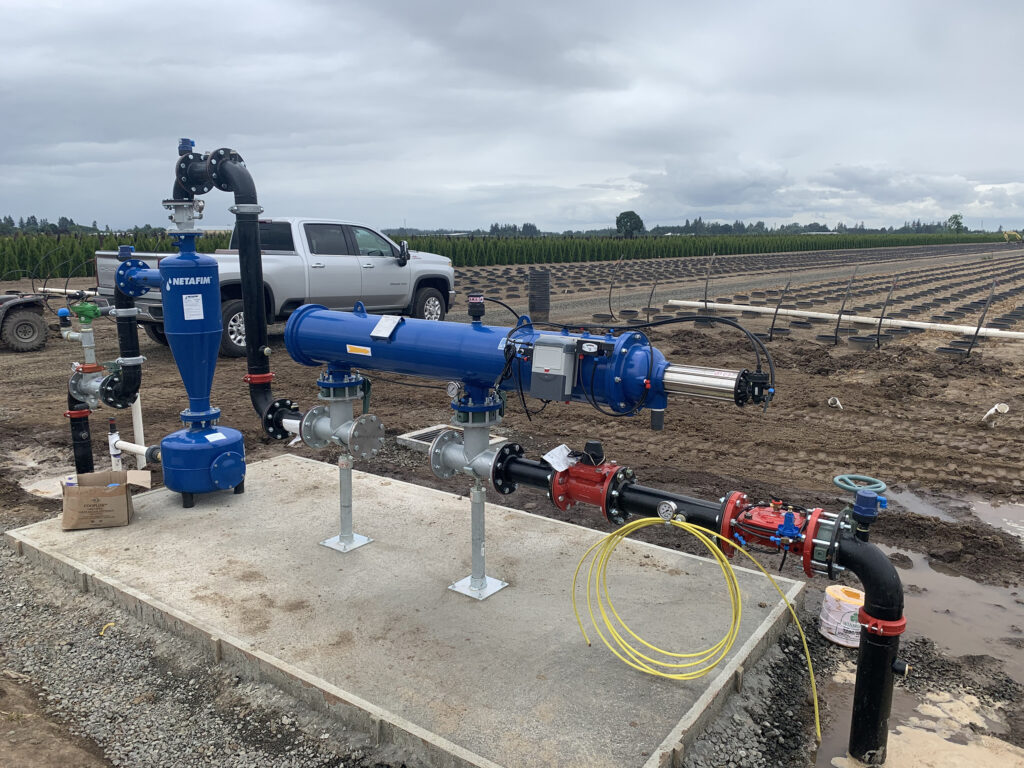 With irrigation controls at your fingertips and data on soil moisture levels and plant stress a click away, today's nursery producer has more control over plant health than at any time in history. And with labor and water at a premium, adopting technology that can save resources while optimizing plant health gets more important each day.
According to Paul McFadden, an agricultural irrigation business consultant out of Escondido, Calif., the nursery and greenhouse industry is generally ahead of most agricultural industries when it comes to adopting advanced irrigation technology. That's particularly true when it comes to indoor production, he added.
"Nursery growers seem to be taking the leadership in that area," McFadden said. "And I think one reason for that is because it is a controlled environment, and it is a longer-term crop in some cases. With the regulation of heat and cooling and light and humidity, you can control that a lot easier inside than outside."
That said, acquiring a comprehensive understanding of how to utilize available technology can be a Herculean task, McFadden said. Starting small, he said, may be the best option.
"Stick to the basics, know your system, maintain your system," he said. "Then, if you have a need for soil moisture sensing or automation and you have the aptitude, then go slowly and learn about the product and the company behind it."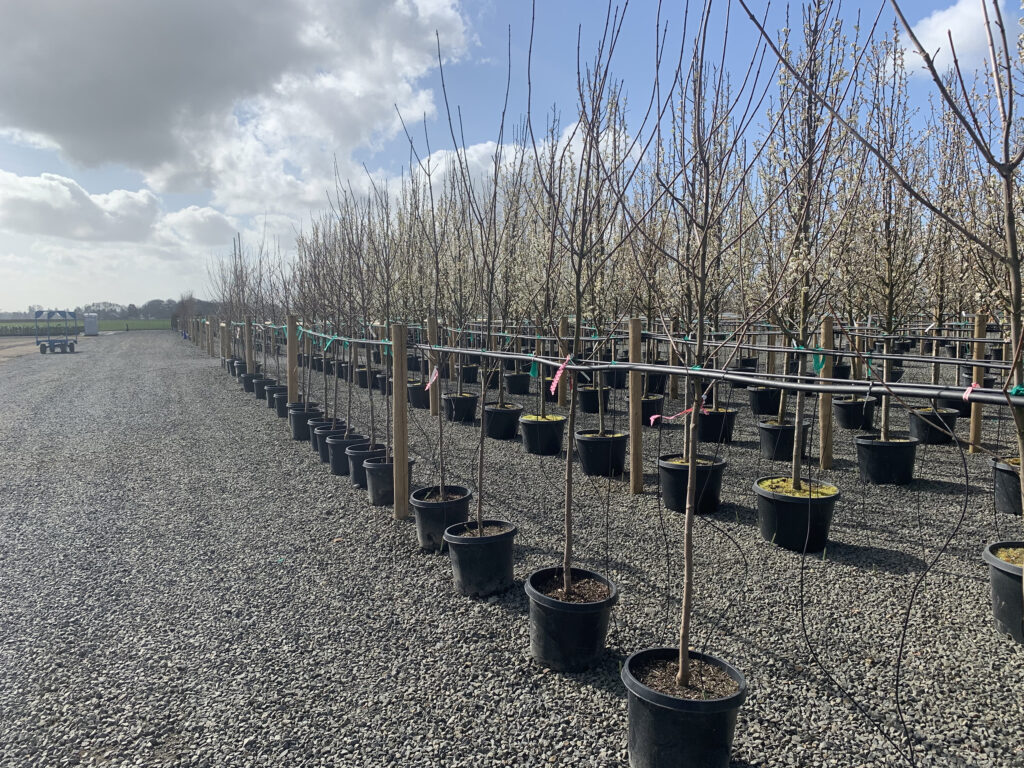 Remote control
With advanced systems, such as those available through Netafim and Rivulis, farmers can not only access information on plant stress and soil moisture, but can also automate a system to ensure plants get water when needed.
Adopting automation means that pumps turn on and valves open at predetermined soil moisture levels, which saves work and water. However, it is an option that many growers aren't ready to embrace, according to Scott Brault of Ernst Irrigation in St. Paul, Oregon.
"Growers still want that control," Brault said. "They want to be able to start and stop that machine. But it is definitely going in that direction, where you plant it and then walk away from it."
One piece of irrigation technology that growers are adopting on a widespread basis, according to Joshua Kraemer of Orchard & Vineyard Supply (OVS) in McMinnville, Oregon, is monitoring soil moisture with soil sensors. And it is providing significant benefits, he said.
"A lot of people who are running pot-in-pot nurseries are implementing soil sensors, and it is really saving a lot of water and growing phenomenal plants," Kraemer said. "It is amazing what nurseries can do now with soil sensors and digital ag systems.
"In the old days, you would have your manual soil sensor, flow meter, and then pay somebody to go out to the field to collect the data."
The piecemeal approach that has permeated the advent of irrigation technology, in fact, has been one of the biggest impediments to widespread adoption of the technology, according to McFadden.
"This has been going on for 20, 30 years," McFadden said. "Somebody will come up with a better soil moisture monitor or a weather station or something like that where they will bring it to market, try and get that product up and running, and then they get it to a point where they can't scale it any further. And they have to sell it through distributors, so they go to irrigation companies and the irrigation companies are designers and installers and sometimes maintainers of systems. But they typically don't have a service model as part of their offering, and unless you have a dedicated person to bring in new technology, it is pretty hard to support it."
Biggest mistake
Even today, according to McFadden, growers aren't getting the full benefit of irrigation technology, often because they aren't getting the most out of their equipment.
"I think universally, the number one issue that I've seen in my career is distribution uniformity and system maintenance," McFadden said. "And that is backed by 20 years of data by the folks at the Irrigation Training Research Center in Cal Poly and by the Center for Irrigation Technology at Fresno State."
Research consistently has shown that irrigation systems are not operating at full capacity, McFadden said. "Systems that are designed to operate at a 0.9 or a 0.92 distribution uniformity, after a year or two typically are down in the 0.8 range," he said.
McFadden added that research from Fresno State shows a lot of permanent crop irrigation systems are operating at 0.5 or 0.6 distribution uniformity (DU), which is a measurement of the difference between water and nutrients coming out of the first emitter and the last emitter in a system.
"So, there is a difference there where folks aren't flushing lines, aren't cleaning emitters and as a result, to compensate for that, they have to overirrigate by that 10% or whatever that delta is, so that all the plants in the field are getting equal amounts of water and nutrients. Hence the additional cost, and so forth," McFadden said.
"So, say if you are operating at 30% less efficiency, in order to overcompensate, you have to irrigate 30% more to push that water to the bottom of a field or the last emitter so that last plant gets adequate water and nutrition. But conversely, on the front end or the end where it is operating at optimum, you are getting 30% more than you need, so those plants are also suffering," he said.
McFadden added that he believes the single most important piece of equipment in an irrigation system is a flow meter. "You can't run a car very long without a fuel gauge," he said. "You may have a well-running car, but if you can't monitor it, you can't manage it.
"Technology is glitzy and everybody thinks it is going to solve all your problems," McFadden said. "But it is like cars: If your car is not running well and you need a tune-up, all the technology you strap on that thing isn't going to make it any better."
Steve McCoon of Nelson Irrigation in Walla Walla, Washington, said keeping things simple and reliable sometimes is the best approach in getting the most out of today's irrigation technology.
"For us, it is about reliably turning things on and off wirelessly," McCoon said. "The system we sell, the TWIG wireless control system, is an automated system. There is a place where you can monitor a flow meter, so you know there is water flowing through pipe. You can monitor a pressure sensor, so it will be able to tell you what the pressure and flow rate is to the pipeline, and you can hook up a wind gauge and align it to shut down if it is too windy to run your sprinklers.
"You can operate up to 100 TWIG decoders on a single controller with the TWIG apps. They are easy to program and there are no subscriptions fees. But that is about as fancy as it gets," he said. "We wanted it to be very simple and very reliable."
Benefits vs. costs
In the end, the decision to invest in irrigation technology comes down to analyzing the benefits versus the costs, according to sources. And today, with ag overtime coming onboard in Oregon, and increased costs and demands associated with water use, investing in irrigation technology is becoming more and more reasonable.
"The growers I deal with are definitely just trying to cut work hours," Brault said. "They have to deal with the overtime laws now. They are looking to shave off anywhere they can. And this technology helps them to do that."
"I think it is worth investing in technology — with some conditions," McFadden said. "The farmer has to be willing to invest in the time to learn it and teach their people how to use it. And the company that is building this equipment has to be able to support it. And then it has to perform because the farmer is going to have to pay for it."
In many cases, upfront costs are substantial, Kraemer said. But, in the right circumstances, return on investment can be as little as one year.
"When you have an irrigation system where everything is automated, including filtration, solenoid valves, pumps, fertilizer injection, line cleaning, soil sensors and a platform that can be controlled remotely with a mobile device, you have all the management tools you need to make snap decisions that are accurate and at your fingertips," Kraemer said.
"I have seen nurseries implement digital ag modern irrigation practices and have a return on investment of around one to two years," Kraemer said. "And that is on the labor savings alone. That isn't including the improved yield and grade and loss of material, which is often hard to calculate."
The costs for these types of comprehensive systems can be out of range for smaller nurseries, Kraemer said. But, even then, he said, those interested should check with their local Natural Resources Conservation Service to see if grants are available to implement systems.
The biggest misstep Brault sees when it comes to irrigation technology is growers not giving it a chance.
"I'd say the biggest mistake is being leery of technology," Brault said.
"With modern digital technology, we have the ability to revolutionize the efficiency among water usage and labor savings," Kraemer said.
Mitch Lies is a freelance writer covering agricultural issues based in Salem, Oregon. He can be reached at MitchLies@Comcast.net.
From the March 2023 issue of Digger magazine | Download PDF