Advances in automated shrub trimming save time and labor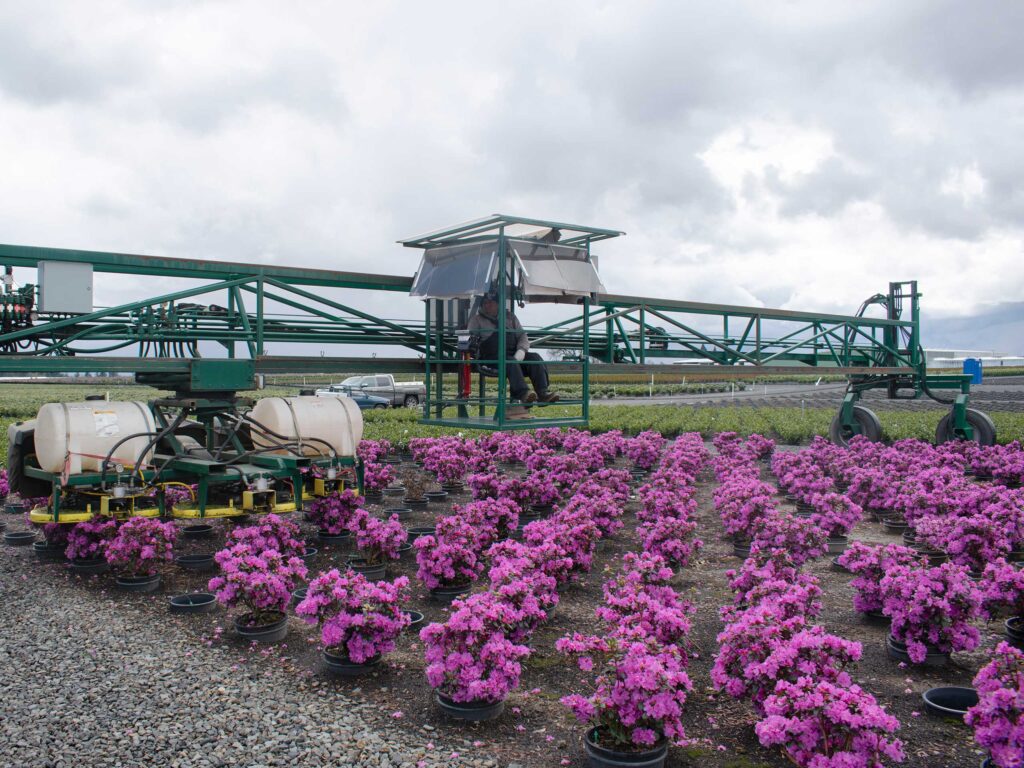 With its wheels stretched 60 feet apart, a mowing machine makes its way over multiple rows of rhododendrons, leaving them uniformly trimmed on top. Powered by only one person riding on top of it, this machine gets the work done quickly, saving large wholesale grower Woodburn Nursery & Azaleas Inc. (Woodburn, Oregon) time and money on labor.
The machine, built by Woodburn's Nursery Manager Craig Hopkins, is used to trim more than 100 acres of plants at the nursery. A second machine at the nursery runs autonomously with one person monitoring it. It uses GPS receivers to know exactly where the center of each plant is, so it can prune the sides evenly.
"As far as we're aware, it's the first machine of its kind in the world," said Noah Fessler, representing the third generation at Woodburn Nursery & Azaleas. "We talked about this for five years before the technology and the builder in Holland (Lommers) was ready to put it together."
Woodburn Nursery & Azaleas uses a pot-in-pot system, meaning potted plants are placed inside stationary pots in the ground, allowing them to be easily removed and harvested at any time of year.
The company tracked the GPS coordinates of each grounded pot by flying drones over the nursery and using an algorithm to find the center of each pot.
"We can lay that out into a software program and basically just give this machine the raw coordinates of it," Noah Fessler said. The GPS receivers allow the machine to run on its own, knowing the location of the plants and where to use its bladed arms to prune them.
According to Noah Fessler, it would take 20 people per day to keep up with this machine manually. It's primarily used to trim the sides of taller plants like Thuja plicata 'Green Giant', Thuja occidentalis 'Smaragd' (emerald green arborvitae) and Prunus laurocerasus 'Schipkaensis' (skip laurel). Eventually, Fessler plans to switch out the machine's blades for others that can trim different angles for a variety of cuts.
"We have a vast area here that all needs pruning," he said. "We take a lot of our workforce to dedicate those resources to it."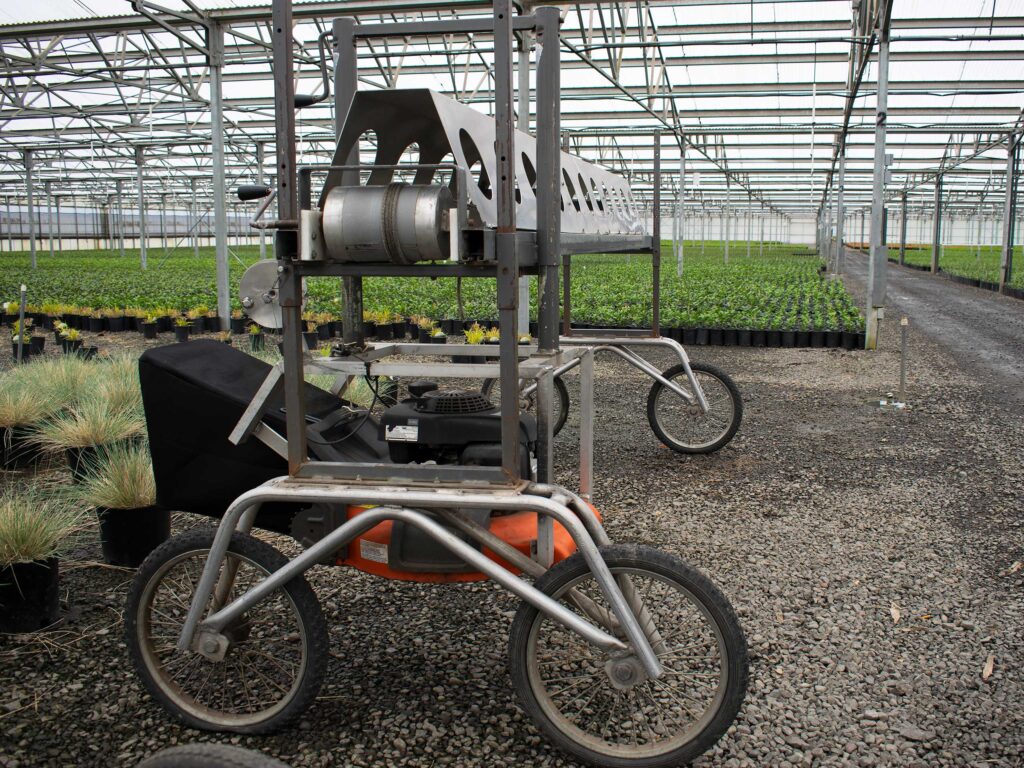 Labor savings
While the industry faces current challenges of labor shortages, the rising cost of existing labor and competition in the market, automation is not new to Woodburn Nursery & Azaleas.
"My parents were very aggressive in that arena 40 years ago," said Tom Fessler, company president and Noah's father. "That's been part of our thought process the whole time." He added that his parents bought one of the first potting machines by Gleason Industries in Oregon. "They were always looking for ways to improve efficiency."
Now, wholesale growers like Woodburn Nursery & Azaleas continue to look for ways to meet rising costs of production. Noah Fessler mentioned Oregon House Bill 4002, which went into effect at the start of 2023. It requires that agricultural workers be entitled to overtime pay.
The overtime requirement is being phased in over time. The threshold is 55 hours in 2023 and 2024, 48 hours in 2025 and 2026, and 40 hours in 2027 and beyond.
"We have to tighten up where we can, and pruning was a big thing to go after," Noah Fessler said.
The smaller plants at the nursery that aren't yet ready for the grounded pots are pruned by moving through a conveyor belt trimmer built by Wiesner Metal Fab in Brooks, Oregon.
Kraemer's Nursery, a large wholesale grower based in Mount Angel, Oregon, uses the Wiesner trimmer to run its potted plants through the machine out in the field. While one person steers the machine, another employee picks up the pots and feeds them into the machine.
A conveyor spins the pots as they go through, and internal blades cut the tops and sides. The finished product comes out the other side, and another employee takes them out.
"We get uniformity and speed," said Raul Moran, production manager at Kraemer's. "We need automation because of the labor shortage and hours. We're always looking for efficiency and uniformity." He added that the Wiesner machine is 23 years old.
"It's been difficult to attract and retain laborers and I think that started about 20 years ago," said Chris Ames, operations manager at Kraemer's. "A lot of the pruning has to happen all at once, so machines like this allow us to get it all done timely."
Kraemer's and Woodburn also use a smaller mechanical version of the 60-foot-long mowing machine Craig Hopkins developed. These simpler trimmers, made by nursery supplier Wurdinger Manufacturing in Silverton, Oregon, can be easily moved around to indoor greenhouses and outdoor beds.
The Wurdinger trimmer straddles the plants in a bed. A lawnmower is hung on a frame and two people can maneuver the mower across the frame using a hand crank while the trimmings get collected into a bag.
Some of the straddling mower machines can be extended to cover a wider area, and some are longer to cover two beds at a time.
Another tool Kraemer's uses is from AgroNomix in Oberlin, Ohio. Moran said the AgroNomix EZ Cut Trimmer is much faster than the mowing machine and makes a cleaner, sharper cut because it uses a sickle bar instead of a blade. The trimmer requires two people to operate it.
"It also has a blower, so as the sickle bar is cutting it, the blower shoots the cuttings into a bag," Moran said.
"A bed that might take five minutes with the AgroNomix might take an hour of pruning with a group of six people," Ames said. "It captures the debris, which is really important to get that debris up and out of the plants for disease prevention and to keep the beds and gravel areas as clean as possible."
Ames said the AgroNomix is used on plants that require a cleaner cut than the other pruning methods can provide.
Kraemer's Nursery also uses another AgroNomix trimmer to prune the plant starts while they're still in plug trays.
"If they come from propagation, they're already pruned, but if they're purchased, they'll come in and we'll want to do a little fine pruning on them," Ames said. "It's a really efficient way to get plants pruned prior to potting."
Trimming the plants before potting can help them branch low and it makes for a more consistent crop. This machine uses a vacuum to suck up the cuttings out of the plants to keep them clean and healthy.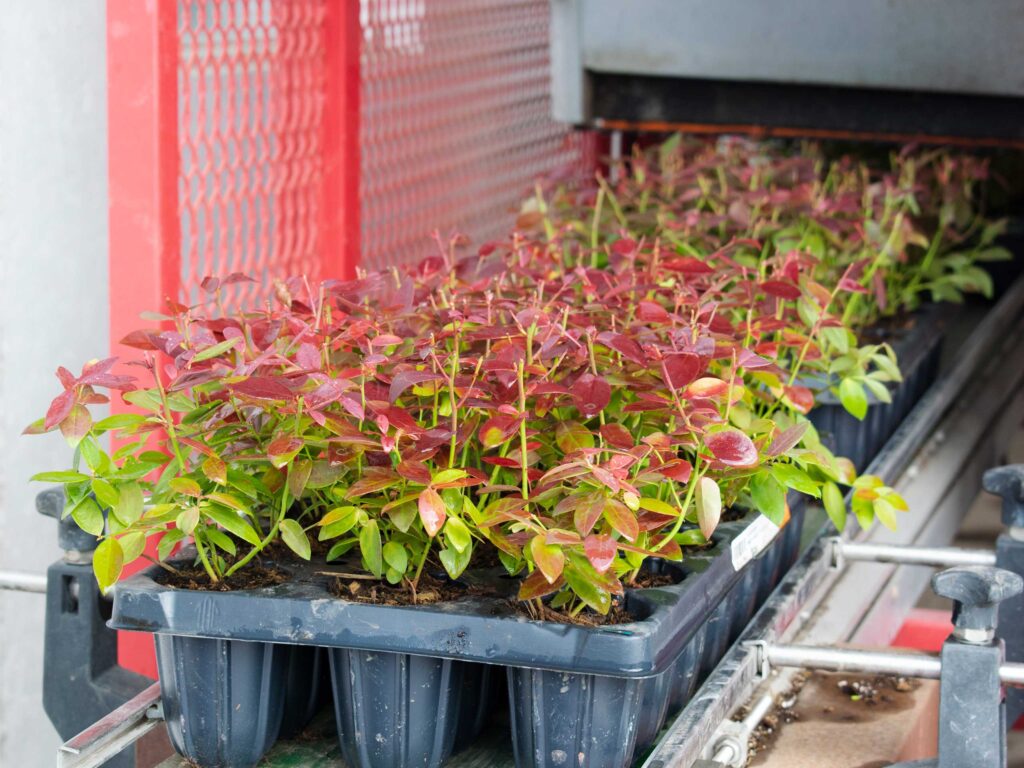 Supplying need
Hort Tech Systems LLC in Hillsboro is one of the Oregon companies that supplies wholesale growers with the automation equipment. Clay Starke, president, has been involved in the nursery industry since 1983 and has seen how labor has changed over the years.
"It used to be that you'd get 15 to 20 people looking for work and you'd have a choice of good strong labor, dedicated people who you could count on," Starke said. "But now it's to the point where you have to beg and go out to recruit people to go to work for you."
Hort Tech was inspired by Midas Nursery Solutions, which was founded by the Gold family of Gold Family Farms. "They saw the need for automation at their own nursery for trimming shrubs and trees into specific shapes," Starke said. "They saw the need due to the lack of manpower, and they wanted everything to be equal and the same across the board."
Everde Growers, a Texas-based grower formerly known as TreeTown USA with farms in several states including Oregon, acquired Midas Nursery Solutions in 2019. Matt Gold of Midas Nursery Solutions had been trying to sell automation equipment to the large national grower and found more than a new customer.
"They offered me a job to help navigate a few different automation projects," Gold said.
At that time, Starke decided to start Hort Tech to fill the role that Midas had started in automation.
Now the director of continuous improvement at Everde Growers, Gold said one special automation project is at the company's farm in Forest Grove, Oregon. A machine there simultaneously prunes multiple plants that are planted in the ground into globe shapes.
"That's probably the only site that will get that machine," Gold said.
Starke said automation has made a big difference in uniformity of the products. "Where there used to be 10 people in the field with 10 different trim styles and speeds, now there's one trim that is all the same and equal. Now there's one or two people with these machines and the productivity has increased," Starke said.
As a supplier, Hort Tech Systems works with six different manufacturers to meet the needs of the growers, about 30% of the time with custom builds. For some customers, he may need to work with three or four different manufacturers on separate components to fit the need.
Starke said the technology has advanced in recent years. "We can now adjust the shape and size of a single blade," he said. "And I can use an adjustable curved blade to adjust for the top or sides, and with different sizes."
Gold said it's important for Everde Growers to stay competitive with costs. "Other companies are looking at automation and we've got to look at not pricing ourselves out of the market because the costs are too high," he said.
Some of Everde's sites pump out a large volume of plants while others produce less, depending on their climate and what they can grow.
"Some farms with less production may take us two to three years to have a return on investment, but if productivity stays the same and labor costs go up, the return on investment becomes much smaller," Gold said.
Starke said the upfront expense for automation equipment can be high. He estimated it costs between $14,000 and $18,000 to ship from Europe a 40-foot container of material, which could become about four different machines depending on the scope of each one.
But the issues with labor and time still make the machines an economical choice for growers.
From the June 2023 issue of Digger magazine | Download PDF