Hinoki cypress is hotter than ever for use in modern landscapes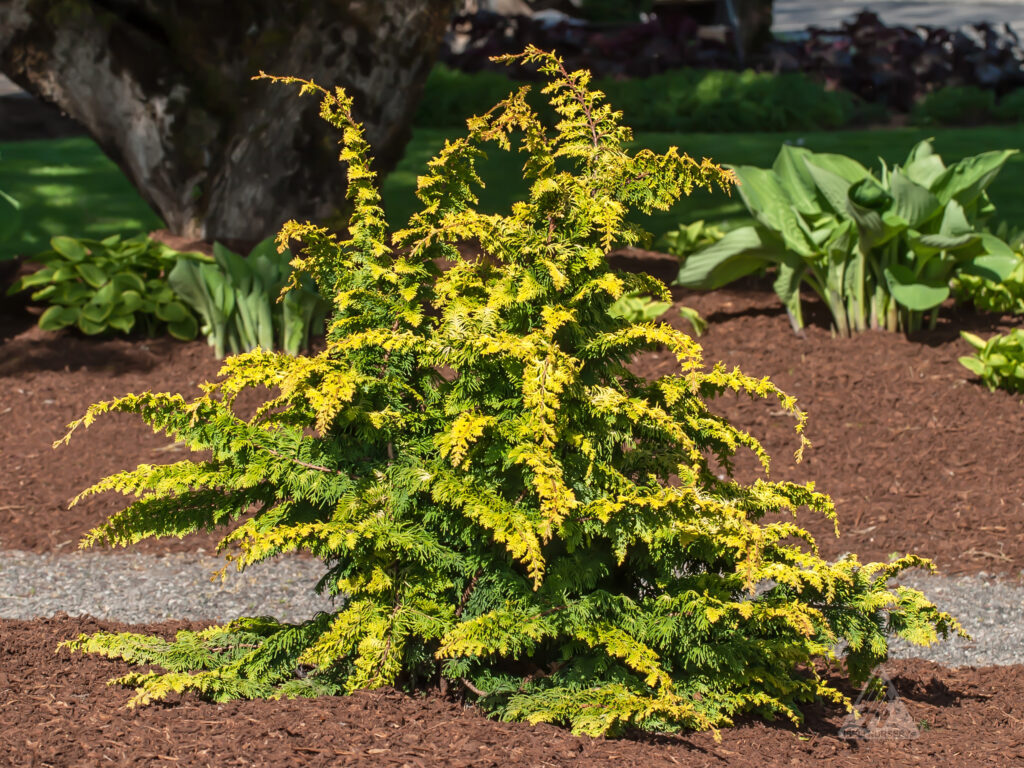 In Japanese, Hinoki literally translates to "fire tree." Like its namesake, Hinoki cypress (Chamaecyparis obtusa) lights up the landscape. An evergreen conifer with an upright form that resembles a burning fire, Hinoki has a slow growth habit that fits well in small landscapes, including residential gardens.
Kevin Borts, nursery manager at Bizon Nursery Company in Hubbard, Oregon, said the market for Hinoki is hot. Over the years, he's seen demand for them increase as homeowners and landscapers look for plants that will fit into tight spots — and shine.
"Today in most residential neighborhoods, houses have a smaller footprint with not much of a yard, so the plants used have to go vertical or stay smaller in growth habit to utilize the space better," Borts said. "Hinoki works well."
While some varieties can grow 40 to 75 feet tall, the nurseries offering Hinoki cypress for residential landscaping tend to carry smaller cultivars. Bizon, a wholesale grower of primarily evergreens, sells about 30 different cultivars of C. obtusa to other wholesale nurseries and garden centers.
Iseli Nursery, a wholesale grower in Boring, Oregon, grows 27 cultivars of Hinoki cypress, ranging significantly in color, habit and growth rate, but all categorized for hardiness zone 5.
Jock Demme, sales manager at Iseli, said growth rate preference for landscaping is predicated on the size of the garden and the architectural function desired.
"Hinoki cypress range in size from the very dwarf to fairly fast-growing tree forms," Demme said. "The most popular in the garden center trades are the slow-growing and intermediate-growing clones, in either dark green or gold variegated."
Size matters
Rare Tree Nursery, a grower based in Silverton, Oregon, specializes in conifers. They process thousands of orders of Hinoki cypress every year, many of which are sold directly to homeowners for use in their gardens through a direct-to-consumer website, ConiferKingdom.com.
Larry Stanley of Rare Tree said that customers should know the difference between miniature and dwarf varieties. A miniature variety will grow less than one inch per year, reaching about 2 feet tall after 10 years. A dwarf variety could grow between 1 to 6 inches per year, and reach 5 feet tall in 10 years. "I can list 40 of them that don't get bigger than 2 feet for 20 years," Stanley said.
Linda Hannan, owner of Linda Hannan Garden Design in Portland, has been using Chamaecyparis extensively in her garden design projects for more than 35 years. While she uses different varieties of the genus, she usually chooses C. obtusa (Hinoki cypress).
"Most of the time when we're placing plants, we use Chamaecyparis obtusa, which really gives the Hinoki look that so many people like. We use them because they last," Hannan said. "For our client's gardens, we want hardcore survivors that are not going to die. They're expensive shrubs, so I don't want to put something in that's not going to make it."
Hannan designs residential gardens and has done some commercial work as well as public gardens.
"Chamaecyparis can come in any size you want, they're evergreen and textural plants and people love Hinoki cypress," Hannan said. "Even if they didn't know about them before we started, they love them after that, and I have several in my own garden."
Demme said Iseli Nursery meets a steady demand for Hinoki cypress in retail garden centers and re-wholesale firms in the U.S. and Canada.
"They are a very popular landscape plant and frequently requested by home gardeners and garden designers and landscape architects," Demme said. "They are also fairly able to reproduce 'true to type,' so good populations of reliable plants are generally available to the trades."
Popular selections
Stanley said Rare Tree Nursery has several miniatures available, including the bun-shaped variety known as 'Green Cushion'.
"At 20 years old, it will be 20 inches across and 8 inches high, like a wheel on its side," Stanley said. "It's rare but we have some gallon cans out there now."
Before joining Rare Tree Nursery, Stanley sold many different cultivars of Hinoki cypress through his own business, Stanley and Sons Nursery. One of the dwarf cultivars that caught Stanley's attention in the 1990s is called 'Chirimen' (C. obtusa 'Chirimen'), referring to the silk fabric that kimonos are made of in Japan.
"It grows straight up but all its needles are crushed around the stem, so it doesn't take up much room," Stanley said. "I had the first three that came to America and after 20 years they were 4 to 5 feet tall."
One popular cultivar today is 'Kosteri', a dwarf variety that grows 4 to 6 inches per year. Stanley said it has beautiful netting in its fans that fill out the space around it.
Another is 'Fernspray Gold', which has a fern-like appearance with juvenile foliage growing on top of adult foliage.
But perhaps the most commonly grown variety is 'Nana Gracilis'. "It is a dwarf but I've had them grow to 65 years old at my place and it's over the eves of my house," Stanley said. He noted that its dark green color and medium growth habit have made 'Nana Gracilis' a mainstay at just about every garden center and is always a crowd pleaser.
Borts said Bizon Nursery's top sellers are 'Nana Gracilis', the yellow-green 'Verdoni', and the ornamental mid-size Hinoki called the 'Wells Special', which can be used as a focal point.
"The 'Wells Special' I grow are great for landscaping and are great foundation-type plants," Borts said. "They set the scene for everything else."
Some of the dwarf cultivars can be popular for bonsai as well. Rare Tree Nursery occasionally sells bonsai that have been pre-started over a year or two with wire or have the limbs cut so customers can follow the pattern to continue the practice themselves. The distinct platform limbs of the 'Reis Dwarf' cultivar can be precisely tiered in bonsai work.
Slow and low
While the demand for C. obtusa remains high, Hannan said she's seen a change in supply since the pandemic.
"Most shrubs are much less available than they were," she said. Even before COVID-19 and the supply chain issues that followed, nurseries had already been through a difficult time of low availability.
"During the 2008 financial crisis we lost hundreds of nurseries," Hannan said. "The selection since then has been much more difficult with every kind of plant."
Besides lack of availability, another consideration, according to Stanley, is for homeowners to know when choosing Hinoki cypress for their landscaping how much the plant is expected to grow per year. "It's about knowing your space and how long you want to have it there and how to plant for the area," Stanley said.
'Nana Lutea' is an excellent understory plant that can tolerate shade very well, but other cultivars, like 'Verdoni', prefer to grow in full sun. Demme said most of the green cultivars grow well in full sun, while the yellow and gold selections prefer morning sun with afternoon filtered light or shade.
Landscaping considerations
With origins from east Asia, the Hinoki cypress is a staple of traditional Japanese gardens. It has become popular in the United States in USDA hardiness zones 5–8. While a majority of Hinoki go to the East Coast (zone 6), from Ohio to New Jersey, the prime states for growing Hinoki are Oregon and Washington.
"This is the best place for them," Borts said. "They need rainfall and nighttime temperatures to dip down."
Borts added that all the Hinoki cypress cultivars work well in a Northwest landscape, but their success still depends on the placement of the tree and the exposure it will get. When choosing which cultivar to plant, a landscaper needs to consider whether a shorter shrub or something with more height would make sense in the space.
Since Hannan designs residential areas, she works in all sizes of gardens, some huge and some that she referred to as "pocket gardens."
"You pick your plant according to size," she said. "Some you would never put into a small garden but some of the smaller plants you would put multiple in a large garden."
Hannan said the specific cultivars she chooses to use depend on the conditions of sunlight, shade, moisture in the soil, and shape of each garden she works with.
"Every garden design is completely unique," Hannan said.
From the August 2023 issue of Digger magazine | Download PDF