Rigorous scouting can help manage tip-feeding thrips before they cause irreparable damage
By Lloyd Nackley and Melissa Scherr
Thrips belong to the insect order Thysanoptera, of which there are several species that are damaging to nursery and ornamental crops. Whether there is only one or many, we call them thrips regardless, just like with other animals (e.g., sheep and deer); the word "thrips" is both singular and plural.
And many thrips there are! Entomologists have described over 7,000 species of thrips worldwide. Some feed on plants and are considered agricultural pests, and yet there are also thrips that are not considered pests. Non-pest species can feed on fungi, leaf litter, debris or other small arthropods. There are even thrips that feed on other thrips, aphids, mites and whiteflies.
Among the pests, the western flower thrips (Frankliniella occidentalis) is a prime suspect responsible for tip-feeding damage in nursery and ornamental production. In the Pacific Northwest, damage has been reported with azaleas, Amelanchier, cherries, Chrysanthemum, crab apple, hawthorn, Gerbera, laurel, mountain ash, purple leaf plum and Viburnum, as well as several maples: Norway, red, sugar and Japanese.
Identification is an essential step for any good pest control program. Thrips, in general, are small, slender and delicate-winged insects that can be light yellow to dark brown in color. Their small size and wings are the easiest identifiers for this group. The wings of thrips appear finger-like, fringed with long setae or hairs.
Adult thrips are no more than 0.05 inches in total body length, and the larvae are smaller and wingless. For some species of thrips, the behavior of the insect, host plant preference and overall appearance can aid in identification. This requires good optics, such as a high-powered microscope and mounting the specimens on slides to get a clear view.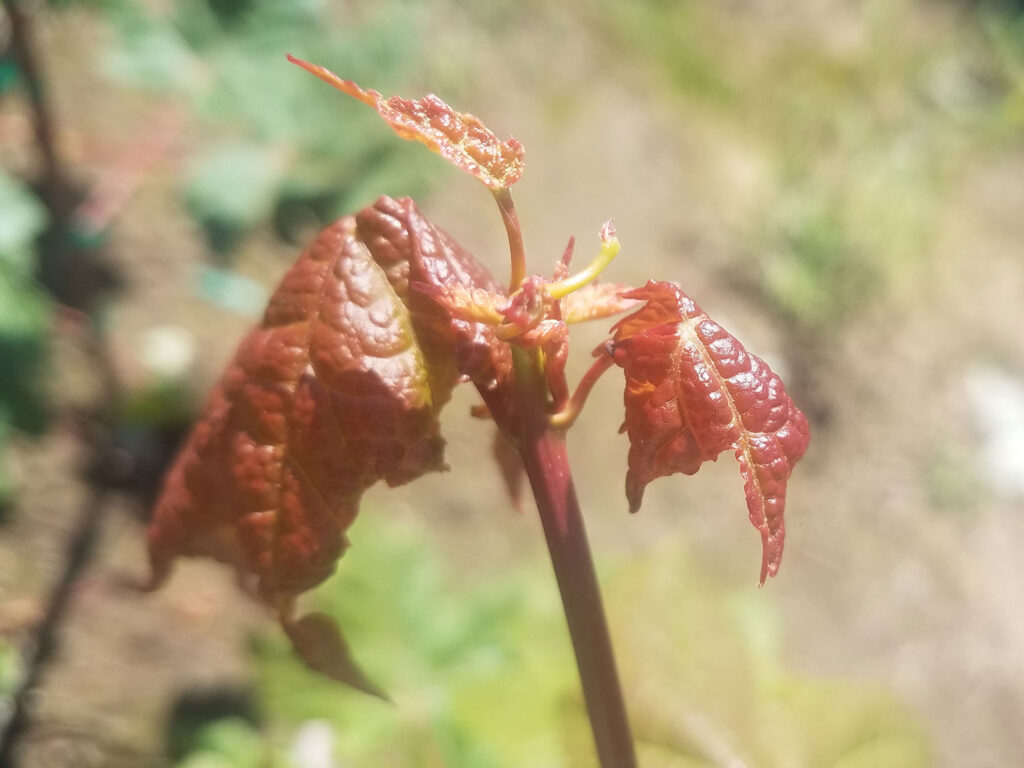 Feeding damage
Thrips breed in flowers and on the leaves and buds of host plants, which span hundreds of plant species. Adult females can produce up to 150–300 eggs over a lifetime. Thrips have a very short life cycle that allows them to develop in six stages from egg to adult in just two weeks, depending on ambient temperatures, followed by rapid reproduction. Thrips can produce as many as eight generations each year.
Most of the tip damage caused by thrips does not occur immediately in the growing season, but rather when nearby crops are harvested. In the absence of this food source, thrips will move into nursery and ornamental production areas to find alternate food sources.
For their small size, thrips are highly mobile in their environments; they can move long distances using thermal updrafts and wind currents, and can be transported easily on plants or in plant medium. Migrating populations can be large enough to cause extensive damage to plants, contributing to tip death, terminal distortion, blackened leaves and stunted growth.
Both the larval and adult stages feed on new growth, and cause symptoms of leaf distortion and necrosis. Insects feed by puncturing the outer layer of the host cell walls using a rasping single mandible and sucking out the contents of the plant cells. This creates stippling, discolored flecks and "silvering" on mature leaf tissue. Scar tissue left from feeding damage distorts leaves, flowers and fruit as the tissues grow. Extensive feeding may cause terminal death.
Initial damage to new shoots is less recognizable, as it mimics damage done by other types of feeding insects, pathogens and abiotic factors. Feeding damage by insects may be confirmed by checking for black specks of frass (feces) on the surface of leaves. Though the cosmetic appearance of feeding sites is affected, thrips rarely kill trees and shrubs. More serious injury is done to young herbaceous crops sensitive to the types of viruses vectored by thrips.
Scouting for thrips
Thrips are difficult to scout accurately because of their small size and ease of hiding in crevices of plant structures. When feeding on the tips of newly emerged tissues, thrips may no longer be present by the time the damage is noticed. Continuous monitoring is suggested to confirm the presence of thrips on hosts, or any other alternate insects that cause similar damage such as mites or true bugs.
Sampling for tip-feeding insects on red maples
There are several ways to scout for and catch a thrips:
• The "beat sheet" method: Gently shake foliage or branches above an extended sheet of light-colored sheet of paper, and collect with an aspirator or paintbrush into vials.
• Exhale onto the host plants where you are searching to encourage thrips to attempt escape — this may be a behavior used by thrips to avoid being eaten by an herbivore. Then use an aspirator and paintbrush to remove the thrips by hand, gently turning over leaves and checking in plant crevices.
• Sticky traps. Yellow cards are more attractive to thrips than blue. Place the traps on or near host plants. Traps should be placed just outside of the canopy, roughly one per 200 square meters. (Note: Sticky traps are attractive to many pests and will draw whiteflies and aphids in addition to thrips, which should be considered during identification.)
• Prune parts of plants (e.g., ends of branches) with suspected infestations and place them into a vial of ethanol, shaking the pruning to dislodge any hiding thrips. Thrips collected should be preserved in vials containing 70% ethanol. Use filter paper to drain the fluid for viewing specimens or slide mounting.
Thrips management
For positive identification, an expert should be consulted. However, many of the pest species of thrips respond the same to chemical control tactics, so it may not be necessary to determine the exact species.
Cultural control
Changing production to minimize likelihood and effect of thrips infestations can be achieved by:
• Developing regular sampling and monitoring protocols to identify invasion or "hot spots" early;
• Training personnel to identify thrips and recognize damage;
• Practicing good sanitation. In greenhouses, thrips can be excluded through the use of screens (135 μ has been shown to greatly reduce invasion rates) and by repairing holes and tears in walls and dividers;
• Maintaining grassy areas by mowing around production sites to prevent population build-up and invasion;
• Preventing weeds from flowering onsite or in nearby areas by using weed barriers to prevent weeds from becoming established;
• Pruning any infested tissues and removing them quickly. Buds, blossoms and branch tips can provide shelter for insects and re-contaminate the site;
• Disinfecting areas thoroughly when rotating plants;
• If possible, giving areas within
the production site "plant-free" periods
in rotation;
• Monitoring fertilization rates. Over-fertilized plants (especially nitrogen) attract and support larger populations of thrips;
• Preventing production workers from wearing yellow or other brightly colored clothing that may attract thrips, helping them move between areas of the production site;
• Quarantining new plant material and potting media before use.
Biological control
Commercially available and naturally-occurring biocontrol agents can be employed to combat thrips infestations. Some of these options are better suited for use in a greenhouse for prevention and management of thrips outbreaks.
Native natural enemies may be encouraged by limiting dust cover on plants that might interfere with predator ability to find thrips. In addition, providing alternative food and habitat for natural enemies can enhance their effect on thrips populations.
Fungus (Beauveria bassiana), predatory mites (Amblyseius cucumeris, A. swirskii and Stratiolaelaps scimitus) and insect predators (minute pirate bug, green lacewing, parasitic wasps, rove beetles, predatory thrips and nematodes) are other biological controls.
Chemical control
Several products are available for controlling thrips. However, when utilizing insecticides, make sure that the timing of applications will target the most vulnerable stages of the thrips and will not damage other management methods already in place.
For example, thrips eggs are laid into the leaf and flower tissue of host plants and are protected from most types of topically applied insecticides, and the pupal stage is protected in the soil. Insecticides should be used when larvae and adults are predominantly present.
In addition, if biocontrol agents have been released to assist in management of thrips, do not use an insecticide that will harm the natural enemies, or time applications to avoid damaging natural enemy populations with insecticide residues.
Conclusions
Some of the most important tools used for management of thrips are insecticides; however, overuse of insecticides can lead to the development of resistance in the insect population.
When it comes to resistance management, the most effective approach is to avoid insect outbreaks all together. Avoiding resistance can be achieved by creating a rotation of insecticide applications — the more different the mode of action (MOA) in the insecticide, the less likely insects will gain resistance to the chemicals used.
All insecticides with a known MOA can be found on the Insecticide Resistance Action Committee website (www.irac-online.org). Once a pesticide rotation has been established, it's important to continually monitor insecticide susceptibility in the insect population. If there is a suspicion that one or more of the insecticides used is building resistance, contact your extension agent for further research and recommendations.
For a full list of chemical control options, consult the sections on greenhouse and nursery thrips in Pacific Northwest Pest Management Handbook (pnwhandbooks.org).
Additional resources
Hodges, A., S. Ludwig, and L. Osborne. Pest Thrips of the United States: Field Identification Guide (https://sfyl.ifas.ufl.edu/media/sfylifasufledu/miami-dade/documents/vegetable-production/chili_thrips_deck.pdf).
Mound, L., M. Hoddle, A. Hastings. 2019. Thysanoptera Californica (https://keys.lucidcentral.org/keys/v3/thrips_of_california_2019/).
Riley, D.G., S.V. Joseph, R. Srinivasan, S. Diffie. 2011. Thrips vectors of tospoviruses (https://doi.org/10.1603/IPM10020).
Van Driesche, R. 2013. Western flower thrips in greenhouses: A review of biological control and other methods (https://biocontrol.ucr.edu/wft.html).
Acknowledgments
We would like to thank our grower collaborators, J. Frank Schmidt & Son Co., Kuenzi Turf and Nursery, and Robinson Nursery Inc. for allowing us to conduct research at their farms. This work was supported in collaboration with Jay Pscheidt at Oregon State University and the USDA-ARS through the Integration of Intelligent Spray Technology into IPM Programs in Specialty Crop Production Project no. 58-5082-2-010.
About the authors
Dr. Lloyd Nackley (lloyd.nackley@oregonstate.edu) is a plant physiological ecologist who brings a systems approach to nursery and greenhouse management research at the OSU Extension Service.
Dr. Melissa Scherr (melissa.scherr@oregonstate.edu) earned her doctorate in entomology in 2010 from Oregon State University. Currently, her work at North Willamette Research and Extension Center is focused on pest management solutions in nursery and ornamental crops, with an emphasis on natural enemies.
Growing Knowledge from the January 2023 issue of Digger magazine | Download PDF