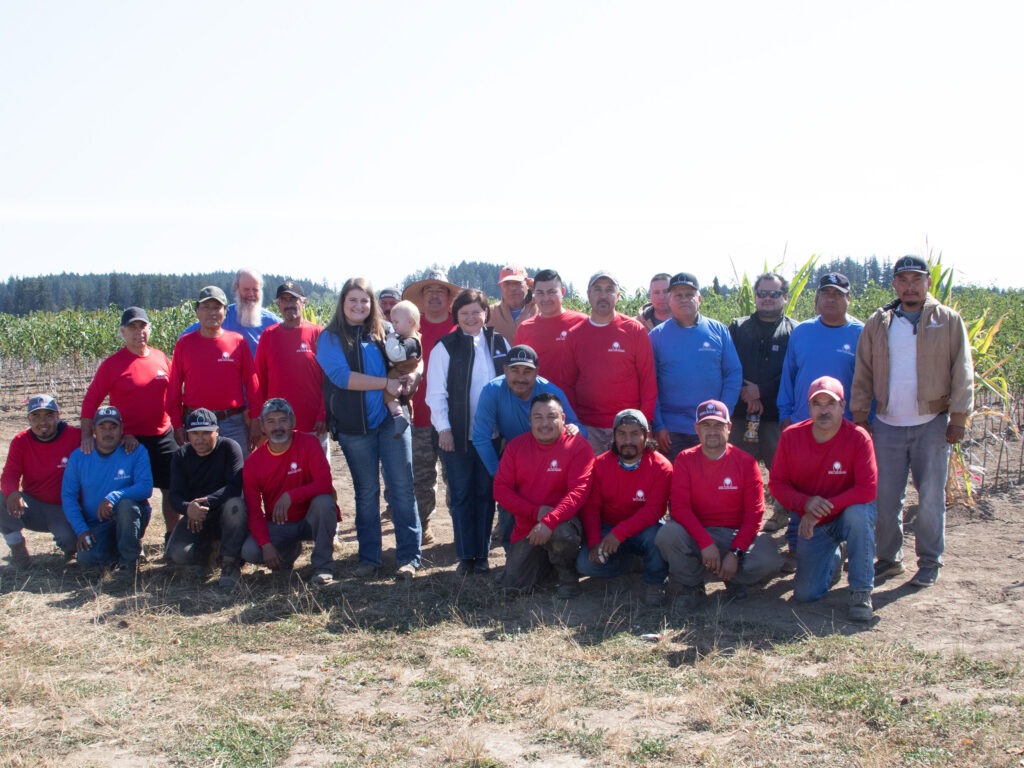 IF THEY WERE GROWING FRUIT TREES IN OREGON, it's very likely your great-great-grandparents were customers of the Motz family nursery. A true family legacy, Portland's Motz Brothers began in 1921 with Theodore (Ted) and John Motz, joined by Ted's son Donald (Don) in 1957, when it became Motz & Son Nursery.
Today, the nursery is co-run by Don Motz's daughter, Nancy Richards, and granddaughter, Anne Marie Boyd. The nursery specializes in bareroot stock, with a focus on fruit trees as well as ornamental trees and shrubs. The breakdown, Richards said, is approximately 70% fruit and nut trees, 20% shade and flower trees, and 10% deciduous shrubs, including lilacs. The bulk of Motz & Son's sales are to re-wholesalers in the United States and Canada, with some garden centers. The nursery favors consistency over novelty.
"Some of the older customers have been customers for generation after generation," Boyd said. "They say things like, 'I always know what to expect. I know I can get the varieties and sizes I want.'"
New this year are Malus 'Triumph' and Pyrus 'Juicy Jewel', but even adding two new varieties is unusual for Motz & Son, Boyd said. "My grandpa told me he never changed the percentage of anything more than 10%."
The fruit trees boast a rich range of dwarfs, semi-dwarfs, combination-variety grafts, columnars and up to six-way espaliers. Among apples alone this year's catalog lists 53 varieties, with a strong lineup of antique varieties like 'Spitzenberg' and 'Cox's Orange Pippin'. Boyd says among the heirloom apples 'Roxbury Russet' is a longtime favorite, being both beautifully stippled and delicious for baking. Other fruits include apricot, cherry, peach, pear, nectarine, plum and quince. Nut trees include almond and walnut.
'Frost' is one peach Boyd says she can't keep in stock. "People will be ordering in quantities of 10 for everything else, and then when it comes to 'Frost', it's 60," she said.
For shade trees, Motz & Son offers a multitude of maples, such as perennial favorite 'Crimson Sentry' (Norway Maple), along with birch and serviceberry, redbud, hawthorn, ash, locust, Laburnum, poplar, aspen, willow, Sorbus, linden, elm, Zelkova and various flowering varieties. Motz & Son's ornamental shrubs include cistena, dogwood, smokebush, hibiscus, Spirea, willow and more. Richards said she is seeing heightened interest in bareroot shrubs, especially Althea and Cornus.
The nursery follows an integrated pest management program, and Motz & Son is part of Oregon's Virus Certification program, verifying virus-free stock, which made it one of first to be able to sell to Canada. "In the past we were one of the few, but the Canadian market has really taken off, which is great," Boyd said.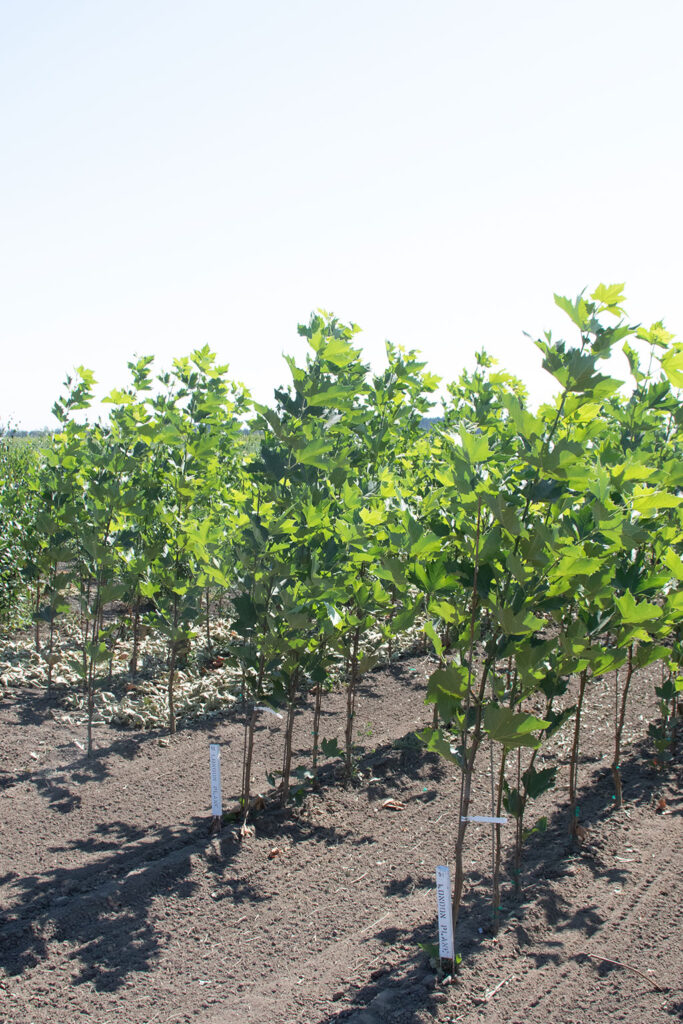 In the beginning
Motz & Son has a long history, but according to family lore — and U.S. Census documents — the Motz family influence on Oregon nurseries goes back even further. Having emigrated from Romania, Elie Motz was working at the Oregon Nursery Co. in the company town of Orenco, Oregon, in 1908. By 1914, he was making 20 cents an hour. He was given a plot of land, on which he built a house and barn and planted the orchard that started everything.
When Elie Motz passed away, sons Theodore (Ted) and John started Motz Brothers Nursery in 1921. The Oregon Nursery Co. collapsed in 1927, but by 1935 the brothers had enough stock for Ted to expand into Portland.
Ted's son Don lived his life in the fields, with stints in the U.S. Army and studying nursery management at Oregon State College. He was riding horseback at age 2 and rode a tractor "every day into his 80s," said Boyd.
Boyd was 21 and a pre-med junior at Oregon State University when it struck her that her friends all disliked their jobs, while her family all loved their jobs. It was like a switch flipped on, and she changed her career path.
"I called my grandpa and said, 'I'm gonna come and do this.' He was pretty happy," she said.
She applied for and won an Oregon Nurseries Foundation scholarship to pursue an agricultural science major, which she augmented with horticulture classes, graduating in 2016.
"When I received (the award), it was an industry reinforcement that I was making the right decision. It was a very positive experience," she said.
She appreciated that her family let her choose her own path and feels she is more committed as a result. Having only done office work, she wanted to learn every element of the job.
Upon Don's death in 2017 she took over managing the field crew.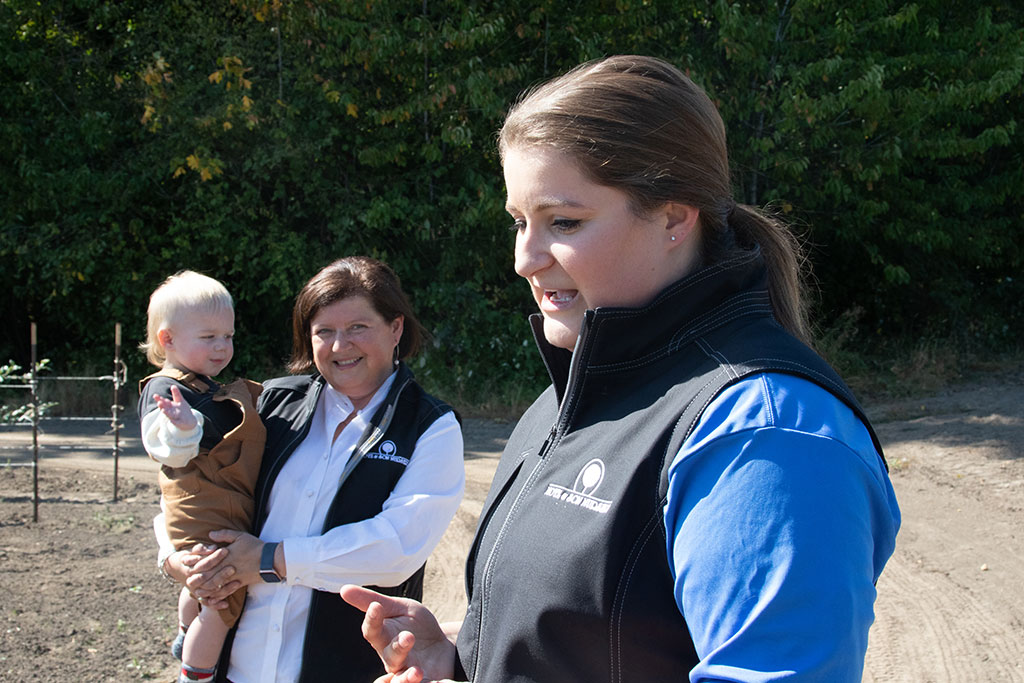 The present and beyond
Today, the main office, grading and shipping yard remain at "the homestead" outside of Portland on 120 acres. Their 360-acre growing fields near Hillsboro are a 15-minute drive away.
It's uncommon to have so much land this close to the city, and it has its ups and downs, Boyd said. Sure, it's convenient to get supplies and to hop on Highway 26, but neighbors aren't always happy about meeting tractors on that highway. Production shuts down during the annual Oregon International Air Show, which is just too noisy to work through. Lastly, some use the farm's wide-open spaces as a drive-through picnic ground to watch fireworks on the Fourth of July, trampling the fields.
With the exception of the red maples (Acer rubrum), which are tissue-cultured, and shrubs, Boyd said the stock is budding propagated and often hand-grafted.
One flowering cherry tree Boyd pointed out had wild cherry (Prunus avium 'Mazzard') rootstock budded with 'Improved Mazzard' that later will be grafted with either Prunus subhirtella or 'Snow Fountain' at around 6 feet. The next plot had even shorter ones meant for smaller specimens for containers or small gardens. Boyd said they are fortunate they can handle all the grafting and budding in-house versus hiring seasonally.
Focusing on bareroot stock has challenges. "You want them to look full and lush for visual appeal, but not be troublesome to dig," Boyd said.
Motz & Son tops its fruit trees, which Boyd says is unusual. "That way they are nicely branched even at one year when they hit the garden center shelves. It looks like a tree. It's not just a stick in a bag or pot."
On the flip side, some trees grow too fast. "Those willows have to be dug after the first year because if we leave them a second year, we'd worry for our digging machine," Boyd said.
The integrated pest management program includes crop rotation and using only pre-emergent herbicide between the tree rows. For cover crops, in addition to clover, wheat and barley, Boyd said she enjoys Sorghum Sudangrass for its easy elegance, waving off in the distance. "It's beautiful. You just have to mow it once in a while."
Asked about differentiators, Richards and Boyd have different answers, but a clear theme emerges: Consistency across multiple measures. Reliable quality, stock, staff and service. Knowing what to expect.
Richards highlighted the longevity of the staff. "A lot of guys have been with us 30 or more years. When we ask them why, they say, 'When I'm out here I feel free, and I get to work with people I enjoy.'"
The employees have garden plots and will often have family dinners outside on summer evenings. Boyd credits her grandfather with forging this culture. "My grandpa had a really good leadership style," she said. "He gave you clear instructions, and then let you go out and do it."
During the pandemic, as for many in the business, sales not only held but excelled. Today, the lingering effects of the pandemic and the pending recession are making themselves felt in product shortages, begging the question as to what the next decade will bring for this nursery that has stood the test of time.
"A lot of times in recessions fruit trees will maintain sales, while shade and flowering trees show a decrease. With the current recession, it will be interesting to see how this impacts sales," Boyd said.
What's up next? In addition to bolstering Motz & Son's Instagram page, Boyd said she looks forward to having more virus-certified, completed trees as more rootstock growers offer more inventories of virus-certified material. For sale outside the United States, the bud and rootstock must come from a virus-certified source.
"We're striving to improve what we do, streamlining as much as possible," Boyd said while cradling the next Motz generation, 15-month-old great grandson Daniel. "And getting things ready for Daniel, if he wants to take over." Motz & Son seems well positioned for the future.