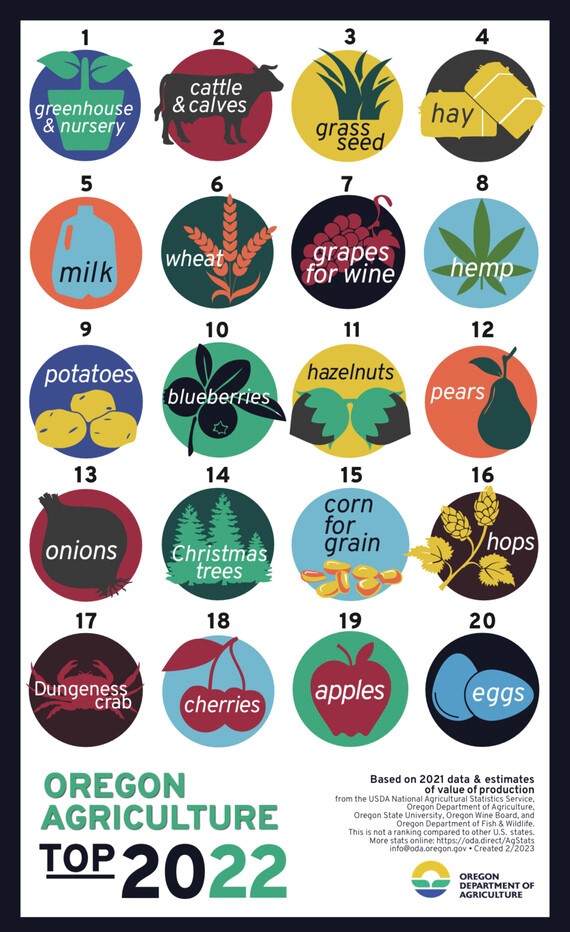 The nursery industry retained the top spot on the Oregon Department of Agriculture's updated list of the top 20 most valuable agricultural commodities statewide. Greenhouse and nursery plants earned approximately $1.3 billion in 2021 — an increase of 10% over their value in 2020 and representing 22% of the total value of all Oregon agriculture. An estimated 74% of nursery products are sold outside the state, making it a critical traded sector, according to the ODA press release.
Cattle and calves came in second at $676.2 million, up from $587.8 million the previous year. Most animals are raised in eastern and southern Oregon, with Malheur, Klamath, Harney, Baker and Lake counties leading the way.
Grass seed increased two positions from the previous year to third in state rankings. Grass seed value in 2021 was $639.2 million, up 28% from 2020. Most of the grass seed acreage is in the Willamette Valley, the "grass seed capital of the world."
Oregon's wine grape industry rebounded in production and value after contending with COVID-19 restrictions, labor shortages, extreme heat events and more in 2020. Total wine grape production increased 53% over the previous year from 75,142 tons to a record 114,677 tons. In addition, the value of wine grape production in 2021 increased by 72% or nearly $113 million to about $271 million.
New to Oregon's top 20 is industrial hemp coming in the eighth slot. Data collected by the United States Department of Agriculture (USDA) National Agricultural Statistics Service (NASS) reports industrial hemp value stateside at about $247.8 million.
Four of Oregon's top 20 commodities declined in value from the previous year, including milk, sweet cherries, hops and eggs. Industry experts say the deep freeze in 2021 devastated developing fruit, cutting production significantly. Sweet corn also declined, dropping out of the state's top 20 entirely.
Nationally, Oregon ranks No. 1 for the production of hazelnuts, Christmas trees, rhubarb, potted florist azaleas, Dungeness crab, crimson clover seed, orchard grass seed, fescue seed, ryegrass seed, red clover seed, sugar beet seed and white clover seed. Oregon is home to more than 225 agriculture commodities, each bringing economic viability to the state.
The complete list is as follows:
Oregon's top 20 agriculture commodities for 2021
Greenhouse & Nursery — $1,321,200,000
Cattle & Calves — $676,227,000
Grass Seed (all) — $639,178,000
Hay (all) — $578,702,000
Milk — $550,620,000
Wheat, Winter — $276,325,000
Grapes for Wine — $271,000,000
Industrial Hemp — $247,767,000
Potatoes — $237,046,000
Blueberries — $171,667,000
Hazelnuts — $167,400,000
Pears (all) — $133,762,000
Onions — $115,203,000
Christmas Trees — $110,252,000
Corn, Grain — $80,520,000
Hops — $74,387,000
Dungeness Crab — $72,662,273
Cherries, Sweet — $67,137,000
Apples — $66,493,000
Eggs — $56,958,000
Download the Top 20 Oregon Agricultural Commodities poster:
Download Oregon Agricultural Statistics brochure:
Oregon nurseries log decade of continuous growth
With the release of Oregon's agricultural Top 20 for 2021, and the release a few months ago of the nursery sales figure for 2022 from the Oregon Department of Agriculture, we've been able to piece together a picture of the continuous growth of Oregon's nursery industry over the past decade — and it looks good!
Here are the numbers:
• 2013 — $745 million
• 2014 — $830 million
• 2015 — $894 million
• 2016 — $909 million
• 2017 — $948 million
• 2018 — $996 million
• 2019 — $1.06 billion
• 2020 — $1.19 billion
• 2021 — $1.32 billion
• 2022 — $1.37 billion
For most of those years, nursery and greenhouse growers were the top selling agricultural commodity in the state. The COVID-19 pandemic starting in 2020 slowed down many industries, but nurseries weren't one of them. The industry only continued to grow.
"Oregon continues to be a leading state for nursery and greenhouse growers, and the green industry continues to lead Oregon agriculture," OAN Executive Director Jeff Stone said. "We have a large economic footprint, and state decision makers listen because of what we bring to the table and how we approach the issues."