An intelligent spraying system can help growers reduce pesticide use, save money and better manage their crops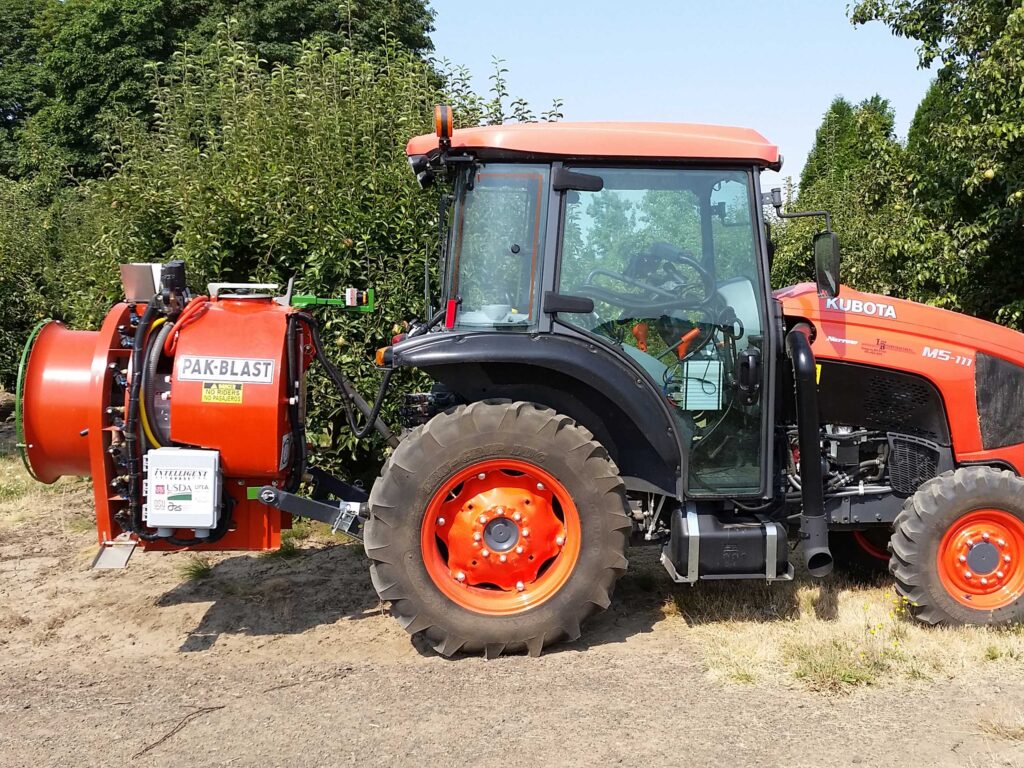 Until about six or seven years ago, Hans Nelson and Sons Nursery in Boring, Oregon, would apply standard pesticides to its roughly 150 acres of shade and flowering trees using traditional air-blast sprayers. The sprayers, used throughout the industry, do a pretty good job of dispersing pesticides, but they have their limitations.
For starters, many air-blast sprayers spray at one constant rate. They spray the same amount of pesticide no matter how big the trees are and no matter the season. That can lead to over- or under-spraying.
Air-blast sprayers are also notoriously inefficient; in fact, researchers have found that it's not uncommon for air-blast sprayers to have losses to the ground of 30% to 50% and between 10% and 20% in air drift.
But thanks to Hans Nelson and Sons' longtime relationship with the USDA's Agricultural Research Service (ARS), the nursery became one of a handful selected to try out a budding technology. That technology, known now as the Intelligent Spray Control System, uses Light Detection and Ranging (LiDAR) lasers, which scan the crop canopy and use that data in real time to adjust individual nozzles on a sprayer and accurately control how much pesticide is being applied.
The average results of using an intelligent sprayer: 50% less pesticide use, 93% less chemical runoff, up to 87% less airborne drift and a 50% reduction in the amount of water used. "We've seen savings across the board," said Jesse Nelson, general manager at Hans Nelson and Sons.
He added that the nursery has two intelligent sprayers, one of the early ones developed by the USDA and a newer one from the company that has commercialized the technology, the Indiana-based Smart Apply. "You can control and change and see everything right on a wireless tablet that is super easy to use," Nelson said. "We use them across the board. They work on everything from seedlings to big trees."
Planting the seeds
The development of the technology that would become the Intelligent Spray Control System began back in 2012. That's when Heping Zhu, an agricultural engineer and inventor with the USDA-ARS in Wooster, Ohio, and his team began working on the system. "Specialty crops use too many pesticides, more than traditional row crops like corn and soybeans," Zhu said. "The goal was to find a way to reduce pesticide use for crops."
Traditional sprayers didn't consider the variations in different crops and their structures, including their height, how mature they were and what stage of the growing cycle they were in. So, for example, shade trees would get the same amount of spray throughout the season, when really what they needed was less in the spring and more once the canopy had leafed out. The traditional sprayers also didn't account for spaces in between plants.
"Plant structures change during the growing season. There are young plants and mature plants in the field. And there can be lots of space in between trees," Zhu said. "Sprayers don't consider this variability, so there is a lot of pesticide wasted."
LiDAR technology, like that employed on the Intelligent Spray Control System, allows for precise scanning of foliage density and volume, as well as detection of the spaces in between plants and rows. The nozzles on a sprayer automatically adjust to account for the variations, thus reducing the amount of pesticide being used — and wasted.
"A sprayer will have 20 to 30 nozzles, each one of which is individually controlled based on what the laser sees," said Brent Warneke, a faculty research assistant at Oregon State University, where experts have been conducting tests and using the Intelligent Spray Control System since 2018. "It's a real-time system, so it's collecting data and adjusting in real time automatically. If you were doing it manually, you'd have to turn off certain nozzles for shorter plants, then open them for taller ones. This sprayer does that all automatically so you can just keep cruising, which helps a lot."
Zhu said the LiDAR technology is much more advanced than other kinds of sensors, including ultrasonic sensors. Those are another tool that has been used to try to bring more efficiency to pesticide application, but Zhu said they're not very accurate. Ultrasonic sensors create scans based off just five or 10 different points; LiDAR uses at least 50.
Even better is the fact that the Intelligent Spray Control System was designed to fit on most existing sprayers, so growers don't have to invest in new equipment to use it. "It adapts to just about any sprayer you have for what you are growing," Nelson said.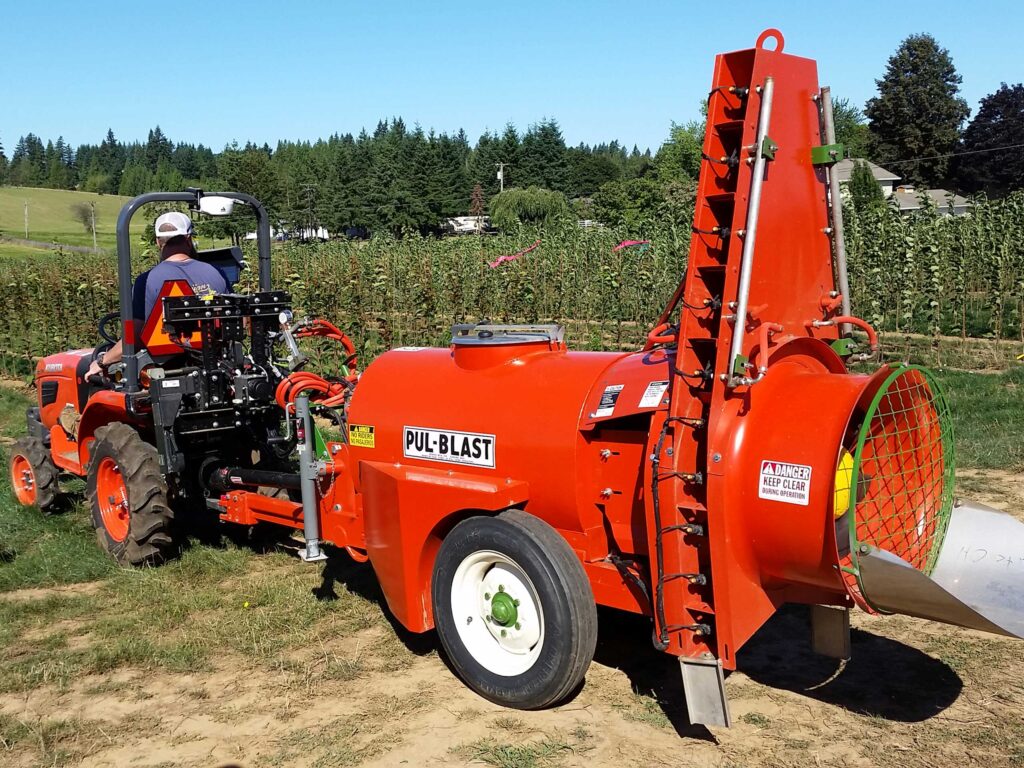 Benefits and beyond
The benefits of using the Intelligent Spray Control System go beyond just the reduction in pesticides, which averages about 50% depending on the size of the operation. Because it uses less pesticide, nursery employees don't have to stop and refill the tank nearly as often as before.
In a research publication worked on by Warneke and others at OSU, an example illustrates how a grower could save money on labor through smart spraying. A 100-acre orchard would normally take about 83 hours to be sprayed with an air-blast sprayer. Using the intelligent system, the same task would take about 20 hours less, saving the operation at least $315 in labor costs alone. Intelligent spraying also cuts down on driver fatigue, reduces wear and tear on tractors, and leads to lower fuel costs.
The Intelligent Spray Control System can be pricey, however, and may only make sense for larger operations. Warneke said Smart Supply dealers provide custom quotes to growers depending on each operation's unique needs. Zhu noted that, despite the cost of the system, many growers have been able to pay off their investment in a single growing season.
An additional benefit of the intelligent system is that it collects data and stores it in the cloud every time it's used. That allows growers to analyze their crops, see what's growing well — and where — and produce accurate maps of their fields, and more.
Earlier this year, Smart Apply released the second generation of the system, called Generation 2 (Gen2) Intelligent Spray Control System. According to the company, the new iteration is "more impervious to the rigors of the field as well as easier to install and maintain."
The electrical system has been improved, and the control board can now control up to 40 nozzles. The new system offers expanded data collection of chemical application rates, tractor speeds, chemical volumes applied and savings, and operator performance. It also has new job management features that let growers program daily spray schedules, assign boundaries and operators, designate start and end days, and document chemicals used each session.
In a release for the Gen2, Smart Apply CEO Jerry Johnson said the new version can make life easier for all kinds of growers.
"Today's growers face rising costs; mandates on chemical and water use; verification requirements from government agencies, export partners, brands, and consumers; and their own desire to be better stewards of the land," he said. "Smart Apply Gen2 is a transformational tool that enables corporate to privately owned growers alike to meet these challenges head on while making their operations simpler, more profitable and sustainable."
From the May 2023 issue of Digger magazine | Download PDF