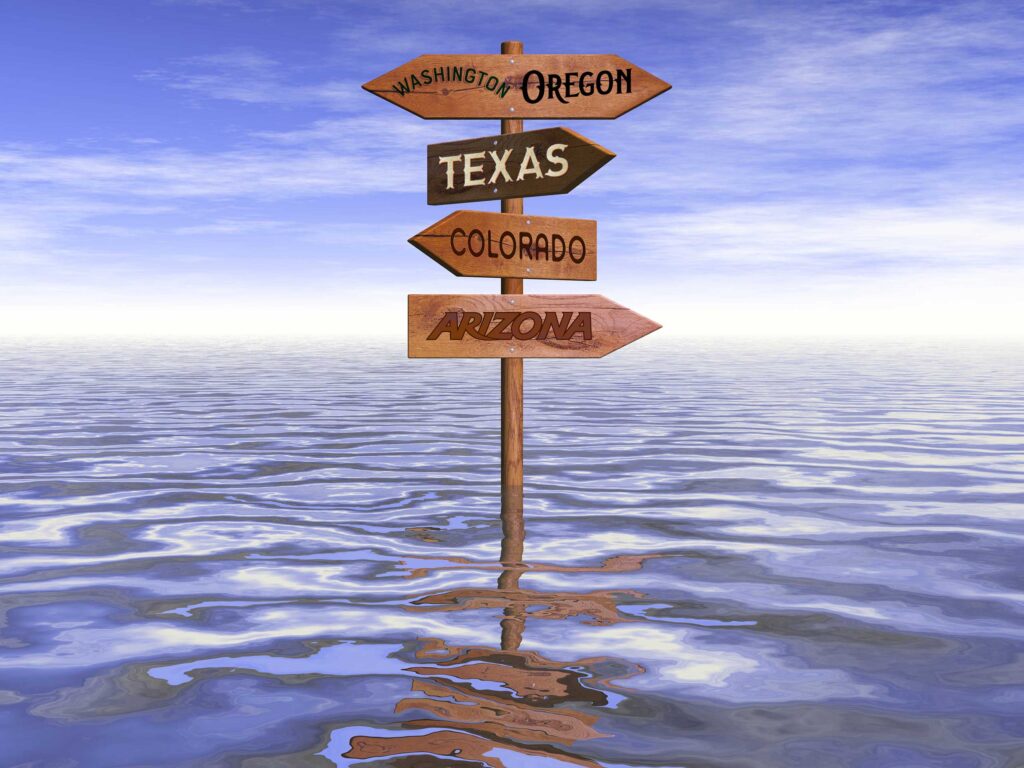 Western nursery associations team up to tackle the rising tide of water woes
Glenda Mostek, executive director of the Colorado Nursery and Greenhouse Association, has a colorful way of sizing up one of the bigger issues facing the Centennial State's nursery industry.
"Whisky is for drinking, water is for fighting," she said, quoting a phrase often attributed to Mark Twain.
And if that's Mostek's shot, this chaser from Amy Graham, president and CEO of the Texas Nursery & Landscape Association (TNLA), is just as good: "Water is the new oil, that's for sure," she said.
Water has always been a key ingredient for the entire nursery industry, not just in Texas, but in Oregon, the Pacific Northwest and across the whole country. Without it, there would be no plants, no trees, no nurseries.
It's also long been an area of contention, with everyone from nursery growers and farmers to cities, tribes, environmental groups and neighborhoods doing whatever they can to get the water they need. And these days, what with drought, climate change and continued population growth —– and the development that comes with it — water has become a bigger issue than it's ever been.
In the Southwest, water supplies have plummeted.
Lake Mead, the country's largest reservoir and the source of water for nearly 20 million people, is expected to drop to a record low this year — after an already low year that uncovered four sets of human remains in locations that were underwater for decades.
The Colorado River gets siphoned off so much that it rarely makes it all the way to the Pacific Ocean anymore.
And in Oregon, water rights, irrigation needs and conservation efforts tangle up in a way that makes any forward progress on effective water policy nearly impossible.
All of this — and more — has an impact on nurseries across the West. And even though plenty of water issues are local, the bigger picture affects the entire industry. Which is why the Oregon Association of Nurseries is spearheading a collaboration with other nursery associations across the West to work together to ensure that the industry is united in its efforts to keep nurseries well-watered long into the future.
It's an effort that Mostek, in another colorful assessment, sizes up well.
"We've got to hang together or surely we'll hang apart," she said.
Waterlogged
Compared to other states, Oregon has fared fairly well in the water world. Certainly, some areas of the state are more arid, but the storied Willamette Valley, home to the bulk of Oregon's nurseries, is hardly ever dry thanks to the region's reliable rainfalls. The bigger issues in the Beaver State are usually water rights and passing good water policy.
"Water policy is hard to pass, even more so than land use policy," said Jeff Stone, OAN's executive director.
Stone has been involved in multiple efforts over the years to push for better water policy. One, aimed at allowing more water from the Columbia River to be used for agriculture, "failed gloriously," he said.
Another came in the form of Senate Bill 839, which brought together a diverse group of interests — cities, moderate environmental groups, irrigators and others — and led to the creation of a state water investment fund for water development projects like storage, expanded infrastructure and more. The legislation passed and was widely celebrated, but Stone said its potential was subsequently watered down through the rule-making process and as the various parties involved returned to their turf war strongholds.
"It really was a celebration of how we could all work together," Stone said, "but it never really delivered. It needs to be redone."
Water across the West
In Texas, Graham said the nursery industry, despite being on the top five list for agricultural sales, fights an uphill battle for water with the state's other heavy hitters: cattle and cotton.
"Beef is king in Texas," she said.
But there are urban water concerns at play as well, in large part because TNLA represents not only nurseries and growers, but landscape contractors as well.
And in Texas, some communities have imposed steep watering restrictions or even written them into planning and development policy. Such restrictions can often limit the establishment and long-term health of landscapes.
"Putting in new neighborhoods is the bread and butter for our growers and landscape contractors. And the fact of the matter is, if we don't have someone to sell the nursery crops to, then nobody's buying plants and flowers," Graham said. "Housing and construction, that's where you see an awful lot of trees and new plants being put in. When you see water restrictions, that starts to taper off and so do our sales."
Mostek said Colorado nurseries have, for the most part, been able to stay afloat when it comes to water. Some growers who had junior water rights lost crops and plants over the past couple years of the COVID-fueled nursery boom because they couldn't water as long into the season as they needed. Unlike in Texas, though, there haven't been heavy residential watering restrictions — yet.
"We are always on the alert for that," Mostek said. She also said that it would be nice if Colorado got to use more of the water from the Colorado River, but most of the water rights for it are downstream in California, Arizona and New Mexico. Changing that would be a heavy lift because of decades-old compacts in place. She also said more could be done in the realm of conservation, especially when it comes to use-it-or-lose-it water rights.
"The way the rules are, there's no motivation to conserve," she said. "I think we could see some savings there."
In Arizona, dealing with low water and conservation has long been at the forefront for the state's comparatively small but thriving nursery industry.
"For us, low water use is something we've been dealing with for years," said Cheryl Koury, executive director of the Arizona Nursery Association. "Arizona's had to be at the forefront of managing water supplies."
Koury said earlier battles, in the 1980s and 1990s, revolved around removing turf from landscapes altogether as a way to conserve water. But that wasn't an answer to the water question when it comes to plants, which still need water to thrive even if they're low-water varieties.
Koury also said that growers in Arizona have learned to be incredibly efficient with their water and have made great strides in conservation, water reuse and water recycling.
"I think the main message for our growers is to know where their water supply is coming from and how many years they'll have it for," she said. "There is going to be competition for it, from builders, agriculture, city planners. There are a lot of Native American water rights here too. It's tough."
United front
Tough indeed for nurseries all over the West. And that realization is what's behind the effort to get associations to band together and assemble a united front. With Oregon effectively leading the way, nursery associations from Texas, Colorado, Idaho, Arizona and Washington have banded together in a sort of western water coalition to start working on solutions to the water issues that pose concerns now and into the future. The group first met this past October in Ft. Worth, Texas, to lay the initial groundwork.
Stone said the idea is to tackle issues that impact all nurseries as a collective — and to rope in a range of different interests and political leanings.
"A water problem in Arizona is just as pressing as one in Washington," he said. "And why Texas? I recruited Texas because I want to have Ted Cruz and Ron Wyden lobbying together for us."
A similar unified approach paid off handsomely with the passage of President Biden's $1 trillion bipartisan Infrastructure Investment and Jobs Act in 2021. Dan Keppen, executive director of the Family Farm Alliance, an Arizona-based nonprofit advocacy organization, said he and others worked for a few years to assemble a broad coalition of rural and urban interests and a list of infrastructure needs for when an infrastructure bill came due.
The coalition wanted to make it clear that things like water storage, water recycling, dam safety and other areas are critical infrastructure, just like roads and rails.
When the bill passed, it included $8.3 billion for western water projects. Keppen said the vastness of the coalition that signed onto a letter of support was key.
"When they saw all those organizations, including the Oregon Association of Nurseries, we knew that we were going to get some traction," he said. "And we did."
It's that kind of group effort that Stone and the other western nursery associations hope will make a difference moving forward.
A starting point is developing some specific messaging that all the associations can use to educate consumers on not only wise water use, but how the nursery industry itself is a champion of conservation and efficient user of water. Stone said it's also about coming up with strategic plans and finding collective ways to secure state and federal dollars that can benefit the bigger picture.
"If you get the right perspectives in the room, you can think creatively," he said, "and it's easier doing it this way than just having one state do it. I hope that, with time, we'll be able to create the momentum to get things moving. It's the people who matter, and in the West, the right people are present."
The long-term vision, Stone continued, is to ensure that nurseries all over the West can have a bright, saturated future.
"The ability to grow and ship your plants are two things that we want to give every nursery operator," he said. "It's hard to make a go at this, and water is such a big factor. We are just trying to take one of the big question marks and make it not as big for our nurseries."
Jon Bell is an Oregon freelance journalist who writes about everything from Mt. Hood and craft beer to real estate. His website is www.JBellInk.com.
From the March 2023 issue of Digger magazine | Download PDF