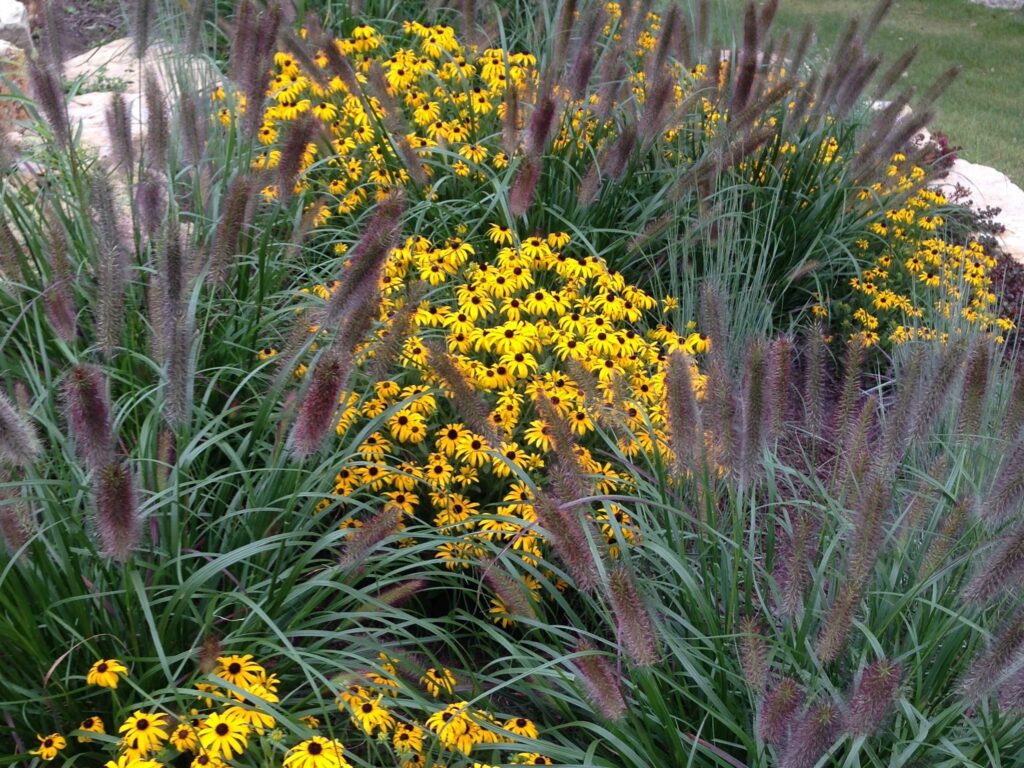 Maximalist garden design has two main principles: going bold and going big. Maximalism has found many adopters in the gardening community, but it's not limited to gardens. It also applies to graphic design, home décor and other design-related fields.
Maximalist gardeners plant as much as they can in the soil, experimenting with color combinations and throwing texture to the wind to see where it lands.
However, it's not about merely cramming more stuff into a garden without regard for its well-being. After all, mindfulness for the environment is on many people's minds.
It doesn't have to mean buying one of each kind of plant, either, although it's a design philosophy custom made for plant lovers. It works best with an organized, knowledgeable approach that considers color, texture, focus, layers, harmony and seasonality.
This is where retailers, designers and others can play an important role, helping gardeners create a dense, personal green space they can take joy and pride in.
Sean Hogan, a designer, grower and retailer who owns Cistus Nursery in Portland, Oregon, has used the term "maximalist" for nearly 20 years to describe what he affectionately calls "cramscaping." To Hogan, the maximalist garden is one filled with a rich tapestry of plants densely planted for easy maintenance.
"One of my main drives is to encourage people to garden, and to experiment with new plants and enjoy them," Hogan said, "Every bit as much joy can be had with a summer-dry plant palette as from an English perennial plant palette. My first question to clients is, 'What kind of feeling do you want when you step out into the garden with your morning coffee — or vodka?' It's fun to think of the garden as your extended self."
Sensible to the max
Award-winning landscape designer Vanessa Gardner Nagel of Seasons Garden Design in Olympia, Washington, said she is neither a minimalist nor a maximalist in her designs. "I'm somewhere in the middle," she said.
For Nagel, maximalism means anything goes. "You can have pattern and color, line and shape, texture and rhythm, variety and repetition," she said. But even so, design principles still apply to any space — minimal or maximal. "You also have to have a balance that pulls it all together and makes it cohesive," Nagel said.
It's important to ask questions like "Where is the focal point?" and "Where does your eye rest?"
"The idea is you want to have a great design," Nagel said. "Either way, you're still going to evaluate by basic design principles. People sometimes have difficulty with proportion and scale. You can mix patterns and textures, but you have to be cognizant of the scale of what you're mixing."
When you're talking about outdoor furniture, it's possible to mix a plaid pattern with a floral print, but in a garden, Nagel recommends keeping maximalism in check. One texture or color should be boldest, with others playing a supporting role. The same principle can also be applied to foliage, with fine fern-like leaf textures balanced by large-scale foliar effects.
"It speaks exactly to maximalism," Nagel said. "Remember your scale: There needs to be some quiet space somewhere in there, even if there's solid color in a background. You want it pleasing to the eye."
When more is less
Garden designer Laura Crockett of Garden Diva Designs in Hillsboro, Oregon, remembers a time early in her career when she only knew the names of a dozen or so plants. "I would go into a collector's garden, which looked like a massive crowd of unknown and unrecognizable items," she said. "It's not always comfortable."
Over time Crockett became more educated about plants, just from visiting other gardens, talking to people, and exposing herself to the available plant materials. She now believes it is easier to understand how plants complement each other by knowing their cultural similarities. Even a tiny, shaded pocket garden can have many layers within one section.
"If you know your plant material, you can have many things pop up as ephemerals in the spring, and relax down in the summertime," Crockett said. "Afterwards, a hosta pops up and fills the area. The layers of complexity with garden maximalism are very exciting, nearly endless, but they are comprehensibly easier for people who know more plants."
Outdoor rugs, pebbles, pavers and ground cover plants also play a textural role. "It's not always about how many plants you can put into that textural role," Crockett said, noting she finds it interesting to play with textures, putting elements together and working with the comings and goings of plants. Both organic and inorganic materials can be used to express style.
"The ability to decorate to your personal tastes is essential and freeing," Crockett said. "Many people judge interiors, whether things are in proportion or not. I believe you are allowed more freedom of expression outside. There's much more room for personalities; anything goes as long as you're not torturing something."
By comparison, minimalist gardening can feel downright restrictive.
"It becomes less interesting to me as a plant person," she said. "Nature is messy and you have to clean all those lines. Minimalist gardens are not as easy as Pinterest makes it look."
Creating complimentary layers
When designing for a maximalist garden, it's important to define spaces where the eye can rest. Hogan can recall gardens he built with many of the same plants, but he used different clones in the same area,
for a slight variance between the plants to keep the texture interesting.
"Between them, they have slightly diverse flowering times, so we are extending what the garden is giving back to us," Hogan said. "On one side would be 10 to 15 different Daphne species — we have a year-round fragrance from these shrubs.
"In the shaded foreground, I grow Sarcococca. They look mostly the same from a distance but taller in some spots and shorter in others, but if you look closely, there are a half dozen different species. The garden gives us flowering times that vary from Halloween all the way to March."
Hogan breeds Asian Mahonia and propagates many other species, using them as focal points in his garden designs. The shrubs have large rosettes of architectural foliage. Hogan repeats them around in the garden areas that receive more water. "Some of the shrubs have silver leaves, some have red new growth, and they flower in the autumn and winter. They add a lot to the landscape," he said. "Most of the textures are from three or four things that are repeated."
Companion planting
Hogan is also growing a grove of 15 to 20 Trachycarpus fortunei 'Wagnerianus'. An evergreen, variegated green-and-white jasmine grows up one specimen, highlighting another aspect of maximalist landscaping.
Companion planting is when two plants are grown near each other for the benefit of one of those plants or both, so the benefit can be one-way or mutual. Companion planting could be as simple as growing flowers near crops to attract pollinating insects or growing two plants alongside each other to confuse or repel pests.
Crockett of Garden Diva Designs creates layers from the ground up, starting with a living patio. Flagstones or square pavers are interplanted with ground covers, making a walkable first level.
An 18-inch-high raised planter becomes a wall for the space, made with stone-facing or poured concrete. Within the planter, another layer incorporates more plants. She builds up higher by incorporating three porcelain containers that create a place to be expressive with plant material.
"You can put a vertical screen behind the patio," Crockett said. "Or create a living wall with mosses, Tillandsia and air ferns. If you roof your patio, a vine can grow up one side and play across the roof line …. That is what I like to do. I'm creating many layers within that space."
Maximizing the seasons
Especially in a maximalist garden, designers should consider that many plants are seasonal. A plant such as a tall, flamboyant canna lily with flashy foliage doesn't come into its own until summer, so what does the space look like the other three seasons of the year?
Nagel suggested a simple solution, such as a beautiful container. "Even when it's empty, it can still look good," she said.
For spring interest, Nagel might plant a patch of epimediums, with their darling, dainty flowers dotting the landscape. Yet the rest of the year, the plants only provide texture with their evergreen foliage.
"You have that quieter green the rest of the year, maybe then you would have some other plant such as an annual you put in for the summer. It takes over the attention once the epimediums are quiet in the background."
Even plant collectors who want one of everything can have a unified garden with a maximalist design — as long as the tried-and-true design principle of repeating colors, textures and shapes is put to good use.
"We get joy from looking at plants," Hogan said. "Even small gardens can be a destination. The primary tool is that something makes it cohesive from every point of view — limited plant palette, limited texture and or repetition of something. You can get away with a lot if you repeat a few things. Add five Carex — it looks like you meant to do it," he said.
"If you're standing 3 feet away from the edge of a garden, you're looking at smaller vignettes that are really rich in fun color combinations, which is also a wonderful experience and different than viewing it from 20 feet away."
From the July 2023 issue of Digger magazine | Download PDF