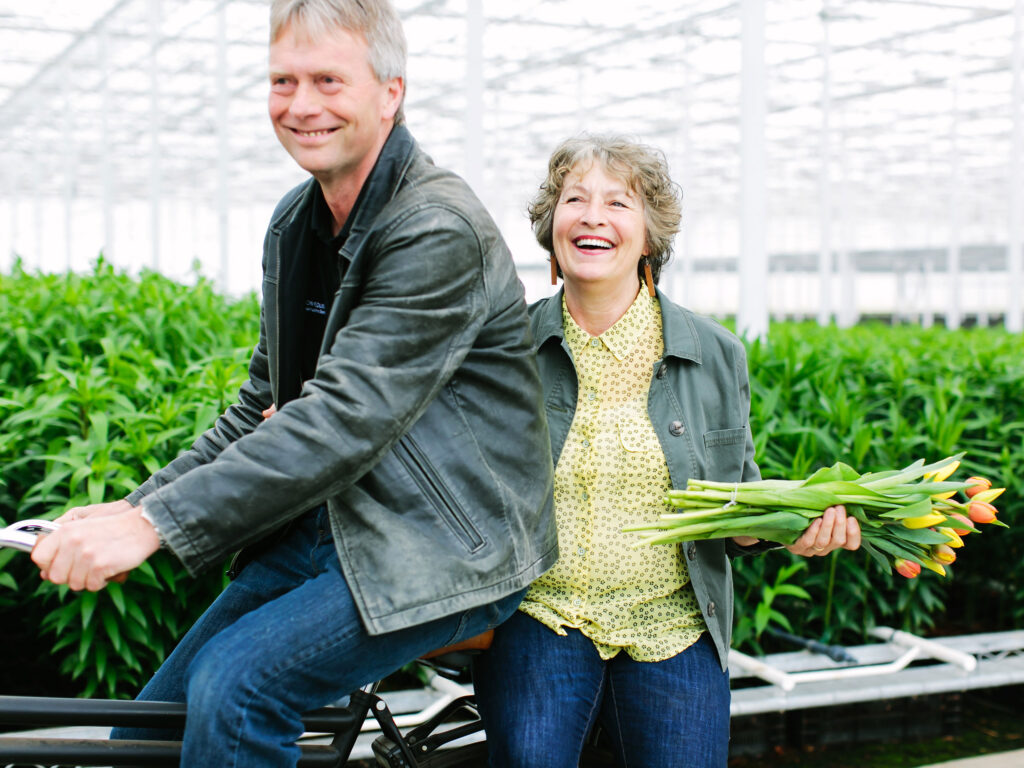 The Meskers family comes from generations of bulb producers in Holland. Since Martin Meskers emigrated from Holland to Oregon, he has grown a wholesale cut flower business called Oregon Flowers Inc. The business ships approximately 6.5 million stems per year to nearly all 50 states, mostly to the West Coast and the Northeast.
Company president Martin Meskers and his wife, Helene Meskers, founded the family business in Aurora, Oregon. Their son, Tyler Meskers, continues their vision today as vice president.
Martin Meskers said he enjoys working with cut flowers.
"It's an exciting business because it's a fresh product and it doesn't last long, so we cut it at the right stage, ship it out right away, and customers are ready for it," he said. "It's fun and it's been good to us."
About 50% of the business' cut flowers are sold wholesale across the country. The other half go to grocery stores in the Northwest, including New Seasons Market and Zupan's Markets in the Portland area, and Town & Country Markets and Metropolitan Market in Seattle.
The business' bread and butter is lily production, 365 days of the year. The team forecasts what sales will be like a year and a half in advance, then imports the bulbs. They plant the bulbs in the greenhouse using recycled, steam-sterilized soil and harvest the flowers three to four months later.
Oregon Flowers also grows tulips in the greenhouse from January to May, and mini calla lilies from May to October. In addition, 80 acres of perennials are planted outside with a mix of snowberries, hydrangeas, rosehips and more. The Meskers match their greenhouse-produced flowers with the seasonal perennials.
Since the bulb is forced to flower in such a short time period, all the bulb's energy is used up and the greenhouse team can't reuse them. Styles and trends change too, so the business consistently buys new bulbs from farmers.
Since Oregon Flowers Inc. grows flowers in a greenhouse year-round, they need a steady supply of bulbs. Tyler Meskers does most of the bulb buying. He orders approximately 5.5 million bulbs per year, about 70% of which come from family members, friends and other business partners in Holland. About 30% of the bulbs come from Chile and New Zealand during Holland's off-season.
"We utilize seasonal differences, so we have a fresh bulb stock, and we only have to store bulbs for six months of the year," Tyler said.
"The bulb industry is run by Dutch people," Martin Meskers said, adding that even in New Zealand, he'll be working with a Dutch person living there.
"That's the advantage of us being from Holland," he said. Some of his cousins and former school colleagues work in growing or exporting bulbs there. "We get to have close contact with all of them."
Tyler's wife, Megan Meskers, helps with administrative work and payroll, while his sister, Jacinth Reese, works in sales remotely from Boise, Idaho. About half of Oregon Flowers' 30 employees have been involved with the business for at least 15 years.
"Loyalty is a big thing for us," Tyler Meskers said. "It's about quality, consistency and reliability."
How it began
Martin Meskers was born into the flower industry. He grew up on a farm growing tulips, lilies, hyacinths and iris with his parents, uncles and grandfather. When he turned 21 in 1979, he got an offer to work for a bulb company in Sandy, Oregon, so he made the move.
Helene joined him in Oregon and the two got married in Portland. Together, they saw the opportunity to import bulbs, azalea cuttings and other plants to produce cut flowers. While Martin was still working in Sandy, he started his own business on the side in 1982 and then went full time the year after.
"I saw the opportunity for growing lilies for cut flowers because it wasn't being done here at that time," Martin said. He started by getting bulbs from his dad in Holland and brought new varieties that hadn't been seen in the U.S.
He and Helene moved to Aurora around 1985 and started with a small plastic hoop greenhouse to grow and sell cut flowers in the Portland flower market. They soon realized the demand was high and started selling wholesale around the West Coast, then across the country. Eventually, Oregon Flowers Inc. grew to 10 acres of glass Dutch greenhouses. Their son, Tyler, was born in the U.S. He said he was practically raised in the greenhouse.
"There are baby pictures of me in the greenhouse, with my mom and dad hard at work," Tyler said. "Everything that came in went right back into the greenhouse to continue the work."
Tyler said his parents used a long-term strategy to grow their market, slowly expanding their production into the fall and then setting up heating and lights through the winter to develop the year-round business model.
About six years ago, Martin and Helene moved to Canby, Oregon, and Tyler and his wife Megan began overseeing the day-to-day farm operations.
"It's nice to hand it over and see the enthusiasm the next generation has," Martin said. "After doing it for 35 years or so, it's nice to try to take it a little easier, but it's been hard to work through COVID and other challenges."
Martin said there is tough competition with imports. More than 80% of cut flowers sold in the U.S. are imported from South America, where there are fewer regulations and the labor costs are lower.
"We have the advantage of being close to the market, but labor costs are higher," Martin said. "Oregon is not an easy state to do business in, and it gets more challenging all the time. But we'll make it work. We're committed and we keep plugging away."
One way to compete, Martin said, is to share his story of an immigrant family business growing flowers for local markets.
"A lot of people like that story," Martin said. "They like that it's locally grown, and they get a fresher product that lasts longer. We do what's right for our employees and customers and make it work."
Tyler said the family is always working on improving the business together.
"There are always things thrown at you in business, so we keep up the positivity as well," Tyler said. "It's easy to get down and frustrated with things. It's never easy as a family business, but we try to do well."
Tyler said the business itself is doing incredibly well because of the company culture, great people and beautiful product.
Outside challenges, including supply chain issues and inflation, have grown since the coronavirus pandemic began three years ago. Bulbs ship from Holland to the East Coast before making their way to Oregon, so if there are any delays along the way, that lost time trickles down into the flower production.
"We roll with the punches and try to be flexible and understanding and get through those challenges," Tyler said. "I hope the business is viable for my kids if they want to do it. But looking around the country, I see there are more people deciding not to produce cut flowers domestically. I am hopeful the same opportunity will come to my children, as it did for me."
Martin said in all his years in the industry, there are always challenges, and he doesn't know what the next one will be, but the family will take it head on.
"This country has been very good to us, my family," Martin said. "The nursery industry has been very good to us, and we appreciate it." He added they try to give back to the industry by being part of different associations. Tyler is on the board of the Oregon Association of Nurseries.
"We hope that we will be able to continue this type of business the way we're doing it now with minor adjustments," Martin said. "There is definitely demand for our product. With good, consistent quality and availability, we will be able to meet that demand and supply our customers primarily here on the West Coast and all over the country."
Emily Lindblom is an Oregon-based freelance journalist covering business, environmental and agricultural news. She has a background in community reporting and a master's degree in multimedia journalism. Visit her website at emilylindblom.com or reach her at emily@emilylindblom.com.
From the February 2023 issue of Digger magazine | Download PDF