Efficiency improvements can help nurseries mitigate natural gas costs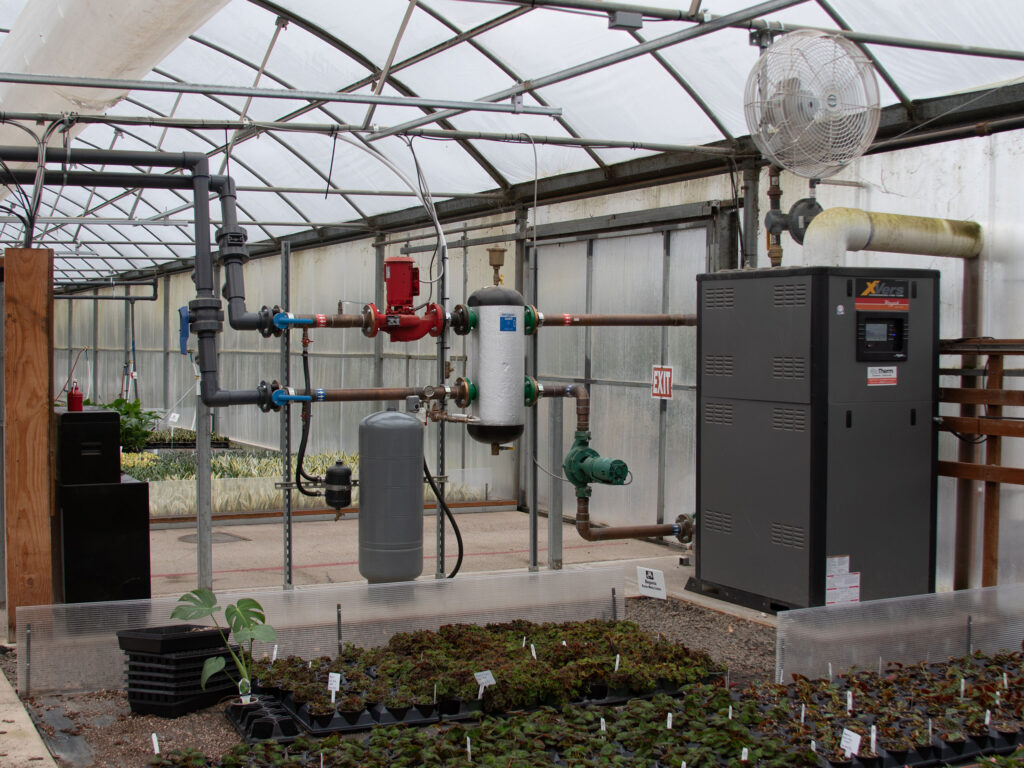 Whether you're talking annuals, perennials, houseplants, veggie starts or other tender plants, it takes a variety of investments to get greenhouse-grown plants out the door and delivered to paying customers.
Property expenses, labor, pots, other supplies, plant material, taxes and fees, and finally, freight are among the costs incurred before the investment delivers a return.
But one of the biggest costs is energy, and it's significant. It contributes to the difficulties nurseries have staying in the black.
"We are firm believers that small consistent price increases are necessary to run a nursery profitably," said Mark Leichty, business development manager for Little Prince of Oregon Nursery, a greenhouse grower based in Aurora, Oregon.
But the last few years, the increases have been steeper out of necessity, due to rising costs.
Heating costs contribute. According to Energy Trust of Oregon, which manages energy efficiency incentive programs, some 75% of the energy cost in a typical greenhouse is tied up in heating. Transportation and electricity make up the rest.
This past fall, greenhouse growers in Oregon, Washington and elsewhere no doubt noticed when their natural gas costs went up. The Oregon Public Utility Commission approved industrial and residential rate increases for both NW Natural and Cascade Natural Gas, which together serve the bulk of customers in the state. The hikes were allowed because both gas and non-gas costs have gone up.
"The monthly bill for the average commercial customer in Oregon will increase by about $56, or around 23%," stated Stefanie Week, a spokesperson for NW Natural, in an email. "Those figures are for the average commercial customer in Oregon that uses an average of 237 therms per month. Rates for Washington commercial customers are similar — those customers will see an increase in monthly bills of about $54, using an average of 242 therms per month."
Week was quick to point out that natural gas prices in the area are still less than they were 15 years ago, but nonetheless, it's an increase.
Residential customers benefit from a delayed payment program, whereby some of the rate burden is shifted to warmer months when their need for gas is less. Commercial customers such as greenhouses don't have this benefit, however — and winter is when they burn the most gas to heat production spaces.
All this is to say that if greenhouses want to decrease their energy costs, looking at heating efficiency measures — and the available incentives to help pay for them — is a good place to start.
Cash for efficiency
Energy Trust of Oregon provides cash incentives for consumers and businesses to make energy efficiency improvements. The programs that are available to nurseries and greenhouses can be found at https://www.energytrust.org/incentives/agriculture-greenhouse-upgrades/. Interested growers can visit the website and find vendors or dealers for energy-saving equipment. These trade allies are generally well versed in how the program works and can help customers through it.
"We have a trade ally network, and we have a directory on our website that people can use to connect with people if they have that need," said Susan Jowaiszas, who serves as marketing lead for the trust.
Those unsure of where to begin or what to pursue can contact Energy Trust of Oregon at 1-866-202-0576 or email production@energytrust.org to start the process of exploring the possibilities.
"We have folks who are really experienced working with nurseries and farmers, and everyone in that agricultural space," Jowaiszas said. "We have this outreach crew that can go out and talk to customers about the program and the breadth of it."
Energy Trust entered into a program management contract with Energy 350 Inc., Portland, Oregon, to deliver energy efficiency services for industrial and agricultural utility customers in Energy Trust's service area in Oregon. The point of contact for the nursery sector is Whitney Rideout (whitney@skygardesdesign.com or 503-807-0398).
The Energy Trust programs are funded by ratepayers. In the late 1990s, the Oregon Legislature created a requirement that electric utilities collect a 3% "public purpose" charge from ratepayers and dedicate the money to efficiency improvements. Natural gas utilities were later added to this requirement, and today it serves customers of NW Natural, Cascade Natural Gas, Portland General Electric, Pacific Power and Avista Utilities.
Energy Trust of Oregon, as a nonprofit, oversees this efficiency program on behalf of the Oregon Public Utilities Commission, and both ratepayers and the utilities themselves benefit. A therm or kilowatt saved is one the utility can sell to someone else, without the need to find or develop new sources.
"When customers save energy, that slows the growth of demand for energy," Jowaiszas said. "And so that takes that much load off of the system, so that the utilities then don't have to build out new gas lines or build new power plants at the same rate. The most cost-effective resource is energy efficiency, and that's behind what Energy Trust is all about."
Reducing the heating bill
There are a variety of improvements greenhouse operators can consider for improving heat efficiency. They can retrofit the greenhouse (or hoop house) with new covering, install new endwalls and put in thermal curtains. They can tune up an existing boiler, insulate the pipes or upgrade to a higher-efficiency boiler. They can install under bench heating or radiant floor heating. They can upgrade to a high-energy condensing unit heater. And they can even put in programmable controls.
So many options. Leichty, at Little Prince, has considered them all and is using most of them.
Under bench and in-floor heating systems. These heat the rootzones of the growing plants, rather than heating the air above them. According to Les Grafton, a regional sales manager for greenhouse supplier BioTherm, rootzone heating makes sense.
"Water carries 30 times more energy than air," he said. "You're already seeing a huge energy efficiency increase with hydronic heating. The air then becomes a backup or emergency heat source."
And the plants don't mind. "As long as you're keeping your rootzones at 65–70 F, it doesn't matter if your room temperature is 55," Grafton said.
The under bench radiant heating tubes now come in roll-out mats, which can be customized to the length and width of the bench or the bed where it is to be installed. "It saves roughly 30–40% on the installation cost, just from the simple ease of rolling," Grafton said.
Little Prince put them in their houseplants house and in several others. "It's a more efficient way of heating," Leichty said. "We feel like we're getting a natural gas savings from doing that, for sure."
Greenhouse shells. There are so many options. Inflated double-polyethylene coverings can reduce heat loss by 50%. If the grower upgrades to a double-layered, infrared-inhibiting polyethylene cover, that further reduces heat loss by up to 20%. And for rigid-framed greenhouses, it's possible to upgrade the glazing from fiberglass or corrugated polyethylene to double- or triple-polycarbonate and reduce heat loss by 40%.
The endwalls of the greenhouse matter as well, where upgrading to double-wall polycarbonate can reduce heat loss and air infiltration. "All the new construction that we're doing or that we've done over the last four or five years has used twinwall polycarbonate for a bigger insulation factor on the endwalls," Leichty said.
Thermal curtains to reduce heat loss are also an option.
Efficient heaters and boilers. A simple tune-up can increase performance boost combustion efficiency by up to 10%. Insulating pipes will prevent heat loss.
A high-efficiency condensing boiler will wring more heat out of the same volume of natural gas, while decreasing heat waste exhausted from the boiler.
And new high-efficiency condensing unit heaters far exceed the models that were released just a few years ago. Those had 80% heating efficiency and the new ones get into the 90% range.
Little Prince has made use of all of these with the help of incentives. "We've gotten rebates from the Energy Trust [of Oregon] for all of those conversions," Leichty said.
Digital controls. Modern systems can automate greenhouse processes and coordinate different energy-using systems. They can ensure that when vents are open, the heating isn't running so that you're not "heating the outside." They can regulate temperature, humidity, ventilation, lighting and irrigation using timers, sensors or feedback from a weather station, and they can set back heat levels at night to reduce fuel (and money) burned.
Practical and paper solutions
Peter Rempp serves as facilities director for Smith Gardens Inc., a greenhouse grower based in the state of Washington with growing facilities in Oregon and California as well. As such, he's responsible for heating vast amounts of production space efficiently, and very well knows the frustration over rising rates.
"Oftentimes you have this feeling you're held over a barrel, beholden to someone else that's providing what you need, and you don't have any say in how it's delivered, how it's received or what it costs," he said. "You can tighten up the ship and look for ways to reduce your burn; you can improve your insulation, close up any air leaks, and invest in high-speed doors that close up quickly as your forklifts move in and out; or you can keep greenhouses as empty as possible and consolidate crops."
Like many other producers, Smith Gardens has done many of these things, but that's not all.
They have also bought their own natural gas futures on the open market. This is different from buying gas directly from the utility as a regular customer, though they also do that, too.
Buying natural gas means paying at a slight premium, but it assures them of a set price for a portion of their natural gas needs, protecting them against price spikes.
"I equate it to buying insurance," Rempp said. "I'm protecting myself, or hedging myself against a price blowout, by committing to a delivery of gas early at a known price. Because I'm buying early, I'm committing to it. It's going to be priced a little higher than what they think it's going to be and that's how they're happy with the sale. They now have a known value that they have a known customer for."
From a practical standpoint, the delivery of the natural gas works like this.
"We actually have a third party go out and source natural gas, have it delivered to the utility city gate — or we call it a hub — and then the utility will deliver it from that city gate or hub to our meter at our facility," Rempp said. "We're not actually buying the gas from the utility but from a third party, and then we pay the utility to deliver it to our site."
For Smith Gardens, it's worth the added trouble and cost. "It helps us to know what our budget's going to look like in the future," Rempp said. "We have secured a certain percentage of our known volume."
And it's not necessarily something just for larger growers.
"I would say it's worth investigating," Rempp said. "It's worth contacting a broker and asking that question. I don't know that there's a minimum volume to make it viable."
Curt Kipp is the director of publications and communications at the Oregon Association of Nurseries, and the editor of Digger magazine.
From the February 2023 issue of Digger magazine | Download PDF