In response to climate change, growers have become more conscientious about offering a mix of natives and clonal selections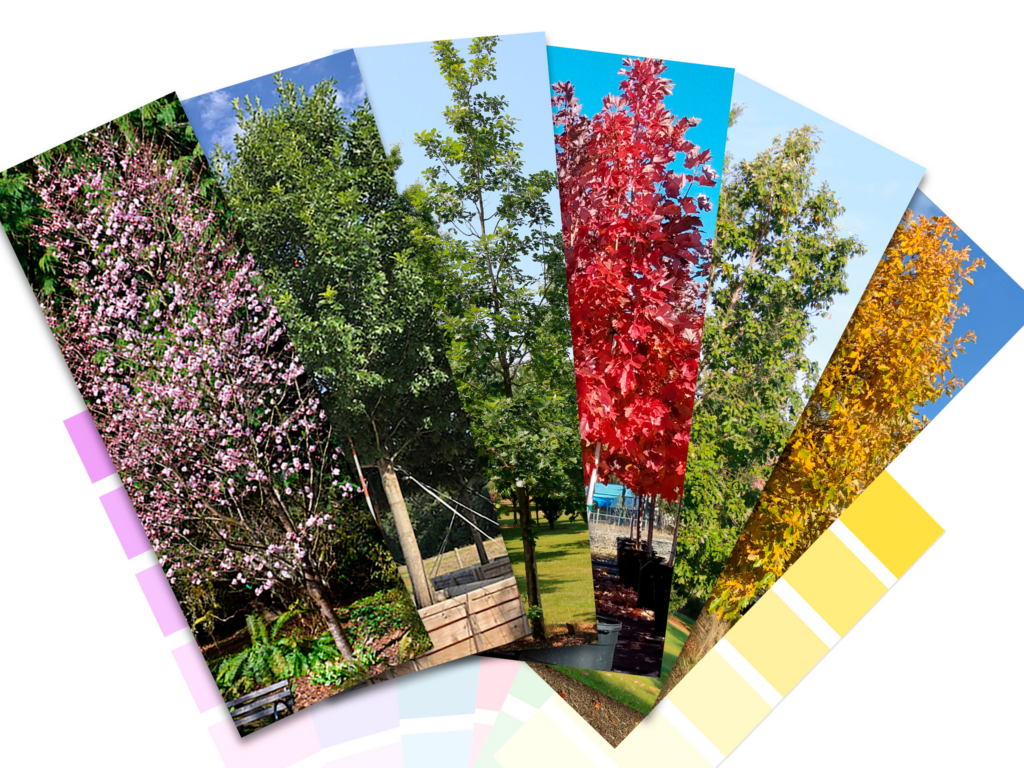 When he began working in urban forestry more than 20 years ago, Scott Altenhoff and his team would refer to a list of trees known to be strong performers in different conditions.
"We would call them 'bombproof' because they could withstand tough urban soils, drought stress, hot, bright conditions in full sun and such," said Altenhoff, manager of Oregon Department of Forestry's Urban and Community Forestry Assistance Program. "We could usually always count on them to perform well."
Over the last five to 10 years, many of those historically go-to trees have continued working in urban environments, but many have shown signs of struggling due to the effects of climate change.
"Red maples used to be considered bombproof — they were trees that did well no matter where they were placed — but we're seeing them suffer from drought stress and heat," Altenhoff said. "So, we recognize we need to be flexible and expand and have more diverse palettes. We need to shift and adapt the choices and align them with what we know are likely to be harsher environmental conditions."
Some of these conditions include extended drought, weather extremes, smaller growing spaces, diseases and pathogens. A warming climate could mean invasive pests such as the emerald ash borer and spotted lanternfly would be able to have a wider geographic range for longer seasons. If an oak borer got a foothold in Oregon, it could potentially decimate the state's oak population, according to Altenhoff.
"Right now, we have a lot of choices of cultivars and trees and species to select from, but the trees the major nurseries are growing tend to be clonal," Altenhoff said. "The genetic diversity is just not there, so if a pest or pathogen were to appear on the scene that liked red maples, that could really take its toll.
Diversity rules
Nancy Buley, director of communications for J. Frank Schmidt & Son Co. (JFS) in Boring, Oregon, said the best way to tackle this challenge is by making sure palettes include a diverse set of adaptable trees, and genetic diversity within those tree species.
JFS grows trees for wholesale growers, garden centers and landscape construction firms across the U.S. and Canada. Buley, who has worked there since 1994, said the goal is to grow trees that will thrive now and survive for the next 50–100 years in urban environments.
"The climate is becoming much warmer. We're already seeing tremendous temperature extremes, both hot and cold, as the climate warms," Buley said. "It's challenging to select and grow trees for such an unpredictable climate pattern."
In the last 30 years, Buley has seen a trend of customers in cities selecting native trees. "People want native trees for a lot of good reasons, but the problem with native trees is that cities are not native habitats — they're urban heat islands and come with all sorts of challenges," Buley said.
So about four decades ago, a plant breeder at JFS, Keith Warren, set out to select high performers out of native plant seedlings that would have a better chance at city living. Out of the millions of seedlings the company grows each year, Warren selected some to test for suitability for growing and adapting to urban conditions. Over 10 to 15 years, he observed how they performed to find ones that particularly stood out for being resistant to heat, mildew or other conditions.
Out of the bur oaks tested, one that stood out was named the Urban Pinnacle® oak (Quercus macrocarpa 'JFS-KW3' PP22815), and out of the swamp white oaks, the American Dream® oak (Q. bicolor 'JFS-KW12' PP23632) performed the best. Over the next 15 to 25 years, JFS produced new cultivars from cutting or grafting those high-performing selections.
Buley noted another cultivar, Redpointe® red maple (Acer rubrum 'Frank Jr. PP16769'), that has a broad range where it could perform better in both hot and cold climates.
"Redpointe handles heat and drought better than most red maples but also does better in cold climates," Buley said, adding it does well in Chicago and New Mexico alike. "It also handles higher pH levels. Most red maples perform best in more acidic soil, but this one is also adaptable to higher pH soils."
Another is a flowering cherry called Pink Flair® (Prunus sargentii 'JFS-KW58') that is adaptable from North Dakota to California, South Carolina to New England.
Some of the company's customers are experimenting with planting warm-climate trees further north, but Buley said the problem with that is the potential for cold snaps that can kill trees that would otherwise do well the rest of the year.
"Planning a diverse palette of genus and species is really important," Buley said. "I don't agree with people who advocate for only native trees. We need to introduce trees that can handle our changing climate and native trees that are adaptable."
Maria Zampini, owner of UpShoot Horticultural Marketing in Fairport Harbor, Ohio, helps spread the word about trees that do especially well in urban conditions. In her role as Tree Program Manager of the Proven Winners® ColorChoice® Flowering Trees branded plant line tree by Spring Meadow Nursery, Zampini helps bring to market the species that are known for their beauty, disease resistance, retail appeal, multi-season interest and ability to fit in a landscape. "It's my job to source genetics and work with growers," she said.
Zampini started her career working at her family's wholesale nursery, and she said she's noticed a shift in focus on climate change over the years. "When I started in the industry we talked about hardiness zones, but now it's also about the heat tolerance zone. Asking about drought and heat tolerance has become a natural part of that conversation, not an afterthought," she said.
Growers look for many things in a tree, including disease and pest resistance, and the ability to fit in smaller spaces, but the durability to handle the effects of climate change has also become a core factor.
"I think there's a lot of opportunity to connect with urban foresters," Zampini said. "We can sell what's fast and easy, but we need to look for what's going to survive and thrive in the long term."
From what she's seen, customers from homeowners to cities and businesses are more conscientious about climate change and thinking about diversity in their landscapes. "There are some growers who want to carry the tried and true because that's what their customers will ask for and what sells, but I think there are people who make it their differentiation strategy by having that diverse palette to offer," Zampini said.
Regionality is also important to consider. "A lot of nurseries, especially in the Oregon area, are not just growing and selling for the Pacific Northwest, they're shipping all across the country, so they need to know what those clients are asking for. 'Are there regional things I as a grower need to be offering that work for those areas?'"
Alan Heinrich, vice president of horticulture at Everde Growers, said his company grows a diverse palette across multiple states. He said carbon sequestration is important for customers to consider when choosing trees for their landscapes because it can help reduce the amount of carbon dioxide in the air.
"Of all the plants, trees are likely the ones that sequester the most carbon," Heinrich said, adding that oaks in particular are some of the best at sequestration due to their broad canopy, dense wood and long lifespans. "There are all kinds of benefits to trees: they're a great place for wildlife, helpful for erosion control, and one thing you don't hear a lot about are trees sequestering carbon."
Heinrich also noted it's important that cities continue to plant trees in parking lots and road medians to decrease the heat going back up into the air.
Bailey Nurseries of St. Paul, Minnesota, breeds and grows trees in Minnesota, Illinois, Oregon and Washington. James Kuon, sales manager at Bailey Nurseries, has been seeing a slow, subtle shift of warmer zone trees moving north.
"Crepe myrtle [Lagerstroemia spp.], for example, has seen a slow, somewhat steady creep north over five to 10 years," Kuon said. "This would occur naturally as trees experience a change in their environment, so we're trying to monitor that. When you work closely with the environment you see these changes more acutely than someone who is not in agriculture or horticulture."
Kuon said his company works closely with sales representatives across the country and Canada to monitor what the market is requesting, so Bailey Nurseries can adjust accordingly. The company sells across the market from retailers and growers to landscape contractors, municipalities and botanical gardens. "We see customers asking for native species and trying to diversify their plant palette," he said.
Collaboration is key
Taking an interdisciplinary approach will be fundamental for the future of urban forestry, according to Altenhoff of the Oregon Department of Forestry.
"Those in state government like me or at the city level need to be talking with growers and landscape architects and civil engineers, the people spacing out trees in urban areas," Altenhoff said. "We also need to do a better job of reaching out to nontraditional partners. Real estate brokers and agents could play a major role in educating people about the value of trees and building resilience."
Altenhoff added there needs to be more education and engagement with stakeholders who have not traditionally been part of the conversation, including architects, transportation planners and urban planners.
"Right now, there's a major opportunity," Altenhoff said, referring to the Inflation Reduction Act of 2022, which set aside $1.5 billion for tree planting. "We're scrambling to put that [money] to the highest use and set up a network of growers and contractors and people in my position for how to make this work for everyone and build the capacity."
Altenhoff said challenges include the loss of trees due to forest fires as well as supply chain and labor force issues within nurseries. "We need more trees, and trees that can withstand the stressors we're seeing," Altenhoff said. "We need to keep communicating and working together as a total industry."
From the April 2023 issue of Digger magazine | Download PDF