Researchers explore whether hounds can assist in timely vole management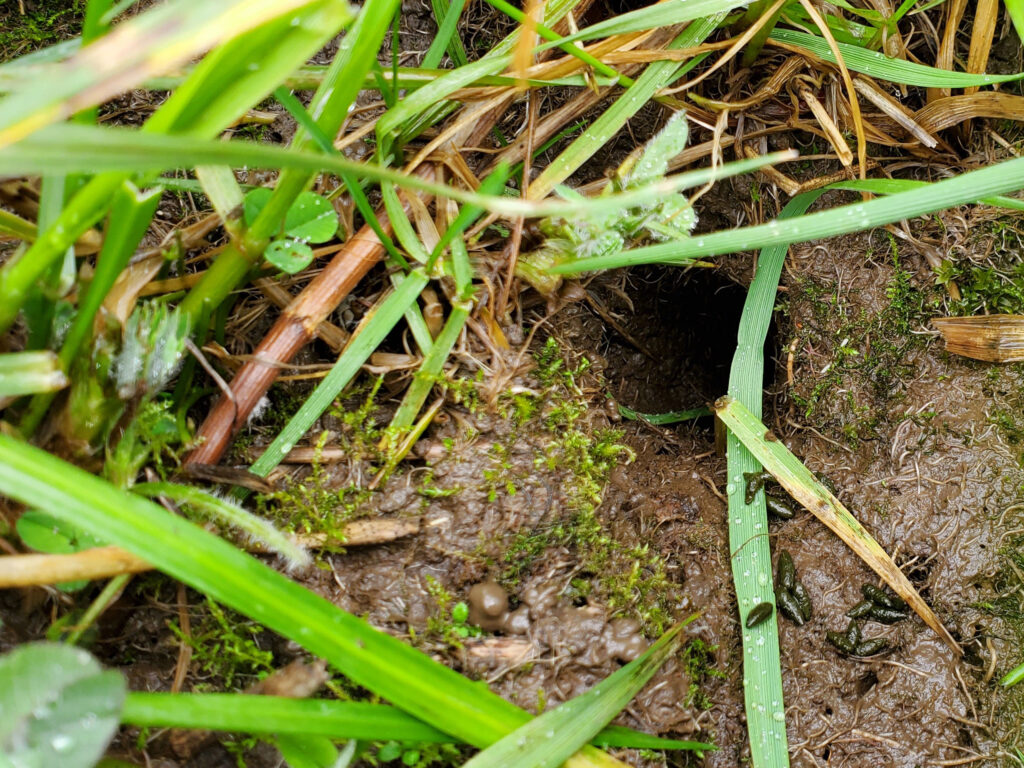 By Dana Sanchez and Nick Andrews
In the big picture, burrowing animals contribute significantly to natural ecosystems and the soils on which our own economies and lives depend.
Burrowers contribute to soil aeration, provide nutrients and soil organic matter, participate in redistributing nutrients to the root zone, and they also improve drainage and water infiltration. They create habitat and provide critical food for other species, including predators.
Mounting examples are emerging showing that burrowing rodent species are, in fact, keystone ecosystem engineers vital to keeping entire natural — and human — systems intact and functioning.
Serving as foundational prey sources for numerous predators is a tough gig if you're to survive as a species, so many rodent species adapted via natural selection to achieve high reproductive output. In particular, many vole species possess the potential to boom (i.e., irrupt) when a combination of conditions are especially favorable.
On the other hand, the business environments navigated by farmers and producers favor some level of predictability. Thus, unpredictable vole irruptions and the increased loss and damage they can impose represent a significant risk for producers. Although the means to predict vole irruptions continues to elude us, we can still anticipate damage from these native gnawers as we plan our management tasks.
A potentially exploding population
In the Willamette Valley of Oregon, the primary species of concern is the gray-tailed vole (Microtus canicaudus). They achieve relatively short lifespans (2–16 months), but females can reach sexual maturity in as few as 21–23 days. Pregnancies last only 3 weeks, and each litter likely averages 4–6 pups. Females can become pregnant again immediately after giving birth.
These factors allow "overlapping generations" of females (e.g., grandmoms, moms, daughters, daughters' daughters) all reproducing at the same time. There is some potential relief in that reproduction slows markedly and may even stop in January and February, based on local research (Wolff et al., 1994).
Regardless of crop, a manager seeking to limit vole populations in the coming growing season is well-advised to take advantage of that lull.
By reducing the population deep in winter, we get more "bang for the buck" because for each adult trapped, we take a breeder out of production for the coming growing season.
The trouble with voles is that their holes (burrow entrances) last longer than the animal that excavated them. Therefore, targeting over-winter survivors is complicated by needing to scout multitudes of burrow entrances that persist despite a relatively(!) low number of voles. So how can we maximize our effectiveness in hunting down the over-winter survivors before they begin making more voles?
The trick is to let the voles tell you where they are right now or, failing that, which entrances they are using as they return from feeding. You can then focus your investment of effort accordingly.
Regardless of whether you're using snap-traps or conventional chemical controls, scout to identify the entrances and nearby runways where there is fresh scat. The freshest scat tends to be greenish, and at close examination will clearly be new and undegraded compared to scat that has been aging and weathering. Sometimes you can find fresh grass clippings in a surface runway — the nearest burrow entrance will likely hold further indicators of frequent use.
If you need to scout a relatively large area such as a field or grove, you might start noticing that most of the active sign is grouped either on a margin or in an area of relatively higher ground.
When flooding or other conditions become severe enough, and especially when populations are relatively low, the voles' territorial behaviors may be suppressed enough to allow the survivors to pack into a patch of the best-available habitat, or refugia. For example, although the gray-tailed vole is fairly unique among vole species for its ability to swim within burrows and withstand flooding, if there's a lot of standing water, you might be able to really concentrate your control efforts on that "higher ground," or refugia — their highest value real estate.
Releasing the hounds
A team of Oregon State University Extension professionals is exploring whether assistance from dogs' fantastic scenting abilities might make the scouting task more efficient and thus effective. Formal "canine detection" has evolved to an exacting science and demanding standard of precision via rigorous testing to establish accuracy rates among handlers and their dogs.
Applications of rigorous canine detection have become well-established and are continuing to expand beyond security screening. Disciplines ranging from human medicine to agricultural security are employing highly trained dog-and-handler teams to detect threats ranging from cancer in human patients to invasive species in the field or at a port.
These applications inspired our project. While not aspiring to reach the time and testing demands of true "canine detection," we designed the study to use dogs' abilities to benefit producers trying to manage the challenge posed by voles.
We set out to explore whether snap-trapping, assisted by canines using their natural abilities to maximize efficiency and success of a trapper, might offer an effective, non-toxic tool for vole population control to reduce damage in a wide range of crops.
Although we are conducting the trials in fields, the scouting process and detection clues should also offer benefits to those managing vole conflicts in greenhouses, where choices may be to trap, use rodenticide, or simply identify a new spot where exclusion measures such as hardware cloth are needed.
Efficient scouting with canine assistance could add a valuable method to the toolbox, and potentially reduce the cost and improve the efficacy of vole management with traps or rodenticides.
We knew it would be important to test the dog-assisted trapper's efficiency and effectiveness against an "unassisted" human trapper working on their own to scout and trap a plot of the same size in the same field. Therefore, we compare trap success (number of voles killed per number of traps set), efficiency (number of voles killed per minutes spent searching and marking holes) of those two team types.
Our original design involved wild-caught voles that we maintained in captivity for scent-signature training of highly-accomplished Nosework sport teams on live-vole scent. Unfortunately, our initial plans were greatly delayed and then scuttled in the 2021–22 season due to disease-transmission risk from those voles. (Learn more at https://www.cdc.gov/leptospirosis/resources/leptospirosis-fact-sheet.html).
Although the delays meant we missed our goal of trapping the pre-breeding period in January–February 2022, we persisted in running one short round of on-farm trials to gain insights as to whether we should continue our work.
We conducted a single-round (24 hours from trap set to check) of trapping on five Willamette Valley farms (one hazelnut orchard, two dairy pastures, two vegetable farms), with each team (canine assisted and human only) getting their own quarter-acre plot in the same fields.
Despite the many challenges and limitations, results were promising. Canine-assisted teams and unassisted, but expert humans were virtually tied in trap success (.41 voles/trap by canine teams, .40 voles/trap by unassisted human), but differences in efficiency were telling. We had the opportunity to compare efficiency among three different canine-handler teams, which revealed a range from .29 voles killed per minute of search time to .65 voles killed per minute of search time.
When we compared the average efficiency and total search time spent by canine-assisted trappers (.48 voles killed/minute of searching over a total of 97 search minutes) to that of an unassisted human (.29 voles killed/minute of searching over a total of 232 search minutes), the value of canine-assistance became very clear.
Further testing to come
Our much-delayed 2022 season was very limited in how much data we could collect and thus how confident we can be in the results, but there were enough promising indications that we have pressed on to trap again in January–March 2023.
Our 2023 winter on-farm trapping will be conducted on six pastures in the Willamette Valley. Pastures are among the most challenging to search, but by focusing on just one crop type, we will be able to conduct a more thorough comparison between team types.
We began hunting and trapping on January 2, and will visit each farm once every 14 days until mid-March or when we begin catching young voles — thus signaling the end of the pre-breeding season. We will be working with two of the returning canine-teams from last year and adding a third team that has trained and performed in professional canine-detection work to locate species-specific wildlife evidence in natural resource investigations.
Voles killed during our 2023 season are contributing to a parallel investigation being conducted by Drs. Sargent and Beechler of OSU's Carlson College of Veterinary Medicine to better understand which Leptospira strains and serovars occur in voles and other mammals in the Willamette Valley. Their work is important in understanding whether current vaccinations for pets and livestock are a good "match" to the potential challenges on our region's landscape.
About the authors
Dana Sanchez is Oregon State University Extension Wildlife Specialist, based on the Corvallis campus. She can be reached at dana.sanchez@oregonstate.edu.
Nick Andrews is an OSU Extension specialist in organic vegetables. He can be reached at nick.andrews@oregonstate.edu.
Vee Blackstone, Jenifer Cruickshank and Nik Wiman also contributed to this article. Cruickshank and Wiman are OSU Extension specialists in dairy, and hazelnuts, respectively. Blackstone is an Extension research assistant.
References
Wolff, J.O., W.D. Edge, and R. Bentley. 1994. Reproductive and behavioral biology of the gray-tailed vole. Journal of Mammalogy 75:873-879.
Growing Knowledge from the February 2023 issue of Digger magazine | Download PDF