Thanks to climate change, sales of drought-tolerant, pollinator-loving native perennials are enjoying their time in the sun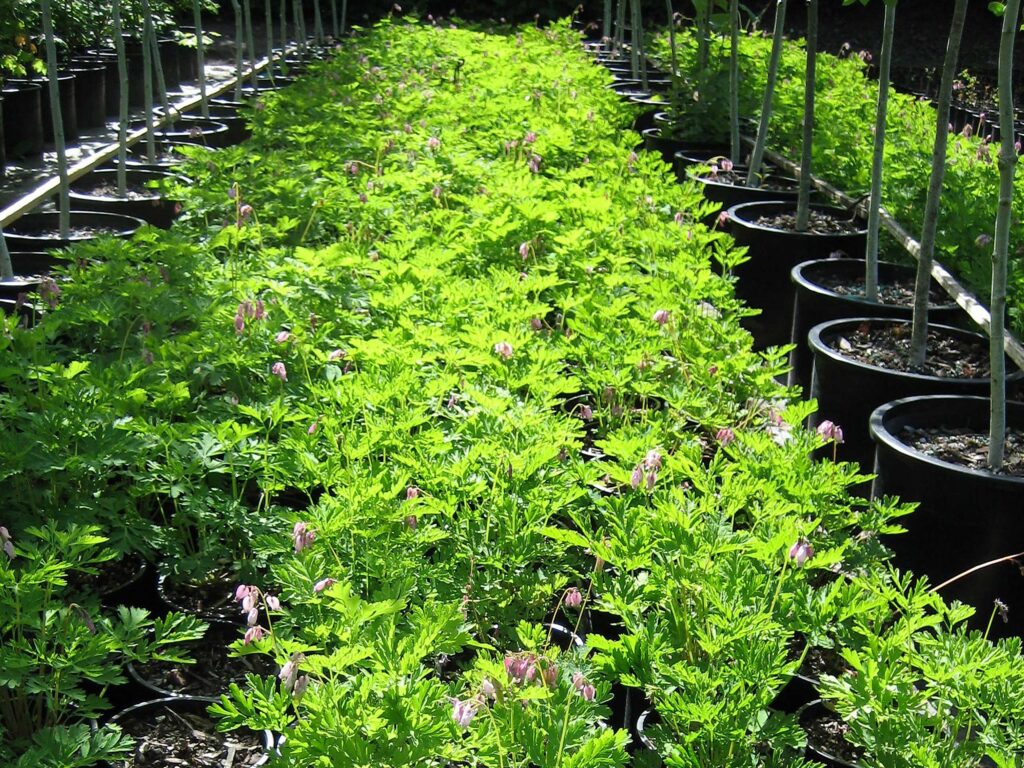 Concern for the environment and pollinators is inspiring gardeners to add native plants to their landscape. At the same time, climate change is driving an ongoing increase in demand for heat- and drought-tolerant natives.
Sustainable landscaping with native plant species not only improves the environment for pollinators, but also reduces the need for irrigation, fertilization, pesticides and maintenance.
Many nurseries are reaping the benefits of the sustainable trend with sales of natives rising year over year. They include Paul Stormo, owner of Champoeg Nursery in Aurora, Oregon. "Sales have increased every year," he said. "There was a noticeable surge in the spring of 2020 and most of this demand has been from homeowners and retail nurseries."  
As summer temperatures rise because of climate change, so does the public's desire for drought-tolerant natives. The record-breaking heat dome of 2021 caused major damage to Northwest stalwarts such as hydrangeas and rhododendrons. The summer of 2022 wasn't much better. Gardeners began to turn their attention to dry-loving plants like Arctostaphylos, Ceanothus and asters. Many natives fit the low-water bill.
"We have a lot of drought-tolerant natives in Oregon," said Joni Shaffer-Elteto, owner of Native Plantscapes NW LLC in Hillsboro, Oregon. "And we're going to see changes. The palette is expanding. Looking at the future, you can expect the migration of plants. But it takes a long time, and we don't have a long time. We have to quit planting things that won't be alive in 20 years and pick substitutions that will work, like the incense cedar (Calocedrus) popping up in the Willamette Valley."
Summer flowerers
Stormo suggested two natives that thrive in hot, dry climates, like Oregon summers have become. One is Oregon iris (Iris tenax), with its easy-to-recognize flowers in purple, lavender, yellow or creamy white, can have 10 or more large blooms on a mature plant. It's a non-aggressive clumper that grows 8–14 inches tall, needs little attention and is hardy in USDA Zones 5–9.
The other, Oregon sunshine (Eriophyllum lanatum), also known as woolly sunflower, makes up for its diminutive size with a blast of brightly shining yellow, daisy-like flowers from late spring to mid-summer. Its native habitat is dry, sandy sites, making it eminently suited for low-water situations in well-drained soil. Its cushion-like silvery green foliage hugs the ground, though it can grow to 2 feet with water. A banquet for bees and butterflies, Oregon sunshine is immune to deer and hardy to USDA Zones 5–8. It works well at the front of a bed or border, or in a rock garden.
Scott Anderson, co-owner of Sevenoaks Native Nursery LLC in Albany, Oregon, said Pacific bleeding heart (Dicentra formosa) may be the prettiest drought-tolerant native, with its gracefully nodding pink flowers and delicate fern-like foliage. It is short at only 6–12 inches tall and adored by pollinators.
Pacific bleeding heart spreads slowly from rhizomes and can make a nice patch, though it can easily be pulled to be kept in a smaller space. This elegant native perennial likes partial shade but will surprisingly take quite a bit of sun too. It's drought-tolerant in shade, deer resistant and hardy in USDA Zones 4–8.
A native for every plot
Nationwide, nearly 44 million Americans bought at least one plant in 2020 due to the fact that it was native to their area, according to a National Gardening Association survey.
At the same time, there's been a surge in wildlife habitats certified by organizations like the National Wildlife Federation that require at least 30% native plants in a defined landscape. Certification of backyard habitats, which increased 50% in 2021 over 2020, required the purchase of millions of plants around the nation, many coming from Oregon.
"People recreating outdoors seem to be more curious about the plants they are seeing and want to incorporate those plants into their landscapes," Stormo said. "I think the biggest attraction is the desire to create spaces for pollinators, birds and other wildlife, as well as provide ecosystem services such as water filtration and climate change mitigation."
Figuring out which plants are native can be confusing. Some definitions are more limiting than others. In Oregon, native range could be the coastline, Willamette Valley or the Rogue Valley, or extend to larger areas like central Oregon, western Oregon or even all of Oregon or the Pacific Northwest.
Linda Harrison, director of the native plant website OregonFlora.org and the three-volume reference book "Flora of Oregon," said native plants are defined by place and time.
"We talk about the geo-political boundary of Oregon and the time prior to Western settlement," she said. "If you look at those two components and if a plant existed in the state of Oregon before Europeans arrived, we call it a native."
As climate changes, plants from California and Nevada may migrate to Oregon, compelling those plants to be categorized as native, according to Harrison.
Protecting pollinators
Along with climate change, gardeners are turning to native plants to help save pollinators, which are declining at an alarming rate.
In Oregon, a dramatic bumble bee die-off in a Wilsonville parking lot in 2013, caused by misapplication of a pesticide, set off a cavalcade of concern and prompted the Oregon Legislature to mandate a pollinator health specialist for the state. Since then, interest in bees, butterflies and other insects has grown exponentially.
After having evolved together for thousands of years, native plants are naturally friendly to pollinators — not just bees, but also butterflies and other insects. Planting natives provides a "native flyway or corridor" so insects and birds can move from one habitat to another, providing food for them all along the way. It's a grassroots way to create habitat.
"Urban areas are bare of natives," Anderson said. "Wildlife need food, so making a corridor for them to find nourishment is important. If everyone planted just 30% natives in their landscape, it would make a big difference to support our birds and pollinators."
To offset climate change-generated drought and help wildlife, Sheila Klest, owner of Trillium Gardens in Eugene, Oregon, would design a pollinator-friendly corner of Oregon sunshine and the evergreen grass Roemer's fescue (Festuca idahoensis var. roemeri), which was once a common plant in the Willamette Valley oak savanna.
Klest also suggested white-blooming yarrow (Achillea millefolium), a tough plant that grows in any situation, and checker mallow (Sidalcea), a pretty perennial with pinkish-white flowers beloved by pollinators. Then for fall, Douglas aster (Aster subspicatus) bursts with purple flowers from July through September, provideing sustenance when many plants have bloomed out for the season.
Anderson recommended Washington lily (Lilium washingtonianum). Native to the Cascade, Klamath and Sierra Nevada mountain ranges of Oregon and California, this lily was named after Former First Lady of the United States Martha Washington (not the state), according to renowned botanist Albert Kellogg.
Washington lily displays huge, fragrant white flowers with tiny purple spots in mid to late summer. Washington lily can have 30 flowers on a stem that gets 3–7 feet tall and is hardy in USDA Zones 6–9. With a native habitat of chaparral to conifer forest, it can thrive in dry soil in full to partial sun.
Anderson also likes western hound's tongue (Cynoglossum grande), which has blue, borage-like flowers in early summer and makes gardeners happy with its resistance to deer browsing. It can get up to 3 feet and 1 foot wide, is hardy in USDA Zones 7–10 and prefers difficult-to-design dry shade. Hummingbirds and butterflies find western hound's tongue irresistible.
Right place, right plant
As with any planting, Harrison strongly advises finding the right plant for the right place and allowing it to grow naturally. No pruning into balls, please. "Let them be their natural form," she said. "Let there be a little bit of wildness. Let there be interaction with nature. That's so much better than a sterile landscape. You might as well put in plastic plants."
When choosing a plant, Harrison said gardeners should think first of where it's going in the landscape and then choose an appropriate plant. Just because a plant is a native, she noted, doesn't mean it will grow anywhere in a garden. Not all drought-tolerant natives grow in sun. Consider how the plant grows in the wild and translate that to your garden. If it grows in hot sun, plant it in hot sun. If it wants partial shade, that's where it should go.
Soon, there may be more non-native plants that drift into Oregon from California, Nevada and Idaho, where a newly hotter climate allows them to flourish like they do in their native habitats.
"With climate change, we're seeing shifts of where plant populations occur," Harrison said. "As Oregon becomes drier and hotter, things that were limited to the Siskiyous or southern Oregon we are now seeing in habitats in other parts of the state."
Paying attention to plants and where they come from means more success at growing them. It also gives gardeners a sense of place and history.
"Natives let you know where you are," Harrison said. "They root you in your local place …. If I can look out and see plants that grow in Oregon — not things that would appear in a parking lot in Milwaukee or a garden in Boca Raton — then I know I'm in Oregon, and that's important to me and I think to a lot of people."
As climate change continues, so does the challenges it presents to gardeners and the nurseries that grow and sell their plants. Planting appropriate natives is something everyone can do. Drought-tolerant plants create a habitat, look beautiful and thrive with very little or no water or fertilizer.
"People are getting educated about climate change and feeling an urgency to do something," Shaffer-Elteto said. "They see the changes in their climate and they really want to do something. This is their solution."
From the May 2023 issue of Digger magazine | Download PDF