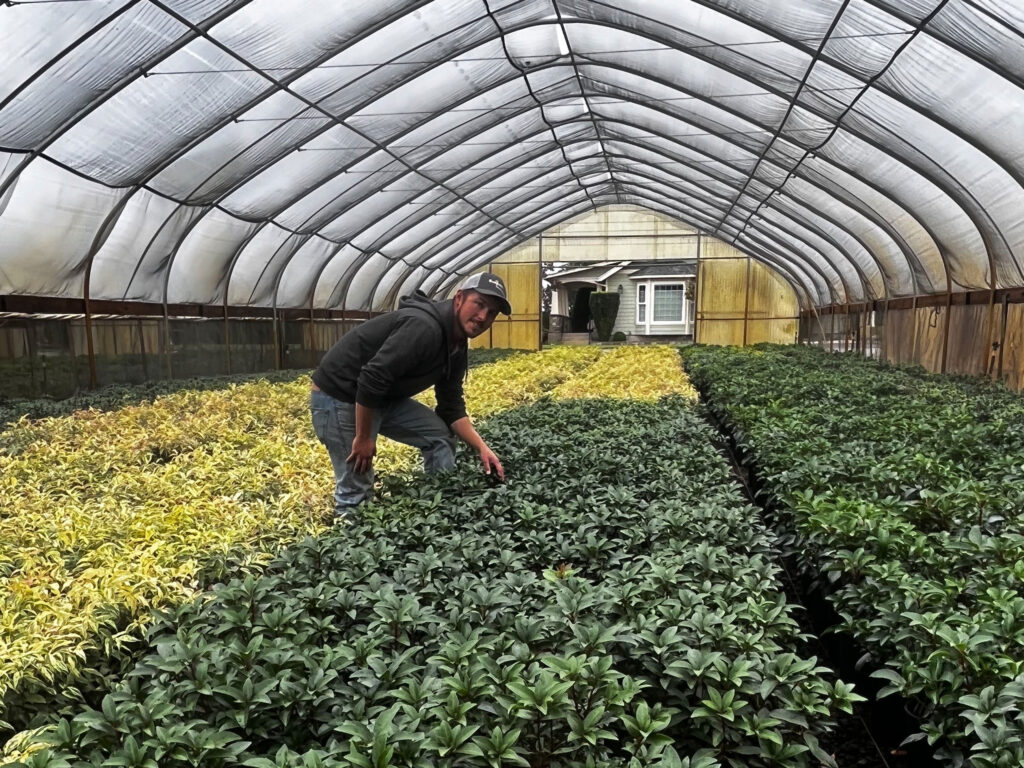 Joe Obersinner in one of the unheated greenhouses maintained by Obersinner Nursery Inc. The nursery processes 100,000 rooted cuttings every fall and winter, and most of their rhodies are grown that way. They only have one propagation house that is heated; otherwise, all other greenhouses are unheated. Obersinner container-finishes 65% of its catalog. Photo by Tracy Ilene Miller
THE OLD MILK HOUSE AND THE BARN that stand adjacent to the fields of Obersinner Nursery Inc. are only some of the original monuments of the century farm the nursery sprang from in 1980. Now managed by a fifth-generation Oregon grower, Joe Obersinner, the family-owned wholesale nursery still specializes in the very first nursery product it started with — rhododendrons, with more than 90 rhododendron varieties — as well as Japanese maples, grafted conifers and woody ornamentals. More than 90% of their production is field-grown, with approximately 35% sold B&B and 65% container-finished.
The nursery was founded by fourth-generation Oregon grower David Obersinner with his parents, Alan and Margaret Obersinner, who financially backed a 20something David's interest in spearheading an expansion of Obersinner Farms from agriculture to nursery products. David's parents granted him a half-acre of the family farm for his new endeavor of establishing a wholesale rhododendron business.
He would focus the nursery on rhodies almost exclusively for more than a decade, during which time he built a customer base and learned the best growing practices. Then he added other trees and woody ornamentals.
"Every year we expanded, but in a slow way," David said, heeding his father's advice to maintain steady but manageable growth. A testament to the quality of the nursery's product is the steadfast customer base the nursery has maintained over time.
"There were always dips in the market, but we were always able to sell our product because we're selling a quality product." And because of that consistency and quality, the nursery has continued to expand — from a half-acre in 1980 to 125 acres today, and from one greenhouse in 1981 to today's 51.
The nursery takes a progressive approach to its growing, establishing more than 100,000 rooted cuttings every fall and winter in a heated propagation house and planting them into the field a year later, once the plants have a well-rooted system, to reduce stress. Applying that same mindset, larger, healthy plants are shifted up gradually by moving from cuttings to 4-inch pots to 1-gallon and then to 2-gallon containers in four seasons, then sold in spring — rather than in winter — to give the plants time to settle and become well-rooted and healthy after that final transition.
The pot-in-pot holding areas are also used to give plants time to recover after having their root ball trimmed, and to yield lighter plants.
"A lot of our field stock, we try to put in containers," said Production Manager Joe Obersinner. So, instead of taking soaking-wet, 80-pound rhodies and shipping them out, Obersinner digs them out with a small root ball and puts them into a bigger container with bark dust, lightening the load by 20 to 30 pounds. "Which is what our customers want," Joe said.
Interestingly enough, David said, some customers are unaware Obersinner Nursery is part of a century farm, with a total combined acreage of 1,200. An advantage of the nursery operating as a division of a century farm, Joe pointed out, is the ability to use the land in a variety of ways. For instance, a nursery in proximity to a farm offers an advantage of rotating land use to control weeds. A field of rhodies might someday turn into a field of broccoli, and vice versa.
Another advantage is the ability to sometimes turn farmland into nursery grounds when needed to give the nursery stock space to grow well. Still another benefit is the shared resources, including the crew of 22 working between the farm and nursery operation based on priority need. While Joe manages the nursery and Joe's twin brother, Jake, focuses on the farm with his father, the twins' mother, Marge, takes care of accounting and other desk work for both the farm and the nursery, Joe said.
Rounding out the nursery team is Office Manager Rachel Dickman, who grew up on a family farm not far from Obersinner, which she joined in 2008. "Rachel does everything under the sun in the office," Joe said. Her duties range from interfacing with customers and organizing sales to creating tags, managing online orders, ordering supplies and more.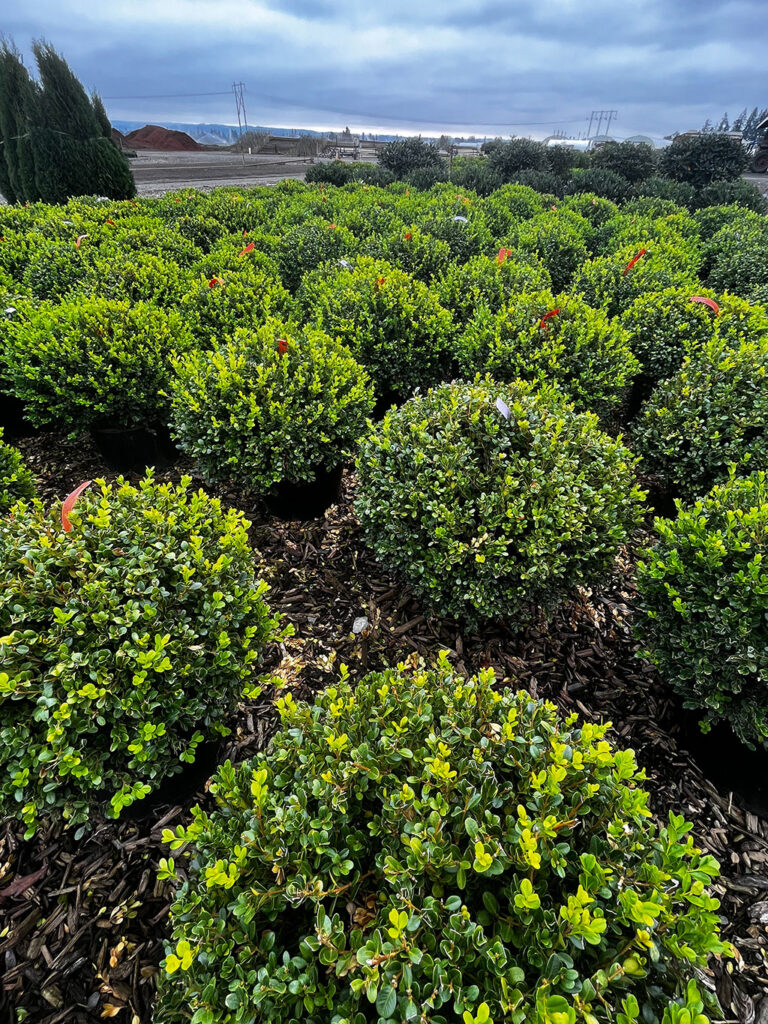 In the beginning
Before there were crews, there was only David at Obersinner Nursery. Granted, the nursery started small, as a half-acre project, and David was accustomed to the idea of a self-run operation and hard work. Growing up on Obersinner Farms, he experienced only immediate family — his parents Alan and Margaret, and his siblings — doing the work.
"We had no employees," David said. "If my dad was short-handed, he pulled me out of school to drive the tractor."
So, with David covering all the fledgling nursery business, learning the intricacies of sales, marketing and growing, the nursery grew slowly to five acres, adding two to four greenhouses per year, and stuck to rhodies, a crop that was guaranteed to sell and did so in the non-farming session.
After 10 years on his own, David was ready to hire a nursery manager. Angela Tovar stayed for 11 years and, before leaving in 2001, started diversification of the plants grown for sale. Each year, the nursery would try new varieties its customers asked for, managing modest expansions to avoid financial drain, David said, and learned its lessons on how to grow those plants really well, before continuing to expand. From 1980 to 2000, the nursery went from one greenhouse to 28.
Even then, the nursery's catalog was still mostly field grown. The next big shifts came with the 14-year tenure of Doug Shackelford, who succeeded Tovar as production manager. Shackelford continued to expand field acreage to more than 110 acres and took the next steps toward product diversification in products that have since become the cornerstone of the Obersinner catalog, including Japanese maples, spruces, pine, boxwood and arborvitae. As well, Shackelford was instrumental in a shift toward and the installation of pot-in-pot acreage.
Joe, named for his great-grandfather who took over management of the farm in 1922, remembers (100 years later!) the day the next phase of the nursery business, and his current management path, was sealed. Shackelford had told David he was looking to retire in fall 2015. Joe was 25, and he, like his twin brother, was only a few years removed from earning his degrees in agriculture and horticulture at Oregon State University.
"I had been on the farm, helping my brother on the grass seed, berries and other crops, wherever we needed hands at the time," Joe said. "At that point, I was doing tractor work, and I remember my father hopping on the tractor, and letting me know I needed to be in Doug's back pocket for the next few months and learn as much as I could."
Shackelford retired officially that fall, but even so, returned a week or two at a time to support Joe, providing his expertise where it made sense. A bonus — Shackelford lives not too far away.
"From where I live today, his house is less than two miles away," Joe said.
Like his father David, who wanted to be a doctor when he was younger, Joe had dreams growing up attached to something other than the farm, like playing in the NBA. "I loved basketball," he said.
When Joe was in high school, David made clear, especially before college, that he could study what he wanted. "He didn't push us to work on the farm or nursery, there was no pressure; I didn't feel I had to come back here," Joe said. "I'm sure he's glad to see we did, but ultimately he wanted us to do what we wanted to do."
And ultimately, both he and his brother chose to come back.
"Farming is a kind of a livelihood and a lifestyle, and that's what I grew up in and grew up to appreciate," Joe said. "Personally, there was a sense of pride in what generations before me had built, and my dad, the diversity he focused on through the '80s to make the farm what it is today."
Plus, there was a lot to learn.
"I didn't gain a full appreciation until I became manager, the detail that goes into the operation," Joe said. Each variety needs its own type of attention, and "there is never a day where it doesn't seem something is different, or you learn something new or gain insight into something you didn't know."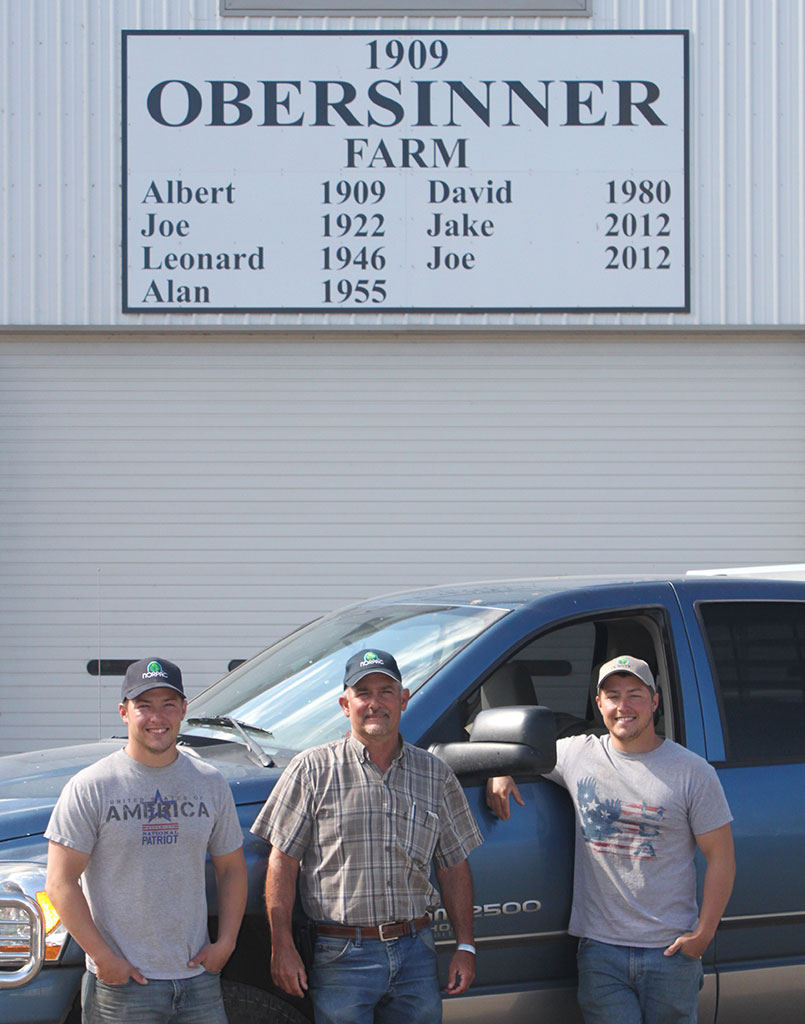 The present and beyond
Seven years in as production manager and Joe has taken those insights to continue the direction of the nursery toward container finishing, which makes the plants easier to handle, water and sell.
"Most people, when they see a tree in a pot, it's easier on the eyes, and they are more inclined to buy it than a 300-pound ball and burlap," Joe said.
That makes the numbers at Obersinner somewhat deceiving. On paper, field-grown plants make up approximately 90% of the total. But at this point, 65% of the plants are container-finished for a full season. In the last three years, Joe has added six more greenhouses to accommodate the shift to finishing in unheated greenhouses over field-finishing. ("Whenever I put up new greenhouses, they are full.") And he will continue to move in that direction, using lifts and excavators to extract plants from the field at smaller sizes, and putting them in containers with bark mix to make them lighter. Trees are kept to 3 to 10 feet, and rhodies to no bigger than 3 feet wide.
"This makes it easier for us to handle, and our customers to handle on the back end," Joe said. "If something doesn't sell, we can hang on to it in a container much more easily than ball and burlap."
Also, anything made lighter is a big plus for shipping purposes, as the trucks can only hold so much weight. Customers, most of whom for Obersinner are on the East Coast, get more bang for the buck, more plants per load.
Although container-finishing takes more digging, potting and fertilizing compared with B&B, the quality of the plant being shipped is worth it, Joe said.
With an eye toward quality and machine handling, the future at Obersinner Nursery under Joe's management includes more pot-in-pot acreage, affording less water usage and better protection from tipping, and fields planted in wider rows to mature plants with more sunlight and air flow and to handle digging mechanically.
"Hand-digging with the shovel is a thing of the past," Joe said.
Although Joe will continue to introduce and test new varieties — including maples, hydrangeas, magnolias and azaleas — the classic varieties will always be the foundation of their inventory because "that's what people are asking for."