More sustainable alternatives to carbon-sequestering peat moss are entering into the planting media equation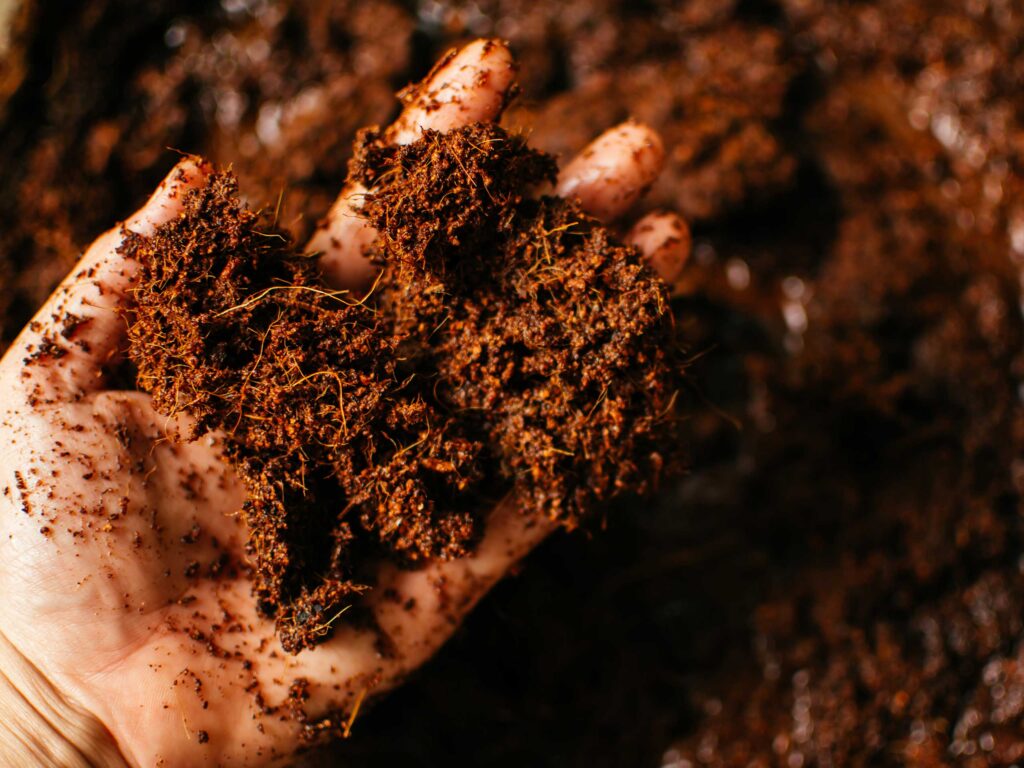 Amid growing international concerns about the environmental impacts of depleting and permanently damaging peat bogs, a movement is underway to ban or restrict the sale and use of peat moss — a nonrenewable resource that takes thousands of years to form. When left intact, peat moss is an important carbon sink.
The United Kingdom has set a target date of 2024 to phase out peat sales to retail users, and by 2030 to commercial horticulture. In Germany, 2025 is the target year for commercial operations to start marking their products with a "responsibly produced peat" label.
While some countries are moving toward a ban of peat extraction, Canada has stepped up its production as well as its management programs of peat bogs to continue harvesting.
Canada, the home to 27% of the world's peatlands, was also the world's largest exporter of peat in 2021, accounting for 30% of total worldwide exports, of which almost all is shipped to the United States. In Canada, public-private efforts have yielded partnerships to conserve untouched bogs, restore harvested bogs and employ techniques to minimize damage of bogs slated for harvest.
As countries move to restrict or ban peat moss, consumers are starting to seek out and ask for alternatives. Anticipating this market shift, green industry entrepreneurs have been investigating the viability of replacing peat moss with various substrate materials.
The options that are now dominating discussions are reviewed here.
Coconut coir
Coconut coir is billed as the most direct replacement for peat moss. "Coir is a little bit cleaner [than peat moss] and doesn't break down as much," said Miles Andrews at Pro-Gro Mixes in Sherwood, Oregon. It's easy to adjust coir's pH, he added, as it has a similar nutritional profile as peat moss.
Salt can be a problem, but only with cheap coir, Andrews said. "When it's triple-washed, there is little issue with salt." Multiple washings bring its pH close to neutral as well as the cation exchange capacity to below 1 millisiemens per centimeter (mS/cm), eliminating the need to buffer it. Coir producers should provide a profile that confirms salt values and other information about the product.
On the retail side, coir has operated as a replacement for peat, and it has been adopted by some larger nurseries, Andrews said, but its use is still not as widespread on the wholesale side.
For some, the water it takes to process coir, its carbon footprint and the salt pollution it leaves behind in countries of origin are issues of concern. India is the largest exporter, followed by Sri Lanka, Indonesia, Malaysia, Philippines, Thailand and Vietnam.
Overall, approximately 86% of coir and coir products are shipped from 15 countries of the Asia-Pacific region. The distance coir travels to reach the U.S. obviously affects its price and offsets any gains in reducing carbon footprint.
"If coir prices went down to a price that made sense, I can see it making it a pretty close replacement [for peat]," Andrews said. "But this isn't a high-margin industry, and that makes it a tough sell."
Andrews said that last year, by the time coir reached Oregon, its cost was double the price of peat moss. And yet, the United States is the third largest importer of coir after China and South Korea, according to a global trading report. Coir is projected to have a compound annual growth of 8.1% between 2023 and 2028, increasing its market value from $370 million to $525 million.
Increasing technological advances in mechanical processing of coir, plus high demand in agriculture, home gardening and hydroponics, are expected to accelerate coir's ascent as a global product, which could stabilize prices over time.
Compost
Studies have demonstrated that compost — from municipal waste compost to animal manure compost — functions as an effective partial substitution or replacement for peat. In one study conducted at Berea College Farm in Kentucky, researchers found that potting media composed of 75% to 100% compost performed as well as fertilized, peat-based media in growing organic vegetable transplants.
In comparing greenhouse bedding plants, another study published in the Texas Journal of Agriculture and Natural Resources explored how plants performed in mixes with 25% or 50% of either dairy manure compost or peat combined with 25% perlite and 25% vermiculite. At the end of the study, the plants grown in compost had the same weight and nutrient levels as the plants grown in peat.
The Institute of Agriculture and Natural Resources at the University of Nebraska–Lincoln reported that compost can be used in a 1:1 substitution for peat moss. While peat-based mixes for greenhouse growing may add lime to raise the pH of the growing media, compost substituted for peat in potting soils precludes the need to add lime since most compost pH values are near neutral to slightly alkaline.
However, compost-based mixes still require the same fertilizer application rates used in mixes based on peat only, because the nutrient base of the compost is not high enough to sustain the plants.
Because compost is sourced locally, or even produced on-site, it has a smaller carbon footprint. Furthermore, compost mixed with coir, as a substitute for peat, can make buffering of coir unnecessary.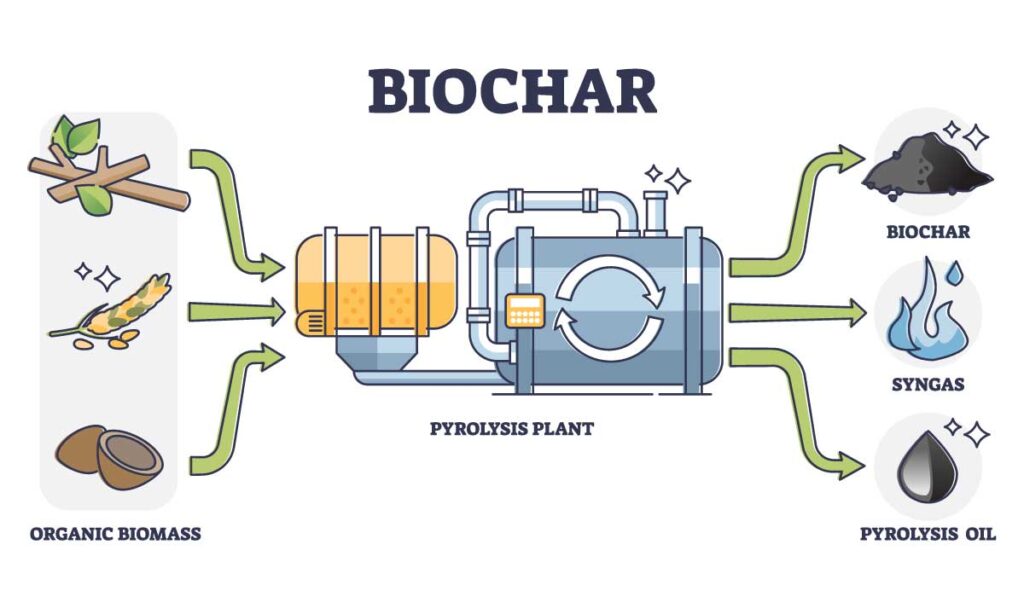 Biochar
"Biochar is produced by thermal decomposition of organic material (biomass such as wood, manure or leaves) under limited supply of oxygen (O2), and at relatively low temperatures (< 700° C)," according to the International Biochar Initiative.
The list of plant-based materials that can be turned into biochar is expansive, including other organic materials such as rice hulls, nut shells and corn cobs.
The outcome of the thermal decomposition process is a charcoal with a high surface area and deep porosity to absorb water like a sponge — up to six times its weight — while also holding nutrients and encouraging greater microbial populations.
"The charcoal, instead of being optimized for fuel, has been optimized for water and nutrient-holding capacity," said Karl Strahl of Oregon Biochar Solutions in White City, Oregon. Biochar is coming into its own as a soil amendment, most often to improve soil health, remediate contaminated soil, improve soil water and nutrient retention, and as a composting accelerator.
Mike Taylor at Hilton Landscape Products in Central Point, Oregon, has been using biochar for close to 10 years, in firsthand applications for farming, in soil mixes, and most recently in compost-finishing trials. "We've used it for years with zero negative results," he said. "The key to biochar is you've got to charge it. It will absorb just about any nutrient. Those that charge it correctly, their nutrient bills have been reduced with the same results."
An easy way to charge biochar is to season it with compost, which lowers its pH. But biochar may also be used raw. Like most amendments, the form and amount used depends on the specific application and uses for the product.
"Peat and other mined products are chosen because they have high water- and high nutrient-holding capacity," Strahl said. "Biochar can do the same, and in many cases, it is carbon-negative. Carbonized wood is a good way to remove CO2 from the atmosphere."
Carbon sequestration is part of the attraction of biochar. Like compost, the feedstocks can be sourced regionally in the Pacific Northwest. Currently, the U.S. Forest Service is working in partnership with the Bureau of Land Management on a trial program to turn forest fire debris and slash, normally burned into large piles, into biochar to disperse and revive the soil in burned-out areas.
"Right now, we are at the early adopter phase. Innovators or smaller companies looking for an edge are taking this product and incorporating it into their soil media and appreciating the benefits," Strahl said.
As more companies see the benefits and pass them along to their customers in the form of plants that are more hardy or resilient because of the holding capacity of biochar, Strahl expects other companies will follow suit.
Engineered wood fiber
Probably no other material has received more examination and trialing during the past 20 years than engineered wood fiber as an amendment to mixes to reduce the amount of peat. Much of the research has been conducted by Brian E. Jackson, co-director of the Horticultural Substrates Laboratory at North Carolina State University. Jackson asserts that engineered wood fiber is an amendment, not a complete replacement for peat, in his studies. According to Jackson, up to 30% wood fiber by volume in a mix with peat and coir is the "sweet spot," beyond which pH adjustments are greater, as is nitrogen immobilization.
Engineered wood fiber has other considerations, like adjusting to its bulk and how it affects automated flat-filling or plug transplanting, and its differing drying characteristics, which affects watering schedules.
Digested dairy fiber
According to the USDA Census of Agriculture, there are over 2.5 million cattle and calves in Washington, Oregon and Idaho combined, and each dairy cow produces 80–120 pounds of manure per day.
Turning manure into a reusable resource has been made possible by an Italian company, Cri-Man S.p.A., with a machine called a hygienizing biocell, or aerobic digester, that squeezes the dairy manure fiber to get it to a certain moisture content, then heated to ensure weeds and pathogens are destroyed. Hygienizing also helps to reduce odor, improve nutrient availability, and increase the organic matter content of the treated manure.
Del McGill has been making products for the nursery industry for over 30 years, but gave up compost to become a broker of the West Coast production sites for NuFiber. "NuFiber is the closest fiber to peat moss and coco coir that I have come across," McGill said.
NuFiber's advantage is its consistency. Compost is inconsistent, its input materials — leaves, grass, stalks and more — change every season. Whereas dairy fiber has content collected on-site with standardized feed stock. The result?
"The analysis of this product stays very consistent on a year-round basis," McGill said. "And as I deal with buyers, what they like is a consistent product and analysis, texture, moisture and appearance."
Pro-Gro has always used diary fiber in its mixes as an inoculant, "but NuFiber offers better performance and nutrition than composting straight dairy manure," Andrews said.
Additional advantages of NuFiber: it' a regionally produced product, and it processes material that would otherwise wind up as waste. NuFiber is certified organic and is only made from flush dairies, where water moves the manure away from the cows to keep it sanitary.
Studies have shown that incorporating digested dairy fiber into soilless mixes can improve plant growth and yield, compared to traditional mixes. With its enhanced nutrient retention, NuFiber retains and slowly releases nutrients such as nitrogen, phosphorus and potassium. NuFiber has an N-P-K profile of 1-1-1, and it's lightweight, about 660 pounds per yard, McGill said.
Conclusion
As countries limit peat moss use and extraction, adopting alternative materials in soilless mixes can help maintain the nursery production standards while reducing dependency on peat.
As peat moss alternatives become more viable and mainstream, new sustainable substitutes are also sure to arise.
From the May 2023 issue of Digger magazine | Download PDF