In a post-pandemic world, retailers can use classes and events to establish new traditions and spur repeat customer interactions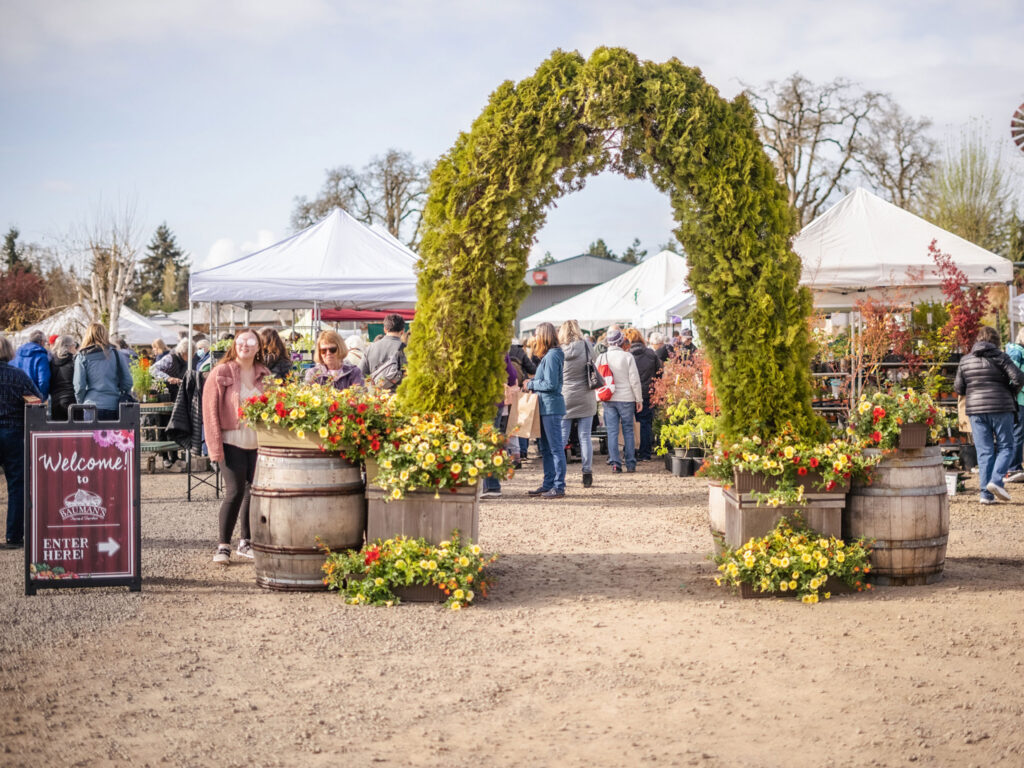 Retail garden centers and nursery operations looking for more customer traffic often turn to in-store special events and classes.
These give customers an added reason to drop in. While there, they may be tempted to buy something before leaving. They also may feel an added sense of connection to the nursery, which is a long-term benefit.
"I think retail has become all about the experience of the customer," said Brian Bauman, general manager at Bauman's Farm and Garden (Gervais, Oregon). "I often tell people our location is a disadvantage — we are on the way to nothing — [but] when they do get here, our location is a huge advantage because you feel you are on a farm."
Oregon retail nurseries and garden centers are strategic in creating unique offerings year-round that sustain revenue, nurture their loyal customers, and build connections with new customers. Here we look at some of the ways some of Oregon's retail nurseries and garden centers are doing just that.
From inside to outside
Swan Island Dahlias (Canby, Oregon) has been in business for nearly a century, offering the largest nationwide catalog of online dahlia sales. Its online identity of dahlias.com is a destination unto itself, but the family-run farm has become a physical destination as well. This is largely due to its annual Dahlia Festival, held in late summer.
The event has had to adapt, however — especially in light of COVID-19 and its associated shutdowns and precautions.
In its earlier format, the annual festival took place over two summer weekends, attracting more than 40,000 people. The event's indoor displays were the big magnets, featuring more than 400 floral arrangements of dahlias and over 15,000 cut dahlia blooms.
In addition, there were floral arranging and dahlia tuber dividing demonstrations, talks on dahlia culture, music, balloon artists, face painting, food and more. All of this was designed to highlight the year's dahlia selections and stoke customer excitement about purchases.
But in 2020, the COVID-19 pandemic forced changes. Management made the heartbreaking decision to cancel the well-attended, well-loved indoor displays.
Led by its go-getter manager Heather Schloe, daughter of owner-operator Nicholas Gitts, Swan Island Dahlias refashioned its festival into an extensive roster of outdoor-centric activities. These drastically changed and expanded the farm's retail event schedule and kept the customers coming through.
In 2020, the fields were open and little else. But by 2022, the farm was playing host to a non-stop schedule of outdoor events featuring music, food trucks and a weekly vendors' market for essentially two months. Class offerings included floral arranging; dahlia tuber-dividing demonstrations; dahlia culture classes; pyrography (wood burning); watercolor and acrylic painting sessions; an alcohol ink workshop; a macrame rainbow class; yoga; and DIY walnut charcuterie board making, a repeat sellout class.
"Some of the classes are free, some of them have a fee associated with them, based on the artist's fee," Schloe said.
Overall attendance is similar in the new format, but now it is spread out over eight weeks in August and September. Class-goers mingle with other visitors to the farm — nature lovers, dahlia buyers, locals biking out for lunch — who get to roam the nearly 50 acres of the farm, featuring hundreds of dahlia varieties, to choose their purchases for the next year.
"By opening the farm and allowing them to visit, and letting them order and walk the fields, it builds more interest," Schloe said.
In 2021, Swan Island Dahlias started a Friday vendors' market that switched last year to Sundays. The vendors sell everything from baked goods to bath products to handmade wood products and crocheted items.
Classes are listed and advertised through social media, the ticketing website Eventbrite.com and media outlets. Bookings begin in February and March, and the schedule is released to the public in May. When classes sell out, Schloe books more.
Some customers said they missed the indoor displays, so Schloe considered bringing them back in 2022. She opted not to because of the advanced planning and booking it would have required. For example, the florists must be booked a year in advance, during prime wedding season.
"When we looked at the dates in December 2021, we still had restrictions in place, and we weren't willing to put people's livelihood in jeopardy," Schloe said. "The last thing I want to do is cancel on them last minute."
Plus, the indoor displays required a mass of volunteers and concentrated staff time, putting up and taking down the displays twice in two weeks. The new eight-week festival schedule is more stable.
In the end, it made the most sense to invest in a new set of traditions — and customers seem eager to embrace them. "It has added a whole new dimension to the farm," Schloe said.
Maintaining momentum
COVID-19 also created shifts at Bauman's Farm and Garden in Gervais, Oregon. The retail nursery, bakery, produce market and gift shop is well known for an expansive calendar of events to bring folks in. "In retail, you have to keep your business top of mind for your customers, so you get them to come back to the farm many times per year," Bauman said.
To balance staff needs and customer engagement, the business cut back to a roster of about 10 primary events spread throughout the year.
One priority in that lineup was Bauman's hands-on custom hanging basket classes. Over two days and three classes in January and February, more than 250 people show up for hourlong sessions — one for shade plants, and two for sun-loving plants. These rev up interest in new plant introductions, the design process and plant combinations/compatibility.
"I walk them through the whole process of how we grow them," Bauman said.
He brings out cuttings that are arriving and discusses, with picture-focused handouts of displays of finished baskets, useful plant combinations, care and upkeep. Customers get excited to design their custom baskets. They make their plant choices and pay a $10 nonrefundable deposit per basket. Most people make two or three.
Bauman's then grows the baskets out and delivers them by Mother's Day. The classes help with cash flow as well as customer connection. The basket buyers return multiple times over the course of months, checking in with him and asking about their baskets.
"[It's] like checking on their pets or kids," Bauman said. "They become invested in Bauman's Farm."
There's a window for pickup of the finished baskets in spring, when customers pay the remaining balance of between $40 and $80. For no-shows, the garden center is still able to sell the baskets.
Aside from the basket classes, Bauman's held two major events in 2022: Gardenpalooza in April, and a Mother's Day event in May.
A partnership between Bauman's and the former local Garden Time television show that is now a podcast, Gardenpalooza includes more than 30 local nurseries and garden vendors, plant displays, garden art, coupons, food and a party atmosphere. Formerly held elsewhere, Gardenpalooza moved to Bauman's last year. "It filled a hole for us," Bauman said. He hopes it will continue to fit that slot to build to Mother's Day activities.
A fall season lead-in at Bauman's is the popular early September, "ladies only" Chicks Night Out, including special sales, vendors, classes, music, food, massages and a bake-off for a diamond necklace.
That is followed three weeks later by the weekslong Harvest Festival that draws in families and kids of all ages, and lasts through October, bookended by the lauded Bauman's Cider Festival.
Then there is a short break before another focused event in November, the Top 100 Night, which occurs the day before the doors of the Holiday Open House open to the public. For the evening event, Bauman's shuts down to focus on its top customers and a plus-one guest, nearly 140 people total, to provide a relaxed night of dinner and first dibs on the holiday offerings.
Each person attending walks away with a thank-you bag with something from each department, like special towels, baked goods, jars of gourmet food, a plant and other goodies. All staff attend, "as it is a great opportunity to say 'Thank you' to the people who write their paychecks," Bauman said.
New this year is a booklet of coupons targeting different times of year, to give customers further incentive to shop. The holiday market rolls through to Christmas, when Bauman's closes for a week off, and then everyone is back in the greenhouses in January making hanging baskets.
These events become traditions that Bauman's has built over years.
"We start small and build on that experience, which is what has made us very successful with classes and events," Bauman said.
The next generation of gardeners
Looking at the solid calendar at Garland Nursery (Corvallis, Oregon), you'd hardly notice that classes have been pared back, but they have been since COVID. They've adjusted to more preseason and offseason classes.
"The reason is to help educate either new gardeners or existing gardeners who need a refresher," co-owner Brenda Powell said. "Education is one way to draw in new gardeners and people relocating to our area, and getting kids involved in gardening."
February through May are busy, summer tapers off, and then October picks up again. Classes with titles like "Houseplants Basics," "Beginner's Guide to Gardening" and "Gardening Basics" mix with ones on insects, edible landscaping and beginner veggie gardening, and sometimes two in one weekend.
Their calendar of classes establishes Garland as an expert resource.
"People will call or come in," Powell said. "That will bring them to us versus to a box store, because they know they will get an answer here."
Classes also bring in customers in the off-season, sometimes multiple times, when they otherwise might not drop in at all. That translates into more traffic and increased sales.
The most successful classes at Garland are the "tried and true," Powell said. These include pruning, rose care, hanging baskets, holiday centerpieces, wreath making and "anything to do with edibles."
Classes are free, but workshops carry a charge for the needed materials. Attendees often get a one-time 10–20% off coupon as an incentive to shop.
The classes are taught by staff or outside instructors. The subject matter can evolve. The nursery's leadership sits down at least quarterly and maps out events 3–4 months at a time. They'll debrief on what did or didn't work previously, and brainstorm new ideas.
"Every year, we try to think about something new," Powell said.
Kokedama, otherwise known as Japanese moss ball making, is one example. The trend started heating up 5–6 years ago, so Garland offered a class.
"We'll get lots of new ideas from younger people," Powell said. "Or if something didn't work 10 years ago, then we may decide to do it again."
In addition to classes and workshops, Garland offers a series of annual events. The schedule includes two open houses, one in spring and one in fall. There's music, food trucks, wine tasting, buying specials and door prizes.
Garland also hosts 3–4 Members Weekends each year. These are smaller versions of the open houses, with members-only discounts and sales, presale access, door prizes and refreshments.
The largest of the retail nursery's events, the Art & Wine in the Garden event, occurs in July. It is a Corvallis tradition, launched by Powell's mother more than 20 years ago. There are booths with local artists, painters, potters and jewelry makers, as well as a farmers' market and food trucks. All these events bring in associated revenue from the vendors, as well as increased customer flow for the nursery.
"We do draw new people to these events, and our sales significantly increase for that weekend," Powell said.
The customer as satisfied guest
Powell looks at Garland Nursery's events as one might look at in-home entertaining for friends.
"When you invite company over, you have to get everything looking good," she said. "It sets a time frame for readying for that season. We make sure everything looks great — blooms, color and our own art."
For her, it just stands to reason: if customers feel at home and taken care of, they'll more likely want to return.
Tracy Ilene Miller is a freelance writer and editor who covers several topics, including gardening. She can be reached at tmillerwriter@gmail.com.
From the January 2023 issue of Digger magazine | Download PDF